'The Orville: New Horizons': Hulu Unveils First Look & New Premiere (VIDEO)
Season 3 of The Orville is shifting premiere dates as the fan-favorite sci-fi comedy from Seth MacFarlane delays its return to Thursday, June 2 on Hulu.
The former Fox series announced its planned move from the network to streamer Hulu in July of 2019, and by the time The Orville, now going by the title The Orville: New Horizons, arrives, it will have been more than three years since the Season 2 finale aired. To keep the fans satisfied until then, Hulu is unveiling a first look photo, above, and a 4-minute video preview featuring the title sequence and one epic action scene.
First debuting in 2017, The Orville follows the crew of the titular ship on their adventures through space. Set 400 years into the future, the show finds the crew of the U.S.S. Orville continuing their mission of exploration. Along the way, they must navigate mysteries of the universe as well as the complexities of their own interpersonal relationships.
As teased in the photo and video sneak peek, the cast features creator, writer, and lead Seth MacFarlane along with Adrianne Palicki, Penny Johnson, Scott Grimes, Peter Macon, J. Lee, Mark Jackson, Chad L. Coleman, Jessica Szohr, and Anne Winters.
See Also
It's been a while since viewers last saw fresh episodes of these popular series.
The Orville is produced by 20th Television and Fuzzy Door and is executive produced by MacFarlane, Brannon Braga, David A. Goodman, Jon Cassar, Jason Clark, and Howard Griffith. Catch the exciting first look video, below, and mark your calendar for The Orville's long-awaited return this summer on Hulu.
The Orville: New Horizons, Season 3 Premiere, Thursday, June 2, Hulu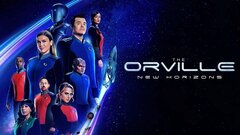 Powered by