'Awkwafina Is Nora From Queens' Is as Absurd & Entertaining as Ever in Season 2 (VIDEO)
Nora's got it all: great job, cute boyfriend, a sense of style…in her dreams! (No, literally, she dreams about this, complete with a rom-com montage.)
Comedy sensation Awkwafina (Crazy Rich Asians) is back for Season 2 of Awkwafina Is Nora From Queens as a fictionalized version of herself who constantly fails at life and is stuck living with her dad, Wally (BD Wong, Law & Order: Special Victims Unit), and fierce grandma (Lori Tan Chinn) in her childhood home.
Picking up from Season 1, when Nora lost out on a job in China, she now works at a CBD shop as a surprisingly savvy salesperson — when she manages to get in on time.
The sitcom's plotlines are as absurdist — and entertaining — as ever. In Episode 2 (10:30/9:30c), Nora time-travels to 2003 after experiencing an earthquake while in an MRI machine. Later, Wally has a delusion-inducing acupuncture session.
Jokes about bodily functions might make it a bumpy ride for anyone easily offended. (They're gut-busters, though!) Still, there's sentiment to bring things back to center, as when Grandma counsels Nora, "Life begins whenever you want it to." Queens is where the heart is.
Check out a sneak peek at the new season below, in which Jaboukie Young-White's Daniel returns.
Awkwafina Is Nora From Queens, Season 2 Premiere, 10/9c, Comedy Central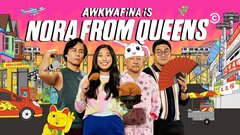 Powered by