Game On! A Look at ABC's Robust 'Battle of the Network Stars' Lineup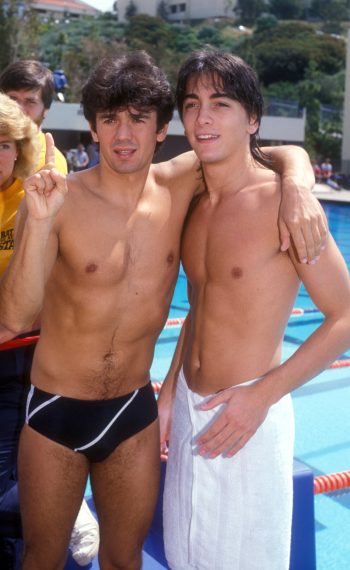 At the Pepperdine University campus in Malibu, California, Taye Diggs nervously sits high above a pool, hoping he won't get dunked by former Dallas star Charlene Tilton. Over on the campus tennis courts, The Brady Bunch's Barry Williams hustles to hit speeding tennis balls while ignoring trash talk by Melrose Place's Thomas Calabro.
No, this isn't a flashback or tear in the space-time continuum but the revival of Battle of the Network Stars. The popular specials ran on ABC from 1976 to 1988 and featured ABC, NBC and CBS actors competing in everything from track and field to the iconic Tug of War challenge. Winners walked away with…a trophy. And bragging rights, of course.
Revivals are certainly en vogue (Will & Grace, Roseanne and Dynasty will all be back next season), but what exactly sparked Battle's return? "Last year on the Emmys, Dennis Franz and Jimmy Smits [of NYPD Blue] came out as presenters," executive producer Andrew Glassman says. "That time-machine quality of seeing characters you really love again led me to think, 'If we brought back Battle of the Network Stars, that would be a great way to do it.'"
And while the previous incarnation pitted networks against each other, the decision to go with themed teams was all in the name of a good time. "It really did come from that moment of grouping people by the types of characters that we know and love them for instead of network versus network," Glassman explains. "Honestly, that just seemed, like, more fun to me."
Here's a sneak peek at what to expect from the fun reboot.
THE STARS
Cast members from big shows present (Scandal, Arrow, General Hospital) and past (Dallas, Buffy the Vampire Slayer, Baywatch) round out the teams, which are now themed—Troublemakers vs. TV Lifeguards, for example—instead of network vs. network. Whatever the matchup, Tilton, one of many from the original incarnation, gave it her all, even at her 4'11" height. "Never have Charlene Tilton and basketball been said in the same sentence," she says with a laugh, "and it will never be said again, but I did it!"
"I didn't know that I would be as competitive with myself as I am today," says Taye Diggs, who appears on the TV Doctors team for his role on ABC's Private Practice. "So there's still an athlete stuck inside me!" That said, one of the competitions left the actor, who also appeared on Empire this past season, uneasy. Of the dunk tank, Diggs says, "I was petrified. Look, I'm in the gym, I consider myself fairly masculine, but I was legit scared. It looks much lower than it is!"
See Also
Did your favorite current and/or classic star make the cut of 100 stars who will be competing in the beloved series?
THE COMPETITION
Choosing the sports for the revival didn't require much tinkering, according to Glassman. "The competitions themselves are a streamlined version of the original," he says. "They're all things you would expect to see, like track and field, basketball, tennis—and even the same inflatable kayaks." Battle vet Donna Mills was surprised at her teammates' competitive nature. "The players took it very seriously, not quite as seriously as we did back then!" Returning Lou Ferrigno was ready for anything thrown his way. "Even 40 years later, nothing stops the Hulk," he says defiantly.
THE HOSTS
Proving the show is as much a sporting event as it is entertainment, ESPN's Mike Greenberg and Joe Tessitore take on hosting duties from the beloved late Howard Cosell. "What Joe and I are doing," Greenberg says, "is an absolute love letter to Howard, and I hope that if he is watching from wherever he is that he sees it that way." If the iconic gold jackets aren't homage enough, Greenberg also admitted that he and Tessitore "find ourselves doing Cosell imitations constantly."
Donna Mills, a BOTNS vet who also hosted one of the specials with Cosell, remembered him, and those gold jackets, with fondness. "It was really funny to look down the field and see those jackets," she says. "It brought back memories of Howard right away. He was just unique. You never knew what he was going to say, you had to be on your toes. He was a lot of fun." Cosell would be proud.
WAR GAMES: Battle of the Network Stars Facts
It takes a lot to keep the battles brewing!
14 feet
Distance from Dunk Tank plank to the water below
57 tons
Amount of sand in the Tug of War pit
35–40 mph
Speed at which the tennis balls get shot from the fast-pitch machine
281 feet
Length of the obstacle course from start to finish
10 meters
Distance from the contestant to the archery bull's-eye
100 feet
Length of rope in Tug of War
1976
Year Mackenzie Phillips first appeared on Battle of the Network Stars. She's back for the reboot.
3
Number of times Donna Mills competed on the original. She also cohosted once with Howard Cosell and Robert Conrad!
Battle of the Network Stars, Series Return, Thursday, June 29, 9/8c, ABC