'90 Day Fiancé': Naughty or Nice? (RECAP)
[Warning: The below contains MAJOR spoilers for Season 8, Episode 4 of 90 Day Fiancé.]
It wouldn't be the holidays without some drama. So which couples made it on the nice list? Let's just say, not many. We meet shocking new couple Stephanie and Ryan, while Natalie continues her hatred of Sequim, Washington and all-things related to Mike. Yikes.
Get your coal and cocktails ready, because this episode is the perfect way to cap off 2020.
Sweet Syrup, But She's Still Salty
Mike treats Natalie to homemade French toast for her first morning on the farm in Sequim. She isn't familiar with French toast (even though Mike swears it's a crucial part of American culture), but she does insist on washing the eggs prior to cracking them.
She is starting to crack up a bit herself. Natalie calls moving to a new country during the snow-filled winter "double trouble." "It's constantly cold. This house is a like a trailer. The walls are very thin. It's a huge change for me," Natalie tells the camera.
She also will be home alone while Mike goes to work, but the couple are determined to make it work. Mike eagerly awaits Natalie's reaction after her first few bites of the French toast. "It's not healthy," she pouts as he pours syrup over his breakfast. Instead, she throws away her food and chops carrots instead.
Meet Stephanie & Ryan
The highly-anticipated and already infamous couple are finally introduced. Grand Rapids, Michigan-based Stephanie wears UV glasses while hula hooping. She boasts that she is currently training to compete in the Guinness World Records hula hoop championship which would be over 100 hours.
"I like to multitask, so I hula hoop with my glasses on that resets my circadian rhythm. The bright green fluorescent helps you sleep better at night," Stephanie explains. "And I like to stay young so I do my youth serum shots every morning." And by shots, she really means shots. Stephanie injects herself with needles from her freezer to combat looking like the 52-year-old that she is.
Stephanie is the "face" of her business. "I am a very ambitious businesswoman," she brags as she drives off in a Maserati. She runs Skin Envy spas that focus on weight loss and age reversal. She can afford a comfortable lifestyle, but her dating life has fallen by the wayside. Stephanie also opted not to have children after enduring a "tumultuous childhood" with her clinically bipolar father.
"It's very tough when you wake up in the morning and you're not sure if you're going to be loved by your father that day or hated by your father that day," she says through tears. "It wasn't his fault. Bipolar disorder is a chemical imbalance in the brain. He couldn't help that, but it's definitely shaped me as a person."
Stephanie describes herself as understandably guarded and says she is a "lifelong bachelorette" without dreams of a white picket fence. "But then I met the hottest guy I've ever dated and the youngest guy I've ever dated," she laughs. "Ryan is my 27-year-old fiancé from Belize."
Stephanie had previously dated someone 20 years her junior, but Ryan is a quarter century younger than her. She isn't offended by the cougar label: "I own it." She even calls Ryan her "cub"!
They met three years ago when Stephanie was on vacation in Belize. She was immediately attracted to him but kept things platonic at first. Four months after meeting, Stephanie flew back to Belize to get to know him romantically. She says Ryan is kind, funny, and gives her a spark she has never felt before. The couple have dated for three years, with her traveling to see him every few months. In August 2020, they were informed that Ryan was pre-approved for the K-1 visa; however, the final interview is postponed due to the coronavirus.
Stephanie does admit there are trust issues in their long-distance relationship and even calls Ryan's mother to check up on him. Ryan's mother is five years younger than her, but Stephanie feels as though she's her "mother-in-law already." Stephanie worries she and Ryan are "losing connection" since she hasn't been able to travel to Belize in over seven months because of the quarantine.
See Also
Get ready for 'The Other Way Strikes Back,' a Magnolia Network preview, and more.
Reality Bites
Brandon and Julia leave Washington D.C. to head to the family farm in Virginia. She does not take to her new reality well. Even though Julia is at first excited to be at the house, Brandon's mom starts giving her a tour of all the chores to be done, including cleaning the chicken coop and feeding the animals. She's mostly worried the farm animals will bite.
"I very like animals but I don't want to take care of animals," Julia admits in a confessional. She even jokes how much would it cost for her to fly back to Russia. Julia only fully freaks out once she's asked to feed the pigs.
"I want to help Brandon but his mother not think to ask me, 'Julia do you want to help? Or do you not want to help? How do you feel about it?' She say, 'you need to do this,'" Julia complains. "I am a dancer, I am a designer…I like not place for working. I don't want to work on a farm."
Brandon's close family friend Aspen comes over to meet Julia and teach her more of the ins and outs of being a farm hand. Aspen brings a hideous hairless cat with her, only adding to Julia's qualms. "I love Brandon [but] I don't know what I love more: Brandon or a nice life…I give myself one month. If I don't love this place, we go and we live in a city," Julia compromises.
Some Good News
In March 2020, Rebecca anxiously awaits to hear whether Zied's final visa interview was approved. She keeps refreshing the government application page and explains she's "just been in limbo" for a year during the process. Suddenly Rebecca receives news that Zied is approved to come to the U.S.!
She calls Zied and the couple celebrate on the phone before Rebecca goes into work.
Home Decor Disaster
Yara and Jovi settle into their New Orleans apartment. She complains about how cheap their decorations are and pushes him to go shopping with her. "You have an ugly a** home," Yara smiles.
They go to a warehouse outlet to find a mirror and a rug. Yara finds a rhinestone-trimmed mirror to buy but then quickly starts expanding their shopping list to include a new bed, sofa, and whatever else catches her eye. "You have swamp taste!" she scolds Jovi.
Even the saleswoman calls Jovi "snippy" as the high-maintenance couple publicly fight before Yara storms out of the store. They leave empty-handed.
French Connection
Back in France, Amira prepares to travel to Mexico to meet up with fiancé Andrew, quarantine for 14 days, and then enter the U.S. through California. She received her visa in March 2020, but due to the COVID-19 lockdown, she has not been able to travel internationally. Now, in June 2020, she is following Andrew's plan to circumvent the American ban on European flights.
"I'm leaving behind my whole life. I have many emotions. I am scared most of all," Amira admits. "But I can't wait for us to be reunited and start our life together, finally."
Andrew also leaves his house in California to fly to Mexico. They will be quarantining at a "beach resort," but he thinks the risk is worth it for their love.
Tarot Tells All
Stephanie feeds her cat yogurt while purring whether he'll like to have a new daddy. She has invited a psychic over to do a tarot card reading, hopefully to ease her mind over not hearing back from Ryan. "I'm going to be leaving for Belize as soon as the borders open," she explains. She also plans on packing many presents for Ryan.
Of course, Ryan finally FaceTimes Stephanie while the psychic Maria is present. Stephanie keeps complimenting Ryan on his hair and is jealous that he is hanging out with his friends instead of calling her back earlier. Ryan tells Maria he's not a fan of psychic readings but will be open to befriending her once he's in the U.S.
"He's got her twisted around her finger," Maria jealously tells the camera. "I just see something in his eyes. Is he really with Stephanie because he's madly in love with her, or is he madly in love with all the stuff that she can bring him?" We don't know Maria, why don't you use your powers to tell us?
Then she does Stephanie's reading, and surprise, surprise, there is a warning card. "Oh wow, this is so accurate," Maria shows Stephanie, citing cards that explain a hesitant journey with another woman around Ryan. "There's no other way I can read this card," Maria promises. Yeah, OK.
Stephanie explains that Maria was the one who said a few years ago that Ryan was communicating with an ex-girlfriend. While he said that was entirely untrue, an insecure and sensitive Stephanie believes Maria's deck more than her fiancé's word.
More cards are dealt, including ones for snakes and deception. Maria stresses that it's Ryan's infidelity but also admits she could be the source of deception since she has a skeleton in her closet…and yeah, it's a big, hypocritical deal.
See Also
The cast members film themselves in this new series going inside your favorite couples.
"When I was there about a year and a half ago, I caught him again on the phone with three different women. I threw Ryan out that night and I was crying right after his cousin Harris called me. And I slept with his cousin," Stephanie drops the bombshell. "Basically it was over between Ryan and I… You know me, I'm such an honest person."
Now Maria has to question things. She should start shuffling her deck a little more. And guess what? Ryan doesn't know Stephanie cheated on him. "This would kill Ryan to know, but if I'm going to bring him to the United States with the K-1 visa, I want to move forward with a clean slate," Stephanie concludes. "I'm not sure our relationship will survive when he finds out the truth."
Don't Go Chasing Waterfalls
Mike takes Natalie for a drive after breakfast. She says the woods don't look "as scary" during the daylight, and he promises he'll teach her how to catch a rainbow trout after the frost. She pleads not to.
Mike shows Natalie the small surrounding town, and she's not impressed. "Oh my God, there is no action. Nothing to do," she complains.
She does want to go to a famous waterfall that is a three-hour drive from Sequim. She begs him to go as soon as possible, but it doesn't work with Mike's work schedule. "I wish I was a priority. I am not," Natalie pouts before dramatically crying.
"I just take it as she's processing something," Mike tries to make sense of Natalie's childlike behavior in a confessional.
Family Farewells
In Tunis, Tunisia, Zied is introduced on-camera for the first time this season. He explains that it's been a year since last seeing Rebecca, and he can't wait to get to America to marry her. He purchases jewelry for her before chatting with his parents about his upcoming move.
Zied's father wishes him well and prays for his success in the U.S. His mother is more concerned about whether Rebecca is the right fit for his future. "It's so difficult. It hurts my heart," Zied tells the camera.
Not Surprised
Andrew lands in Puerto Vallarta, Mexico, but quickly learns that Amira was detained in Mexico City. He desperately tries to figure out why she was intercepted by security. "I am incredibly confused," he swears while checking with the closed French embassy. "I'm lacking in the confidence in my ability to figure out where she is."
Andrew decides to head to the hotel while saying that he "feels great pain" imagining what Amira's detention center must be like. He complains that he's having "one of the s**ttiest days," but seems more upset about the fact that his master plan didn't work instead of worrying about Amira's safety and wellbeing.
Acting Like Rugrats
Yara and Jovi are still reeling from their home decor disaster. "Sorry I didn't want to buy the same rug as you. You can't respect my opinion?" he vents in frustration. She throws out the fact that she left her life in the Ukraine and he can't compromise on a rug. Jovi jabs that at least he's providing Yara a place to live.
It's first world problems to the max and definitely not even worth discussing. It's literally a tantrum between two emotionally immature people, resulting in Jovi following Yara's lead and getting rid of his perfectly fine, new furniture. And before you ask, yes, they do kiss and make up.
Settle In
Back on the embodiment of Animal Farm (Julia is Russian, after all), Julia is shown her separate room. Brandon's mother left condoms for them. "Why? This is crazy, I don't understand. It's like she's trying to attack me," Julia is shocked in a confessional.
Brandon's family did decorate with photos of them, which was cute. But Julia calls her room "a joke" and says she has no intention of staying there. Plus, Brandon's parents keep crickets in their kitchen to feed chameleons. Ew. "This is not my home," Julia says. "I guess it's not important for Brandon…to feel what I feel."
Brandon's parents also give a Christian blessing over dinner. Julia is confused and overwhelmed by all of the new customs at the farm. "I feel like I need to run," Julia tells her future in-laws. "This is different. Brandon, I am serious. I am scared." She once again tries to get Brandon's mother to approve of them staying in the same room.
"There's no bending on this side. Trust me, none," Brandon's father concludes.
Previews
Next week, Natalie finally gets to see her waterfall, Julia hates doing farm work and has to hide a hickey, and Stephanie tries to decipher Ryan's motives. Also, Hazel tells Tarik that she wants to get married in a church, and Jovi leaves for a month to work.
Happy Holidays 90 Day fans, and talk next week!
90 Day Fiancé, Sundays, 8/7c, TLC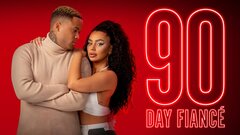 Powered by