'The Flight Attendant's Cassie Is 'Not Killer Material' — Did [Spoiler] Kill Alex?
[Warning: The below contains MAJOR spoilers for the first three episodes of The Flight Attendant.]
What would you do if you woke up after a fun, drunken night to find the person in bed with you had been killed — throat slit — while you were sleeping?
If you're flight attendant Cassie Bowden (Kaley Cuoco), who went out with passenger 3C, Alex Sokolov (Michiel Huisman), how dead, you clean up the scene and try to piece together the little you remember. Having blacked out that night — which, apparently, is a common occurrence — it takes her a while, but by the end of Episode 1 (released on November 26 with Episodes 2 and 3), she recalls a major detail: Someone else was with her and Alex at dinner in Bangkok the night of the murder — a supposed business associate of his named Miranda (Michelle Gomez).
Could Miranda have killed him? It seems, well, not unlikely. The day after the murder, we see her trick the bartender from their drinks the night before into giving her Cassie's full name and, back in New York, where Cassie lives (and Alex worked) expertly break into and rummage through her apartment. And when Cassie, who tends to make bad, impulsive decisions, attends Alex's memorial at his family home outside of the city, on the way back in the train Miranda — who seems to be well known to the family in a nefarious way — appears on the same train at the very end of Episode 3, coming face to face with a shocked Cassie.
So who is Miranda? Huisman tells TV Insider that "she's sort of like an in between person for a couple of really shady investors that Alex works for. [But] I don't think Alex ever really knew who Miranda was."
See Also
The 'Big Bang Theory' star introduces us to her character Cassie on the HBO Max adaptation, who wakes up in bed beside her dead date.
Cassie, of course, is hoping to find out exactly who she is. And she's not alone: FBI Agent Kim Hammond (Merle Dandridge) who's working on the murder, wants to know, as well. "Anybody else who comes into the orbit [who seems] a little bit more polished, those are the people I think [Hammond] is a little bit … more curious about," Dandridge tells TV Insider.
As for Cassie as the murderer, despite all the clues that point in her direction she "seems vulnerable. … She can't be as nefarious as everybody's making her seem," says Dandridge. "She's not killer material. She's just sloppy. … This is so out of her realm of ability and comfort zone that she's shaken by everything we say. And she seems to completely unravel every time we ask her a question."
Regardless, Dandridge says, her character is on a hunt for the truth, and the messiness of the situation only adds to her determination: "Anything that gets all of [Hammonds's] neurons firing makes for something that she wants to really dig into to get to the real truth of the matter," Dandridge explains.
As she does so, she must contend with her partner, Van White (Nolan Gerard Funk), who, unlike the careful Hammond, doesn't care if things are done by the book. He wants to "just to get ahead," the actress says, which is why he keeps his focus on Cassie.
"He's always second guessing [Hammond] and going behind her back, so it's almost as if she has to look over her shoulder as well as try to instill some kind of integrity into his work," Dandridge says,
See Also
Plus, Griffin Dunne, Ann Dowd, and more amazing stars join the latest chapter of the mystery series.
But whose instincts are right? Is Van White correct to suspect Cassie, or is Hammond as she considers other possibilities? The next two episodes, which drop this coming week, will hopefully shed some clues.
The Flight Attendant, Thursdays, HBO Max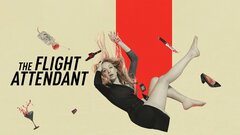 Powered by