It's Time To Fight Back Against Injustice in 'Lovecraft Country' Episode 8 (RECAP)
Jig-a-Bobo
Season 1 • Episode 8
[Spoiler Alert: This recap contains spoilers from Lovecraft Country Season 1 Episode 8, "Jig-a-Bobo."]
As Lovecraft Country heads into its final stretch of episodes, our heroes are starting to fight back, not just against the monsters and dark magic but against a corrupt and racist society. "Jig-a-Bobo" is an episode that sees characters say "enough is enough" and come together to enact change, no matter the consequences. It's at times an uncomfortable and heartbreaking episode, but one that is deeply important in its statement of intent.
"I'm so f***ing tired," Ruby (Wunmi Mosaku) tells Christina (Abbey Lee) after the brutal and senseless killing of Diana's (Jada Harris) friend Bobo. As you may know, Bobo was the real-life nickname of Emmett Till, a 14-year-old African American boy from Chicago's Southside, who, in August 1955, was savagely beaten, shot, and lynched during a trip to Mississippi. As we see in the episode's opening funeral-cum-rally, Till's death sparked outrage throughout the community and across America. But Till's horrific death would not be in vain; instead, it would be the breaking point that caused African Americans to finally fight back, helping galvanize the Civil Rights movement nationwide. That fight is felt across this episode.
Tic (Jonathan Majors), having seen so much death, both in Korea and since he returned home, demands that Christina teach him how to cast a protection spell. In exchange, he offers the key to the time machine, knowing that it was blown up and currently not working. Christina gives Tic what he wants, telling him that for magic to work, it requires "intention." Tic finds that intention with Montrose (Michael K. Williams), who joins the fight with the intent of saving his son and future grandson (Tic reveals that he visited the future last week and learned he has a son, George). Montrose recites the incantation, and the spell works, as at the end of the episode, a shoggoth monster rises from the ground, saving Tic and Leti (Jurnee Smollett) from a bunch of trigger-happy cops.
Speaking of cops, Diana also finds herself standing up to the law. Frightened and angered by her friend's death, plus the fact her mother, Hippolyta (Aunjanue Ellis), is still missing and nobody is telling her the truth, Diana takes off alone. She is stalked and accosted in an alleyway by Captain Lancaster (Mac Brandt) and his partner, who attack and threaten the child over Hippolyta's whereabouts. There are grim reminders of recent real-world events in this scene as Diana lets out a gut-wrenching, "I can't breathe" as the cop has her in a chokehold. The officers eventually stop their assault, but not before Lancaster casts a spell of his own on Diana.
The spell causes Diana to freak out and hallucinate, as she begins to see characters from one of her books come to life. The book is Uncle Tom's Cabin, a groundbreaking anti-slavery novel by Harriet Beecher Stowe, published in 1852 and often credited with helping kickstart the abolitionist cause in the 1850s. However, the book also popularized certain stereotypes of Black people, from the loyal to his white master "Uncle Tom" to the "pickaninny" stereotype of black children, who appear here as hallucinatory monsters chasing Diana around town. While Diana does her best to fight back, she ends the episode in a state of hysteria, clutched in the arms of Montrose as she screams in fear.
This idea of Black people as "monsters" features across the episode; Ruby says it directly after she's harassed by a white man for daring to enter "his" neighborhood. From news media to literature, white folk use their influence and power to spread the notion that Black people are dangerous, something to be feared. This only inspires hatred and violence. Yet, it is Black people living in constant fear, and Ruby is sick of feeling this way. "I want you to feel what I feel," she tells Christina. "Heartbroken, scared, furious. And I want you to feel alone and shameful." But Ruby knows that Christina will never understand, a statement Christina wholly agrees with, though there is a weird scene later in the episode where she pays someone to re-enact the Till killing on herself.
The Ruby and Christina relationship is one of the show's most complex and interesting. Christina is still slipping into William's skin, and Ruby is still willingly having sex with William, even if she does take the potion before doing so. Ruby says she took the potion because, "Today, of all days, I didn't want to be a black woman f***ing a white man." But Christina sees it as more than that. "You took that potion because you wanted to hide from the fact that even on this day, you were a woman that wanted what she wanted." Christina might be freaky and murderous, but there is a strong feminist bent to her outlook on life. She certainly isn't afraid to fight for what she wants, and she sees that same quality in Ruby.
And it's a quality seen with the other strong women in this show. Even young Diana, who spends most of the episode tripping out, stands up for herself. She barges into Lancaster's office and spits at him. "F*** you, pig," she yells before facing her fears head-on. Leti, too, is her own woman and perhaps the bravest character on the show from what we've seen in previous episodes. Now she's pregnant and fearful for Tic's life, especially after Ji-Ah (Jamie Chung) turns up and shares her premonition of Tic's death. While Leti is initially angry that Tic hid his past with Ji-Ah from her, she realizes that she must protect him for the sake of their family's future.
However, Leti's prayers are not answered by God, but Christina, who, in this scenario, I guess, is more akin to the Devil. Leti offers Christina the negatives of Titus's pages in exchange for a spell to make Tic invulnerable. But Christina disagrees with those terms. Instead, she offers a different scenario. "Not for Tic, for you," Christina says, once again putting the woman first. Leti hesitates but ultimately agrees, and Christina gives her the mark of Cain, protecting her from death. Yet one can only imagine that this deal will come at a price.
There are only two episodes of Lovecraft Country left, and based on this week's installment, it seems we are set up for what should be a dramatic and destructive conclusion.
Additional Notes
There is some excellent sound design in this episode, particularly in the Diana scenes with its unsettling bursts of "Stop Dat Knocking At The Door" from The Early Minstrel Show, again, playing into this ridiculous notion of Black people being scary.
It's nice to see Ji-Ah finally make it to America and meet up with the rest of the characters. Hopefully she will be used more in the remaining two episodes as her part was small here.
In Tic's trip to the future, he was given a book, "Lovecraft Country," which is written by the son he hasn't had yet.
This week's historical-speech-over-montage comes from 11-year-old Naomi Wadler's powerful words from the 2018 March For Our Lives demonstration.
Lovecraft Country, Sundays, 9/8c, HBO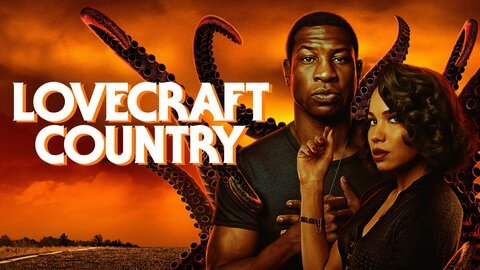 Powered by