'90 Day Fiancé: Happily Ever After?' Tell All Part 2: The Great Debate (RECAP)
Tell All, Part 2
Season 5 • Episode 17
[Warning: The below contains MAJOR spoilers for Season 5, Episode 17 of 90 Day Fiancé: Happily Ever After?]
As two couples seem to be on the verge of divorce, Michael and Angela revisit the conversation around babies, toting eggs, and ageism. Plus Colt has an outburst to prove how much he likes to have sex, as if being involved with at least three women on the show isn't enough. Let's dive in to Part 2 of the Tell All!
Kalani & Asuelu: No Way Out
The drama with Asuelu, Kalani, and their respective families continues. Asuelu's sister Tammy thinks there is nothing wrong with her mother saying she "doesn't care" about her grandchildren, and when Debbie and Angela interject, Tammy threatens to fight them both through the computer screen. "Bring it on ladies," she smugly states in a monotone grumble.
"If I was your mother, I'd beat your a**. I would tear your a** up," Angela fires back. "Quit begging for money." Kalani's sister Kolini says she loves Angela for standing up for their family.
Kalani stays mostly silent and at one point pulls out an oversized bowl of popcorn. However when Shaun directly asks her how she expects to move forward with Asuelu, she starts to tear up. "I just feel torn because I love him but we have so many issues that I can't see a way out of them," Kalani states.
Her mother Lisa calls out Asuelu for being "stoic" and "disgusting" sitting next to a crying Kalani. Eventually Asuelu walks away and remains offscreen for the rest of the Tell All. He also blocked Kalani's phone number (an apparently common occurrence) as she tries to bring him back on the show.
Colt & Jess & Larissa & Vanessa: Identity Crises and Emotional Affairs
Colt's supposed friend with benefits Vanessa logs on to the Zoom reunion. Shaun asks for clarification as to the nature of her relationship with Colt. "We were both in bad marriages and we just talked about it," Vanessa vaguely explains. "We just got along great."
Shaun presses Colt for specifics, and he reveals that Vanessa messaged him on social media after then-wife's Larissa's second arrest. "It wasn't until after Larissa and I's marriage further deteriorated until I started talking with Vanessa," Colt claims. "Once I did, we just connected. She was a great friend. I was telling her what was going on in my life: my s**tty work day, my s**tty marriage. Everything I couldn't talk about with you, Larissa, I was talking with Vanessa."
Debbie of course steps in to voice her love of Vanessa. Colt also asked Vanessa to be his girlfriend after his divorce from Larissa; only after she said no did he pursue Jess. "I love Vanessa," he gushes. Jess asks why he even started dating her if he's in love with Vanessa. "Because Vanessa said no, and if she said yes, I would have dated her in a second," he fires back. Ouch, Colt.
And then he goes one step further: "I'm sorry you were in a s**tty relationship with me. It was a summer fling at best." Summer flings don't typically lead to asking for someone's hand in marriage and planning out what to name future children, but sure Colt, it sounds like a summer fling because you guys dated during the spring and summer months.
Jess stresses that she always tried to please Colt. "You loved Vanessa and you used me," she states.
Debbie still attempts to push the narrative that both Colt and Jess are liars, but he takes the cake after he admits to cheating. "After I came back from Brazil, I cheated on Jess with Vanessa. I'm sorry, Jess," he halfheartedly confesses. Debbie doesn't have much to say on that.
Jess believes that he was unfaithful the whole time, not just after Brazil. "You're weird, you're disgusting. You like to go, 'I'm a victim, I'm a good guy and the women are crazy.' But you like to make women crazy," Jess says. Also, Vanessa is still married, albeit separated.
"Shut up! You are a b**ch, you are a whore!" Larissa yells in defense of Jess.
"I have this tendency to lie to women, to get into relationship with women when I shouldn't," Colt attempts to pull a pseudo-psychological victim card. "I didn't want to lose Jess even though I should not have been with her at all, but she gave me this identity. I was her boyfriend and I wanted to be her husband, even though I don't think I even loved her…I never wanted to cheat on you or hurt you. I just want to know who I am. I'm 35 years old and I feel like I don't know anything about me."
Larissa alleges that Colt also cheated on her with Vanessa, but he maintains that at most he had an "emotional affair" with her. He calls being married to Larissa the "worst time of my life." He then embarks on an apology tour, but Larissa has receipts of his GPS tracking and text messages.
After all of Colt's proclamations of love, even Vanessa doesn't want to deal with him. "I love Colt as a best friend but I wouldn't trust him as a boyfriend," she says, much to Shaun's surprise. But Vanessa still doesn't apologize or even empathize with Jess and Larissa.
Tania & Syngin: A Conscious Uncoupling?
Shaun opens the floor to Tania and Syngin, calling his flowing locks Fabio-esque. Syngin announces that he's working as a waiter, but his "main job is working on Tania's nerves." She has a nervous smile plastered on throughout the uncomfortable segment. While both sweet and loving people, they don't seem to work together, and that's a scary reality to face.
Syngin says they do not have a healthy marriage, and as a couple, they need to align their futures. In turn, Tania explains that their biggest issues are "drinking, drinking, and drinking." His anger underneath the surface is palpable as he pressures her to give examples of when his drinking has gotten out of control; she keeps the details private but is adamant that there is a problem.
Shaun then introduces Syngin's former roommates Andrew and James — who have both gotten fantastic quarantine glow ups — to comment on Syngin and Tania's marriage. The roommates disagree that Syngin has a drinking problem because he's still working; Debbie rightfully points out that there are many functioning alcoholics. Colt asks if Syngin would ever give up drinking to save his marriage. Without missing a beat, Syngin says no. "To be very honest, I will not be giving up drinking my whole entire life," he concludes.
Later, Andrew and James explain that they believe that Tania is the problem. After moving in on a whim, she "took over" their shared space. Now, Tania still thinks that she still "fits" with Syngin, but Syngin says that they don't at all. Shaun asks if Andrew and James think Tania and Syngin are soulmates. They both burst into laughter. "I think you'll only be able to answer that question at the end of your relationship," James says.
Syngin believes that if they never got married, he and Tania would be broken up. That doesn't bode well for their future, and after two and a half years, they might be calling it quits.
Colt & His Private Parts: "I Love to F**k"
Shaun playfully asks all the couples if their sex lives have changed at all during quarantine. While most of the marriages boast they are intimate four to five times a week, Larissa is put on the spot to choose whether her current boyfriend Eric is a better lover than ex-husband Colt. Obviously she compliments Eric's abilities, and Colt is not having it.
"I want to say something because you're talking about that I'm inexperienced having sex or that I don't like having sex. Let me tell you, I love to f**k. That's the first thing I want everyone to know," Colt yells. "Which one is it: Am I f**king too much or not f**king enough?"
"Yo, calm down bro," Tania laughs.
Michael & Angela: Oh Baby
Michael and Angela discuss keeping the romance alive while being across the world from one another. The conversation quickly turns to his quest for a baby, and Shaun brings Angela's daughter Skyla onscreen to confirm that she is not willing to supply an egg and tote a baby for them. Skyla says that it would still be her child, and she's uncomfortable with the idea of birthing her own sister.
Angela asks Michael to stop bringing up having children and even theorizes that he wants to have an American baby to help gain his own citizenship. Michael briefly leaves the Tell All before returning to smooth things over with Angela. "She knows deep down that a child is important to me," he replies.
Michael's aunt Lydia joins the Zoom and explains that she only accepted Angela into their family after her promise to have a child. The idea of a surrogate mother is floated again, and Tania jokingly offers. Lydia begs Skyla again to have a child for them, but Tania and Elizabeth come to Skyla's defense.
Angela explains that she doesn't want to go through IVF and instead enjoy her marriage and save money. "But you know I have to have a child," Michael pleads.
"I'm not here to make your family happy," Angela responds. Michael's aunt Lydia says that she would never have given Angela her blessing if she knew that a child wasn't possible. Michael explains that they might need to have a child "the other way," and while that is not a plug for the Season 2 return for 90 Day Fiancé: The Other Way, it is how tonight's Tell All Part 2 concludes.
Until next time!
90 Day Fiancé: Happily Ever After?, Tell All Part 3, Monday, Oct. 5, 8/7c, TLC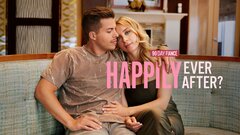 Powered by