Calista Flockhart is Returning to 'Supergirl'!
It's up, up and not so far away for Supergirl's Calista Flockhart.
With the former CBS show relocating to The CW and production moved from Los Angeles to Vancouver, the biggest question mark about Season 2 has been whether Flockhart's CatCo media mogul Cat Grant would be taking her scene-stealer self north, as well. Just today, Warner Bros. TV confirmed that the actress would be returning to the series, only this time as a recurring guest star instead of series regular.
"Supergirl wouldn't be Supergirl without the amazing Calista Flockhart as Cat Grant," says executive producer Andrew Kreisberg. "We are so excited Calista has agreed to continue on the show when she can. We and the audience love to see her on screen."
RELATED: Melissa Benoist on Her First Year in the Cape
According to the studio, Flockhart is set to appear in "multiple episodes" throughout the season, beginning with the October 10 premiere. No word on what this means for Blake Jenner, who appeared last year as La Grant's son Adam, but given that he's also series star Melissa Benoist's real-life husband, we can keep our fingers crossed that Kara and Cat's kid cross paths again.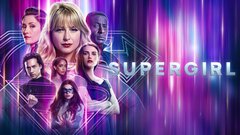 Powered by