'90 Day Fiancé: Happily Ever After?': Warning Signs (RECAP)
She's A Wolf
Season 5 • Episode 4
[Warning: The below contains MAJOR spoilers for Season 5, Episode 4 of 90 Day Fiancé: Happily Ever After?]
It's a parade of red flags this week as Larissa warns Jess of Colt's cheating ways, Asuelu states that American stay-at-home moms "have it easy," and Karine learns the life Paul promised is just a trunkful of stale French fries. Side of ketchup, anyone?
Children of Men
Angela's fiancé Michael is shown for the first time this season in his hometown of Lagos, Nigeria. After two and a half years with Angela, he hopes to finally move to America so they can be together.
Michael meets with his aunt to discuss Angela's upcoming trip to Nigeria and their plan to apply for the spousal visa. He vents about his recent "misunderstandings" with Angela. "I'm trying to let her know that this is what happened. You are wrong on this part, no?" Michael explains to his Auntie Lydia.
The discussion then shifts to Michael's plans to have children, specifically the complications due to Angela's age. Lydia asks if Angela would be OK with Michael having other wives to birth his children. "Maybe you have to make another choice," she tells him. He does admit that if Angela cannot bear his child, he will have doubts about marrying her.
Mommy Dearest
Back in Las Vegas, Colt plays with his cats. He points out that two of them were Larissa's but he loves them regardless. Again, who cares?
Colt opens up to his mother-slash-best friend Debbie about his new girlfriend, Jess. "As long as Larissa is still in this country waiting for her deportation, I don't think Colt should be involved with anyone else from a different country. It's too fast," Debbie tells the camera. She does however clarify to Colt that she would never judge someone by where they're from and "not all Brazil women are like Larissa."
Debbie asks if Colt would move to Brazil for Jess, and he says he'd maybe travel back and forth. "Over my dead body will you move to Brazil!" Debbie croaks at him.
Colt though is leaving for Brazil in a couple of weeks with Jess to visit her family, much to Debbie's dismay. "You might be easily swayed," she warns him. "You might not be seeing clearly and I would hate for you to come home with a bride…I will not let you make the same mistake again."
Slippery Slope
After visiting the pediatrician, Kalani and Asuelu have decided to not go to Samoa. Instead, they're going on a road trip to California to celebrate their son Oliver's second birthday. Asuelu is still bitter over the cancelled Samoan vacation.
"I'm upset because I'm not the man of the house…No one stands on my side," he explains in a confessional. Kalani's parents agreed that a trip to Samoa during a measles outbreak was not suitable for two toddlers, and Asuelu framed it instead as an attack on his desire to go home.
Of course on the drive to California, Asuelu goes out of his way to say that Kalani's role as a stay-at-home mom is "easy" because she's in America. "Kalani can't do what mothers in Samoa do," he tells her. He later calls her a "lying b***h" in front of her mom.
McDonald's Mobile
Paul is determined to show Karine how effortless their new life in the U.S. will be. From tap water to owning a car, he tries to prove to her that the move was worth it. His car though is a "clunker, but it runs."
Yet the larger issue is Paul's hoarder situation in the trunk of the vehicle. "He's probably waiting for his mom to clean it for him," Karine jokes. There are stale French fries, broken car parts, and crusted clothing throughout his car. Karine immediately labels the vehicle a "disappointment."
Parental Supervision
Colt calls Jess via videochat to announce that he told Debbie about her. And then he drops a bombshell: Debbie is coming to Brazil with Colt. Jess is less enthusiastic.
She acknowledges that perhaps her family might not like Colt and the pressure shouldn't just be on her to impress Debbie. Colt assures her that he hopes to get Jess' father's blessing to date her. "I love you, but my dad's more important. Sorry," she tells him.
"I was so excited to go to Brazil but I feel like between my mother and now Jess' father, that I have to worry more about what our parents think than what I think of Jess," Colt says in a confessional. "I'm really nervous about this trip."
The Start of a Long Journey
Elizabeth and Andrei prepare for their short-notice trip to Moldova. Eventually they head to the airport, where she throws a fit because one of their suitcases is overweight. He is instead overwhelmed with excitement to see his friends and family again, leaving her to worry about wedding details.
Sex, Lies, and Phone Calls
Larissa's manhunt for a husband pauses so she can fold laundry and Insta-stalk Colt. Larissa somehow finds Jess' phone number, and she calls her to warn Jess about Colt's womanizing history.
"Jessica, Colt is a demon," Larissa dramatically states. Jess doesn't want to hear it and adamantly says that Colt is a good guy.
In a confessional, Larissa brilliantly gives an analogy to explain Colt's demeanor. "Colt's like a whale that everyone looks and feels, 'oh he's so cute, that animal, look,' but he's very dangerous," she says with a straight face. "Colt can try to sabotage [Jess' immigration] status like he did to me."
Larissa also points out that while she was married to Colt, he tried to cheat on her. He's a "geeky player" and Debbie is an insane "wolf." Colt's infidelity was made public after he first appeared on 90 Day Fiancé, so while Larissa's intentions seem to lean towards the dramatic, her facts are accurate.
"Good luck with your love, but remember my words," she concludes before Jess hangs up on her.
Shopping for a Witness
Angela and her friend Jojo shop for a wedding tuxedo for Michael. Angela is also hoping to ask Jojo to act as a witness to their Nigerian nuptials.
"I think it's kind of crazy that Angela at 54 years old is deciding to go to Nigeria and get married," Jojo confesses to the camera. "Women our age shouldn't have to travel across the world to find someone when we can find them here."
Jojo does, however, offer to travel to Nigeria to be the witness. They hug, and Jojo stresses that the real reason she's going is to make sure Michael is marrying Angela for the right reasons.
Stop the Bus!
Asuelu and Kalani arrive in Southern California. It's still tense after his disrespectful comments, and she tells the camera that she will never be the subservient woman that he is used to.
Asuelu munches on an unripe orange with a horrifically neon rind. The sour taste permeates Kalani's attempt to smooth things over with him. His face puckers as she rightfully accuses him of being a "manipulator."
"We don't have an equal partnership. It's me basically doing everything by myself and Asuelu critiquing what I do," Kalani explains the camera. He separately blames the language barrier for why he can't communicate his emotions to her.
Asuelu grabs his suitcase and walks out of their house. Their toddler son follows him into the street, and he doesn't even flinch. Kalani has to run out to get her son. "I can't chase [Asuelu] with my child," Kalani sighs to her mom. Asuelu meanwhile looks to board a random bus, presumably back to their home in Utah. On a local bus? Um, OK.
Well, Duh
Elizabeth, Andrei, and their daughter Eleanor land in Moldova. They're welcomed by his father at the airport and head back to his parents' apartment.
Elizabeth is shocked to learn over dinner that she has to be baptized in Andrei's church before they can have their second wedding. That's how most religious nuptial ceremonies work, but sure, Elizabeth, this must be a surprise.
Andrei also tells his family he doesn't get along with Elizabeth's relatives and her family's "rudeness" will most likely cause problems once they arrive.
Love Triangle
Colt's friend Vanessa—whom he casually mentions he began talking to online while still married to Larissa—comes over to watch his many cats during his trip to Brazil. So Colt was seeking out other women during his relationship with Larissa….
Jess already is jealous over Colt's "friendship" with Vanessa. While he promised he wouldn't talk to Vanessa anymore, he still obviously is close with her. "It feels wrong to lie to Jess, but Vanessa is my best friend and she's been there a lot longer than Jess has," Colt convinces himself of his morality.
He also admits to having sex with Vanessa and that he "honestly has a crush on her" but she "doesn't return the favor," so he moved on with Jess. Vanessa though seems to also be jealous of Colt's attention on Jess.
"She's not baby Larissa," he assures both Vanessa and Debbie. He tells them he helped pay for Jess' ticket to Brazil, plus an additional $1,000 during their relationship in petty cash, makeup, and clothes. Debbie even says she wishes Colt was with Vanessa rather than Jess.
No Laughing Matter
Angela returns to her gynecologist for a follow-up appointment after her ultrasound. "I don't like to say the word scared because I ain't scared of nothing, but I'm scared," she admits to the camera.
She has a uterine biopsy to test for cancerous cells. She screams the whole time before the doctor gives her laughing gas to numb her. Even though Angela immediately starts giggling, her anxiety is evident. "This ain't no joke," she says about the procedure.
She will also be in Nigeria when the biopsy results come in, and currently her main concern is about bearing Michael's children. "If I have cancer, how am I going to be a part of having a baby at all if I lose my way of toting a baby? This could be devastating for me and Michael's relationship," Angela tells the camera.
Give Me Liberty
Larissa was summoned to the immigration USCIS offices in Vegas. "It's been tough waiting for my Green Card application because I can still be denied or deported to Brazil," she explains. "I'm afraid that Colt and Debbie might be doing something more to destroy my chances of staying in America."
She jokes that she might be arrested when she goes into the office. Her friend Hannah drives her to the appointment, and Larissa repeats how blessed Hannah is to be an American citizen. "Today's now or never. I can be free or I can be locked," Larissa stresses. "I'm not ready for my American journey to be over."
Previews
Angela arrives in Nigeria, and Michael rents an apartment for them to stay in. Asuelu is still missing, and Andrei teaches Elizabeth traditional housewife roles in Moldova. Elizabeth calls him a "chauvinistic alpha male" in a private confessional (yet probably never to his face). Tania begs for Syngin to find a balance in his life, while Paul and Karine look for a place to live.
Finally, Colt and Debbie land in Brazil, and Debbie immediately is "terrible" to Jess. Maybe she should have heeded Larissa's warning! Find out next time.
90 Day Fiancé: Happily Ever After?, Sundays, 8/7c, TLC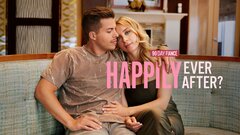 Powered by