'Hairspray Live!' Finds Its Tracy, and 3 Other Reasons To Get Excited About the TV Version
Good morning, Baltimore!
NBC announced that it has found its fearless heroine, Tracy Turnblad, for Hairspray Live! Maddie Baillio, a 20 year-old singer, dancer and Marymount Manhattan sophomore from Texas, beat out 1,000 girls for the role, despite having no professional theater experience (she has had roles in productions mounted by the York Theatre Company's musical theater training program, however).
RELATED: Jennifer Hudson and Harvey Fierstein to Headline NBC's Hairspray Live!
Baillio joins a cast that includes Derek Hough, Martin Short, Jennifer Hudson and Harvey Fierstein. Seeing someone who is new to the business star in such a high-profile production is exciting, not unlike seeing a young Ricki Lake playing Tracy in John Waters' original 1988 movie version. Here are three other reasons why we're looking forward to seeing Hairspray Live!
Maddie Baillio and Harvey Fierstein
Harvey Fierstein is reprising his Tony-winning role as Edna Turnblad.
There have been others dressing in drag for the role of Edna Turnblad, Tracy's curvy, agoraphobic mother—including John Travolta in the 2007 film version of the musical—but can anybody beat Fierstein, who took home a Tony Award for his work in the 2002 Broadway production? Since his turn as Edna, Fierstein has stuck mostly to writing, and has written Broadway hits including Newsies and Kinky Boots, as well as the teleplay for NBC's The Wiz Live!, so we're excited to see if the Broadway-legend can still take his big talent to the small-screen. Plus, fellow Tony-winner Martin Short is set to play Fierstein's husband, Wilbur, in what's sure to be a captivating on-screen marriage.
Derek Hough will bring his own style to the role of Corny Collins.
Fresh off the heels of his sister Julianne's success in FOX's Grease Live!, six-time Dancing with the Stars champion Hough will be putting on his dancing shoes to play Corny Collins. He's host of "The Corny Collins Show," a Baltimore-based teenage dance show, reminiscent of American Bandstand, where Tracy dreams of performing. It's an interesting casting choice, considering Corny Collins hasn't traditionally been played by actors with heavy dance backgrounds. James Marsden, who played Corny in the 2007 film, had a background in movies, and Shawn Thompson, the Corny in the 1988 original, was a daytime television actor. We're excited to see if Derek brings a whole new dancing dimension to Corny for this reboot, and if he can bring in the star power pull that his little sister did for Grease Live!
It's a merger of all of your favorite Live! shows.
Hairspray Live! will be produced by the masterminds behind NBC's The Sound of Music Live!, Peter Pan Live!, and The Wiz Live!, but Alex Rudzinski, who directed the live broadcast of last January's Fox hit Grease Live!, is also on board. This combination could balance the flaws of each one. Critics bashed The Wiz Live's decision to use an unknown actress for the lead, and the same risk is being taken with Hairspray. Grease Live! was criticized for adding new elements (including Mario Lopez's weird commentaries) and for musical numbers fell flat. So there is some risk in mounting another live musical. But if they can rely on star power like in Grease Live! and honor the original material like in The Wiz Live!, combined with everything they learned from past productions, there's a chance Hairspray Live! could be the best yet.
Hairspray Live!, Wednesday, Dec. 7, 8/7c on NBC.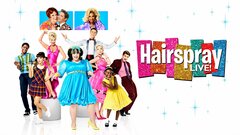 Powered by