'Faking It's Carter Covington Talks Series Finale, 'Karmy' and Season 4
Spoiler alert! Don't read ahead until you've watched the Faking It series finale, or Penelope will force you to take part in compost duty!
It's finally time to ring in the new year and thankfully only some of Hester High's best and brightest were Faking It.
Following Sabrina's (Sophia Taylor Ali) reveal last episode, Amy (Rita Volk) tries to put up a brave and happy face, but as her best friend and recent roommate Karma (Katie Stevens) quickly discovers, she's heartbroken over what happened. Seeing how unhappy her BFF is, Karma puts her feelings aside and helps Sabrina apologise and explain that while she'd started out faking it, she had actually developed feelings for Amy. Moved, Amy forgives her and the pair kiss and make up just in time for the clock to strike midnight. Because this leaves Felix (Parker Mack) without a date, Karma tracks him down to apologise, however he tells her it's no big deal as he's actually developed feelings for her before kissing her.
Meanwhile, Shane (Michael J. Willett) is attempting to apologise to Noah (Elliot Fletcher) who is pointedly ignoring him. However when Noah's brother crashes the party and keeps misgendering him while trying to force him to return home, Shane intervenes, sticking up for Noah and declaring his feelings in the process. While Noah is initially annoyed at Shane for fighting his battle for him, he eventually forgives him and agrees to give their relationship another shot.
RELATED: Faking It EP Carter Covington On New Year's Eve and the Series Finale
Elsewhere in the episode, Liam (Greg Sulkin) is less than thrilled to be faking a relationship with Lauren (Bailey De Young) and is eager to break up. But after hearing Lisbeth's (Breezy Eslin) insinuation that Lauren couldn't actually find someone to love her, he kisses her to prove to Lisbeth that they are in fact dating. However this only causes the duo to realise that they might in fact be attracted to each other.
With Hester High closing its doors for the last time on MTV, TV Insider caught up with showrunner Carter Covington to talk those final moments, the show's legacy and what could have been.
This is the first time it hasn't been a crazy finale like previous years, is that something you were thinking about? Did you kind of know this might be the series finale?
We started working on and arching this season last June, and season 2B has not even aired yet, so we were very hopeful that we would get more seasons. I've been very clear with MTV about what I envisioned the last season of Faking It being, which was going to be Karma finally looking at her feelings for Amy and exploring them attempting to be a real couple, but we were very hopeful that this wouldn't be the last season, and so we arched it that way. We didn't plan on this being the end of the series. [But] I knew in my mind that it could be because as a show, we've consistently been on the bubble. We've never been such a ratings juggernaut that our pick-up was a no brainer. I wanted to protect fans. It felt irresponsible to have a series finale with lots of epic cliffhangers if I had a feeling that this might be the last season. We worked really hard to create what I think is a really fun season finale, and I think next season would've been so fun to see Karma and Amy living together and Karma negotiating a relationship with Felix while Amy's trying to be happy with Sabrina and Liam and Lauren dealing with their attraction for each other and Noah and Shane in a relationship and what that meant for them. I felt like we had set up what would've been a really fun season, but unfortunately we won't get to explore that.
So these were definitely the storylines or relationships you'd wanted to explore further in a potential fourth season, instead of say, doing a time jump?
Yes, I love all the character dynamics that are going on in the show right now and I was very curious as to what would happen next, so for sure. We were setting up what I think would've been a really epic final season which was kind of in my head. You know it's tricky with a television series. You never know when it's gonna get wrapped up, so you're kind of trying to plot out the show without knowing when the ending is. That's the only thing that is bitter sweet about this being our last season is that I won't get to tell the ending that I planned on from the beginning.
Could you possibly share what the series finale might have been?
I'm kind of putting that together and plan on kind of releasing that myself. I'm gonna write it in word and share that with fans. I'm excited to share kind of what I saw the end of the season being. But I will say this. The way it ends, I think is hopefully open ended so that fans can write their own ending in their minds. It's never as rewarding as seeing it actually take place, but I will be definitely sharing that so the fans know kind of what I envisioned.
Knowing that this might be the last season, was that kind of like the drive to explore as many genders and sexualities as you could? Because that's something I noticed this season that I thought was very cool.
I think we had a fire under us to really blow out this season and not leave anything on the table in terms of things that we wanted to cover. I really wanted to explore the repercussions of [Amy's decision to leave at the end of last season] which was the first three episodes leading to [Karma and Amy's] big fight in Episode 3. We wanted to explore Lauren's intersex journey more deeply which became Episode 4. We really wanted it to talk about gender issues so we introduced Noah as a character. We didn't want to let the opportunity go by 'cause we knew we had these 10 episodes so we said, "Lets just do it."
RELATED Faking It's Katie Stevens Talks Karma and Amy's Friendship and Missed Connections
How did you kind of like decide that Amy would end up with Sabrina as opposed to Felix? Was it kind because you wanted to see Karma end up with someone too?
I always felt like Amy and Felix were interested in each other and there was this attraction and connection, but I felt like when we started to explore whether Karma and Felix could have an attraction, I thought "This is really interesting," because now Karma will be dating Felix and Amy is dating Sabrina and Amy has feelings for Karma and she also had feelings for Felix, while Karma has feelings for Amy, and feelings for Felix. It just created a very interesting kind of web that would've been a good place for story in the next season. It made sense to us.
We really felt like Katie and Parker, the actors, had good chemistry with each other as well and we started arching it in that direction. The actors were really surprised which was good because the characters are surprised by their attraction, so it was good that they kind of went through the same surprise that the characters did.
It's really interesting because you always described Felix as a male Amy, and you mentioned that Sabrina is the chance for Amy to have a relationship like she could've had with Karma. Was that something you guys were thinking about? Or was this pairing something you discovered?
Yeah, you know when we realised that Felix is a chance for Karma to date someone who's sense of humor and sort of view on the world is very similar to Amy's, that made a lot of sense to us because if she had drawn on to Amy's qualities, she would be drawn to Felix the same way.
Looking back, what are you most proudest of having accomplished with the show?
It's really hard to pick one thing. I think that Lauren's intersex journey and putting that on television for the first time. I've seen the impact that it's had on the intersex community, so I'm incredibly proud of that and it's also instilled in me a deeper respect for what television can do. I feel the same way about Amy's journey and I know so many people connected with it because there hasn't been a character on TV that has been so open about her exploration of her sexuality.
That is another thing that I'm incredibly proud of. I'm incredibly proud of Shane and having a character on TV that never felt bad about being gay and that was so developed in himself. I think that's an inspiring story, and I just love Karma and Amy's friendship and putting out in the world, the aspect that dear, true friends are some part the most rewarding relationships in life. I'm proud of so much. I just sit here very grateful that I got to be a part of this show for 38 episodes.
RELATED Faking It's Rita Volk on Amy and Karma Being Lesbians… Again
One of the things I really appreciated as I watched the finale, was seeing how far Farrah has come.
Yeah, it's funny. The evolution of Amy, and her mom is I think very true to what a lot of LGBT people feel, that their parents are not supportive and it takes them a while to incorporate it, and the way they end up learning from their children. I think that's happened to Farrah. She's become a more open person and she's learned about being more accepting and tolerant from Amy. I love Rebecca McFarland, the actress who plays Amy mom. I cast her in a pilot that didn't go and I basically recreated that role here as Amy's mother. I'll be so sad thinking of all the characters that I love and the fact that I won't get to see them again. It's a little sad.
Is there anything you'd like to say to fans of the show?
I want to convey our deep, deep appreciation for our fans who kept the show on as long as it did and who really were the reason why we did the show and for all the Karmy lovers out there who wanted to see them together, I just send a deep apology that we won't get to tell that story, but I hope that they will look back on their time watching Faking It and feel like it was time well-spent.
Seasons 1-3 of Faking It are currently available for streaming on Hulu.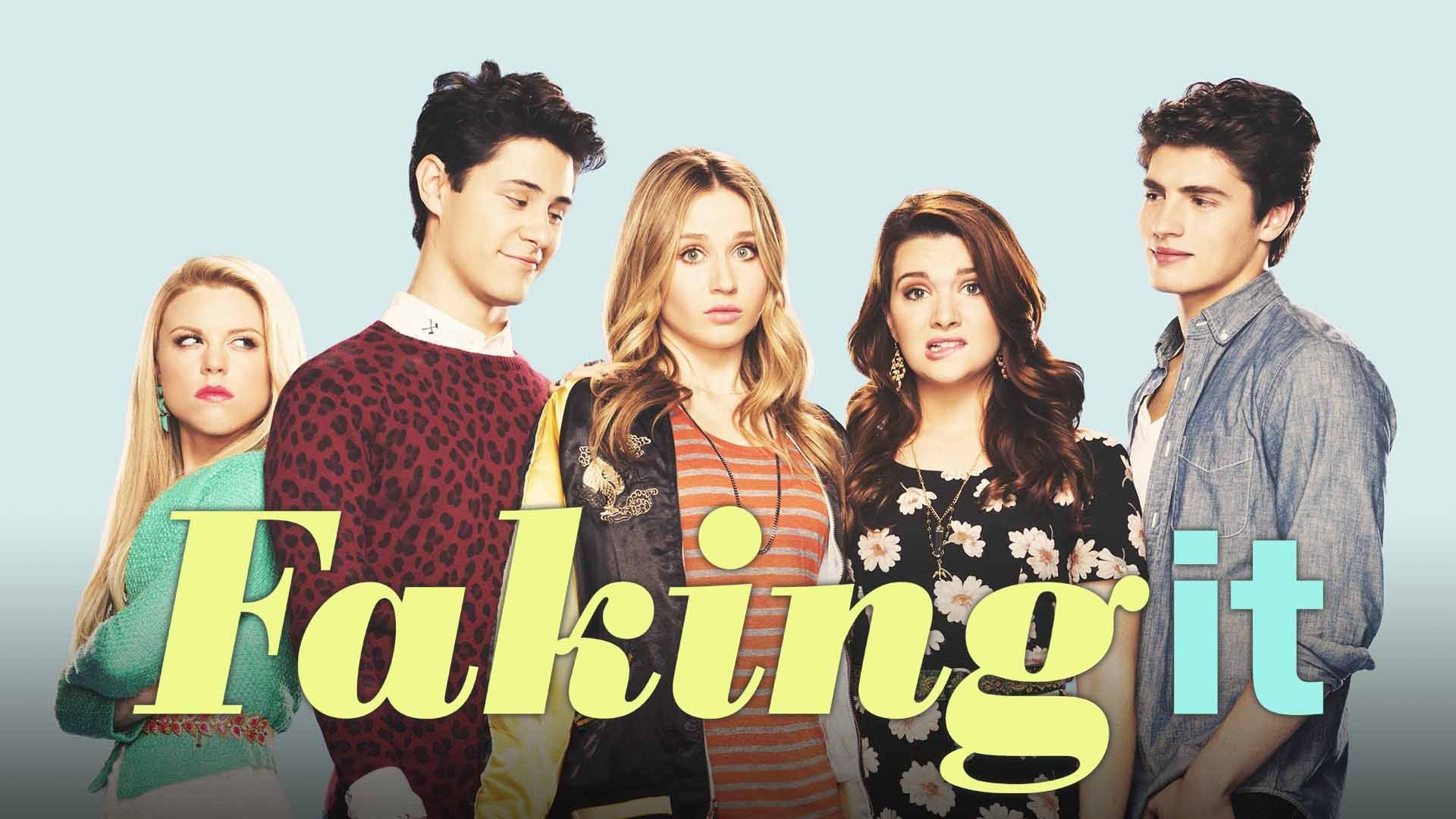 Powered by