'Faking It': 8 Things to Expect When the Show Returns Tonight
School is back in session as Faking It returns for the next half of its second season on Monday night.
The MTV drama left off with Karma (Katie Stevens) reluctantly forgiving her BFF Amy (Rita Volk) for sleeping with her boyfriend Liam (Greg Sulkin) during a short stint in prison. In an effort to get the charges against his now-ex dropped, Liam had his well-connected grandfather call in a favour in exchange, he traded in his future as an artist in order to work for the family company, Squirkle.
Elsewhere, Shane's (Michael J. Willett) trainer-turned-boyfriend Duke (Skyler Maxon) declared his love for him, unaware that it was really Shane who'd outed him in the first place, while Lauren (Bailey De Young) unintentionally outed herself as being intersex during a confrontation with the formerly undercover cop, Theo (Keith Powers), only to have the whole school rally around her in support.
Ahead of it's Monday night premiere, we talked to showrunner and executive producer Carter Covington about what other drama we can expect in the second half of the season.
1. Karma may have forgiven Amy, but that doesn't mean she's over it just yet.
"Karma wishes to be done with any messy feelings, but that's easier said than done," explains Covington. "[Amy and Liam's betrayal] still stings. It's a wound that can easily be brought back if the wrong set of circumstances happens. It's not as simple as something that gets resolved in one episode." Instead, he says that it will be a journey for the duo to get back to where they both feel "a hundred percent safe with each other." But Karma won't have just friendship and relationship issues to contend with this season—she's also going to have to deal with the fallout from her parents getting arrested and the effect that will have on Hester High. "She's going to struggle with [the repercussions] a fair amount this season," says Covington.
2. Amy won't be labeling her sexuality any time soon.
"Amy is still trying to figure out whether or not a label feels comfortable on her," says Covington. "I wanted to give her time to really explore her attraction to men and to women and meet people who have and haven't labeled themselves and really struggle with what label feels right for her." There might also be a new romance on the horizon for the label-averse teen and it takes the form of Hester High's latest transfer, Felix (Parker Mack), whom Covington describes as an "outsider." Though Amy is hesitant, Karma suspects there might be something there. "Sometimes Karma knows Amy better than she knows herself," teases Covington.
3. Liam Booker will be Squirkle's newest employee.
Even though Liam gave up his promising career as an artist to work for his grandfather at Squirkle, he won't be telling Karma about his big sacrifice anytime soon. "He knows if she finds out that she'll feel obligated to get back together. He wants her to forgive him because she forgives him," explains Covington. But seeing as it is a rather grand gesture, Karma is bound to find out.
4. Shane will eventually have to deal with his outing Duke.
Shane may start out the season enjoying having a no longer closeted boyfriend, but Covington says that the guilt might creep up on him. "Unfortunately on our show secrets almost always come out," he warns. The show will also be introducing his mother and older sister, who will be played by Pretty Little Liars' Lindsey Shaw.
5. Lauren will have to accept more than Theo's apologies—she'll also have to accept herself.
Covington says that Theo will be back in Lauren's life in these next few episodes. "He's going to make big gestures to try and win her back. We really wanted to have Theo earn that and see why Lauren would give him a second shot." However, Lauren's arc in this half of the season will focus on her accepting that she is intersex. "Lauren really wants to minimize it and she doesn't focus on it," says Covington. "We wanted to explore what it's like when people accept you for something you haven't really accepted about yourself. It's a hollow acceptance."
6. The 'Karmy' kiss in the Season 2b trailer was real—and so was the kiss between Shane and Karma.
"It is not a dream," confirms Covington. "It's a real kiss and it creates a lot of ripples in the their relationship." As for Shane and Karma's upcoming lip-lock, Covington says that it is also real and that "Karma and Shane explore their feelings for each other."
7. There's a new principal in town—and he's making a few changes.
Following the events of the mid-season finale, there will be a change in administration at Hester, which will see the "no nonsense, get the job done" Mr. Turner (Bernard Curry) take over as school principal. "He doesn't believe in showing anybody special treatment," says Covington. "He believes that this is high school and it's his job to prepare you for the real world and that's it. So he's the antithesis of what Hester stands for. He views the school more in line with what Lauren would want Hester to be."
8. There will be a Breakfast Club-themed episode later this season.
"When we knew we were bringing Turner into the show and that there was going to be this new atmosphere at Hester, we began talking about detention," says Covington. "Someone said, 'Oh we should do a Breakfast Club episode and we all immediately latched onto how fun it would be to have our characters in detention. We even used the song from The Breakfast Club, which was a fun homage."
Faking It returns Monday, August 31 at 9:30/8:30c on MTV.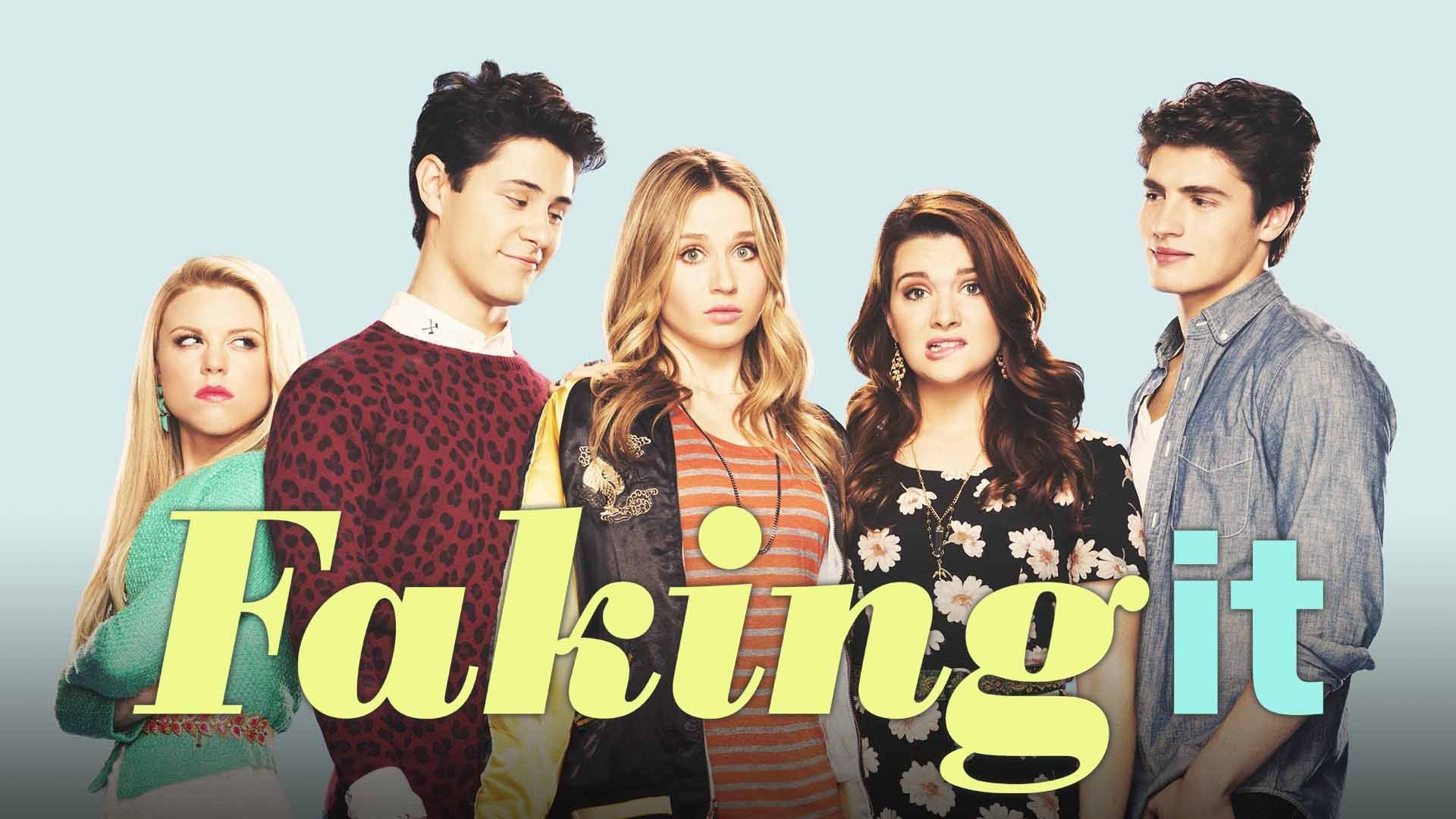 Powered by