'LEGO Star Wars: The Freemaker Adventures' Blasts Off on Disney XD
How's this for a strong alliance: The LEGO Group and Star Wars are teaming up again for another animated series that will be strong with the Force. LEGO Star Wars: The Freemaker Adventures now has an official premiere date: Monday, June 20 at 10am/9c on Disney XD.
As with previous LEGO Star Wars series, like The Yoda Chronicles and Droid Tales, this new saga will combine kid-friendly comedy with generous portions of fan service for aficionados of that galaxy far, far away. The Freemaker Adventures is set between Episodes II and III of the film franchise (aka The Empire Strikes Back and Return of the Jedi).
Per Disney, "the action comedy series follows the Freemakers, a family of sibling scavengers who operate a salvage and repair shop in space. The series will also feature familiar characters and locations from the filmed Star Wars saga." The three Freemaker siblings soon discover an ancient Kyber Saber, which has a deep connection to the Force, and soon they find themselves pulled into the battle against the Empire.
Disney XD will give The Freemaker Adventures a Force-ful push, debuting new episodes for four straight days from Monday, June 20 through Thursday, June 23.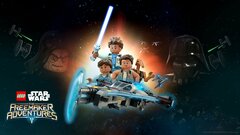 Powered by