'Lucifer's Hell-Raising Season Finale Mom-Shell
Spoiler alert! This post includes details from Lucifer's season finale.

Lucifer shut down his first season Monday night with the mother of all shockers when the club-owning crime fighter (Tom Ellis) revealed to his brother Amenadiel (DB Woodside) that someone very scary had escaped Hell: Their mother.
The horrifying realization was made during Lucifer's brief return home after being shot while trying to rescue Chloe's (Lauren German) kidnapped daughter—he spotted broken chains on one of the underworld's cells—but executive producer Joe Henderson confesses that the original plan was to keep the escapee's identity a secret for a bit longer.
"We were aiming for that final beat but we weren't actually going to put it in [the last scene]," says Henderson, who also wrote the episode, adding that he didn't even expect the twist to be OK'd by Fox. "We were talking about cliffhangers and finding a way to really sell the ending and I told the network, 'Well we have this idea, but it's kind of crazy and we're not sure how you guys are going to feel about it.' And they were like 'That's it! That's your finale!'"
So instead of holding the mom-shell until the fall, Henderson and the writers (who just returned to work this week) have their blueprint for Season 2 already in place. In addition, the new wrinkle helps the show inch away from its Vertigo Comics source material. "It's us paving a little bit of our own path and telling a bit of story that hasn't been explored in the comics."
So who is this woman? What did she do to be locked away? Why are the guys so afraid of her? It would take an act of God to get those answers this early, but Henderson promises that we'll meet their less-than-blessed mother next season. "We have no plan to cast God right now, but to us mom is very much a character and one that we're really excited to bring to life and one that will be walking the streets of Los Angeles." And not just hanging out it, would seem. According to Henderson, whomever winds up in the role, she's going to be just as much a hellraiser as her sons.
"It's an awesome opportunity to get a really good actress since there's so much flexibility within the parameters [of the character] and we're hopefully going to provide them a really cool, fun role," he says. "Because if Lucifer takes after mom? Wow."
So who do you think could play Lucifer and Amenadiel's mommy dearest? Throw your suggestions into the comments below!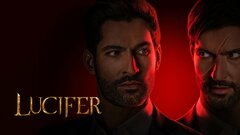 Lucifer
where to stream
Powered by