'iZombie': Malcolm Goodwin on the Action-Packed, Emotional Finale Reveals
Spoiler alert! This post contains spoilers for iZombie's Season 2 finale.
iZombie's Clive (Malcolm Goodwin) finally knows the truth.
After two seasons of Clive working with Liv (Rose McIver)—and her "psychic" abilities—Liv revealed to her incredulous partner that she was actually a zombie. Unfortunately, it wasn't for a good reason: with Major (Robert Buckley) in jail and faltering without access to brains, a desperate Liv revealed her truth to Clive in a plea for him to help her get her friend out of jail. (And prevent him from taking out other prisoners in an attempt to feed.)
Clive was skeptical about her claim, but Liv stabbed herself in the chest to prove her point. Finally appeased, Clive unraveled his case into the Meat Cute killings—as well as his girlfriend, Dale's, federal investigation into the Chaos Killer—to get Major released.
With that issue taken care of, the trio ended up also saving the day as zombies took over the Max Rager launch party for Super Max. (And killed the one and only Rob Thomas.) But they could have bigger problems in store: Vivian Stoll (Andrea Savage) told Liv Seattle would soon be a central point for zombies.
We spoke with Goodwin about getting to finally be in with "Team Z," how much Clive still has to process, and more.
This reveal has been a few seasons coming. What was your reaction to filming Clive finally learning the truth?
That day was pretty emotional. We filmed the breakup and that scene at the same time. With the Dale breakup, there was a lot of tears, and it was super emotional. Obviously, Jessica Harmon [who played Dale], she did a great job, and we connected in that scene. I don't know how they edited, it, but I know there were a lot of tears on my end, especially on her coverage, to feed her that energy. Then to go directly into the scene with Liv, it was also carrying that emotion over. It was a heavy, emotional day. And it also felt like it was a relief. I was able to use the energy as a release: to know the truth as an actor [and now] as the character. And Rose was great. She was so dialed in. And Rose was so available and emotional. I don't know what takes they used, but she was so emotional as Liv was like, "I've been keeping this away from you for all this time, and this is the honest to God's truth." Obviously Clive doesn't believe her at first until she stabs herself in the heart. It was a heavy day.
How close was this to what you imagined? And what surprised/excited you about the way he learned the truth?
I like the fact she told him. I like the fact that he didn't find out by seeing her go in a full-on zombie-mode, or a situation like that. I like the fact that it came from an honest connection and just trusting him. And obviously, the circumstances and the stakes were so high he had no choice. I thought his first reaction was great: even after she spills it all out, and we all know she's telling the truth, Clive still wouldn't believe her. It's not like he's going to say, "OK." I always say his version of zombies are Walking Dead zombies, and World War Z zombies. Zombies don't talk. They don't communicate. They don't dress up. (Laughs) They don't solve cases in the real world. When she tells him that, he goes, "Okay, so you're a zombie. There's no way." I love the reaction of "I don't believe you." So when she knows she has to do something extreme after she laid it all out, she has to go to the extreme of stabbing her[self] in the chest. I loved the way they did it, and that she had to trust him. That she had no choice but to really, really trust him, and put it all on the table. I think those stakes were way higher than it being another situation. I think it was way more honest, and I loved it.
What are your thoughts on how he'll react when he has time to process things?
I think there's a lot more to play with. Everything is happening so fast, even with him making the decision to essentially sabotage his career, Dale's career, his relationship in order for the greater good. And also for his friendship and connection with Liv. There was a bigger purpose.
Clive is kind of consistent with the kind of person he is: he goes off his instincts. That's why he can go with this girl who is a psychic; he goes with it to solve these crimes. It's a very instinctual thing. I think it's consistent with his personality for him to say, "Okay, this thing is bigger than me." When it comes to solving cases, okay, it's bigger than him, which is why he can take the leap and drag Liv around, using her so-called psychic abilities.
Clive didn't really have time to react. So many things happened so quickly. Even when he went to the Max Rager party, he had never seen the [George] Romero zombies [in real-life]. To see all these different zombies out there and to try and understand it, and fully wrap his mind around it, he doesn't know it. He doesn't have an understanding of how it works. I think that's why there's a lot for how he'll actually respond. Thankfully, we have a Season 3.
Related: Singer Rob Thomas dishes on his iZombie season finale guest spot
There is potentially a new dynamic in store for Season 3 now that he knows the truth. What have the writers told you about how Clive's case involvement might vary now?
We haven't even talked about it yet. I don't think it's figured out. As far as I understand, it's one of those things where the story progressed in the direction it did in the finale, and there's a lot to be figured out. I know things are turned upside down with Clive knowing. There's a potential zombie apocalypse. We don't know if we killed all the zombies. We don't know if some zombies got away.
We also know there's Vivian, and we see she's been a zombie the entire time. There's this higher echelon of zombies, that didn't rely on Blaine's brains to survive. So where's she getting hers? Where's that coming from? There's a whole other culture out there that's bigger. The world has opened up. And how that impacts the procedural aspect of that and the police force, I have no idea. They haven't given me any clues. I'm glad they have to figure it out and not me, because I don't know what I'd do. (Laughs) I'm glad they're the geniuses behind it; they're geniuses and they'll figure it out, because they definitely have their work cut out for themselves.
The season finale was very action-packed. How was that filming those scenes?
That was great. I loved it. The people on set, who were like, "Malcolm is so physical and so active, he can do his own stunts!" I was telling them, when I was a kid, I wanted to be Lee Majors from The Fall Guy. I used to fall down steps on purpose in high school, pretending it was an accident, and get up like, "I'm fine!" To actually do all those stunts, and obviously there was gun play, and fighting with zombies and all this—it was great. It was awesome. It was something that Clive hasn't had a chance to do, to that extent. It was a lot of fun.
I think in that episode, there were more stunt people than every [other] episode combined of iZombie. We have more stunt people and stunts in that episode than the entire two seasons of iZombie.
The idea of Clive becoming a zombie to save himself was floated in the finale. Are there any circumstance where becoming a zombie is a feasible solution to him?
No. I don't think Clive will want to be a zombie, and I love the fact that Clive made it real clear: I'll kill myself first before becoming a zombie. And that's based on his particular understanding of what he's seen, and he's seen the worst of it. He doesn't want to become that.
I would say, who knows how things will change as they further progress and as he learns more about it, if his opinion would change. I don't think Clive would be too canny on eating brains. I don't think he'd be down with that too much.
We always make the joke on set that Clive doesn't dig the pale look. He's kind of metro, and he's very deliberate in his style. The pale look might look good on Liv and Major, but it may make Clive look a little ashy; he may be in need of a lot of lotion with that particular look. (Laughs) That little thing, that there alone, is enough reason for him to not want to be a zombie: it will cramp his particular style.
Related: Rob Thomas on iZombie's early renewal
Since you have the early renewal, what do you want to see for him next year?
I think it would be cool if Clive was a part of—as the fans like to call it—Team Z. Now he's a part of Team Z. And there's just something bigger for him, in terms of stopping this apocalypse. I think seeing the zombies at first, and killing the first zombie, was probably difficult. But then it becomes a thing. And understanding it, and being a part of it, and being part of a journey to find a cure, and contain this thing before it breaks out. Obviously, he's seen the worst of it: they've killed one of his favorite singers, Rob Thomas. He doesn't want any of the other people he loves and cares about to get hurt, too.
I think they'll have Clive involved in that, the more serialized side of the show now and it will be fun. Obviously, I live and exist in the procedural side of the show, and dabble in the serialized side. I think it would be nice to have more time; more time to play in the serialized aspect of the show. In the serialized aspect of the show, that's when you learn the most about Clive. That's when you learn the most about all the characters. So it'll be nice to venture into that part of the show.
iZombie will return for Season 3 in the 2016-2017 season.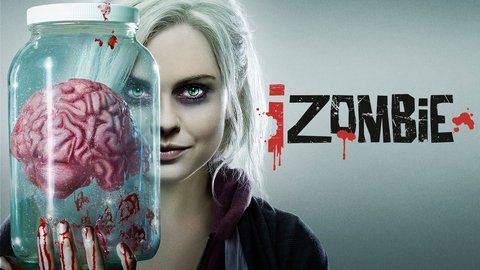 iZombie
where to stream
Powered by