Singer Rob Thomas Talks Guesting on TV Rob Thomas' 'iZombie' Finale
As iZombie's second season comes to a close, the finale promises to be a big one.
"Not everyone will survive," executive producer Rob Thomas teases. "Many people bit the dust at the end of last season; I would say the body count is much higher at the end of Season 2…people will meet their maker."
But before the drama starts, there is a bit of a lightness to look forward to: singer Rob Thomas is guest-starring in the season finale as himself.
"You're talking about one of the coolest people on Earth," Malcolm Goodwin (Clive) says. "Hands down, one of the coolest people on the planet."
The singer is an admitted iZombie fan—"He knew everything, and he was reminding me of things in the show I had forgotten," Robert Buckley (Major) shares—and he jumped straight into what was required of him.
"He couldn't have been more game for everything we did," Buckley says. "It was long days, it was hectic, it was crazy, and he was an absolute delight. And I'm gleefully proud to say we've become pals…he's such a sweet, sweet guy, and his wife is great."
"It was wonderful working with Rob Thomas; I get to have scenes with him," Rose McIver (Liv) adds. "He does not think of himself as a natural actor, nor does Robert Buckley think of himself as a natural singer, so there was a lot of coaching going on between them. We had a lot of fun. He's such a nice guy. He was so onboard to get amongst the stunts. He was really lovely."
For his part, the crooner has only positive things to say about his experience on The CW series. We spoke with Thomas about his guest spot on the show, being on set the day the show was renewed, and more.
When did you first hear about TV's Rob Thomas, and what has that shared name experience been like on your end?
Well, it's been going on for a few years. He and I have never been in the same room together, but we've spent so much time emailing each other back and forth, long stories. It's almost as if we're our own two-man support group, you know? Like, Rob Thomas Anonymous or something. We would get these stories, because I would have these people who would write me on Twitter or Facebook, and they'd congratulate me, and they didn't know how I had the time to make these albums and write songs, and also do these hit shows—and I had to explain to people, I'm not that talented.
And then he gets people congratulating him on his albums and singles. Because his Twitter is @RobThomas and mine is @ThisisRobThomas he gets a lot of my traffic, good and bad. If people like me or hate me, they yell at him about it. (Laughs) We thought it would be really funny if one day we could do something, just so we could be in on the memos that went back and forth about your Rob Thomas and my Rob Thomas.
And you were actually watching iZombie before you agreed to guest star, correct?
Yeah, I was a fan of it, really before I realized it was [from] Rob Thomas. I started watching it on Netflix, and it's funny, because when you see your own name, even if it's someone else's name, it pops out. So when I saw it, I was like, "Rob Thomas! Me? Oh, yeah, not me."
RELATED: iZombie Cast, Producer Tease Liv's 'Return' to Her Pre-Zombie Persona
So when the discussion started about the two of you working together, did you know it would be on iZombie, or were you thinking it might be another project?
I think at the time, when we first started talking about it, it was Veronica Mars, because it was during that period right before the movie. And I know they had made some references here and there about Rob Thomas and the other Rob Thomas, which is funny, because in his world, I'm the other Rob Thomas; in my world, he's the other Rob Thomas.
When he called me, it was straight-up, "Hey, I don't know if you've seen it, but I've got this show iZombie, and we're getting ready to do the Season 2 finale. Do you think you might want to come in and play yourself?" I thought I could play myself just about better than anybody.
Are you going to try to find a way to work Rob into something of yours? Or is that a bit more complicated?
I think it might be a lot easier to get me to do what I did than to get him to come on stage!
What was it like being on set the day the show got renewed?
The day before, I was asking them if they knew if they got picked up, and they said, no, they're not going to know for a couple of months. And then I see them the next day, and everyone is celebrating because they've already gotten picked up.
First off, I've got to say, no blowing smoke, their cast and their crew are like one giant family. You get there, and they make you feel so welcome immediately. So you already felt like part of the family, and then they let me be a part of their celebration, which was really cool. They were all in the middle of moving out of Vancouver and trying to figure out what to do with their stuff, and then they had to shift their focus on getting a new apartment and trying to re-up their leases.
It's kind of cool being on a set. It's like a big music video that's not just about me.
Some musicians really do try to do as much as acting as possible, but that isn't something you've done often. What was it like for you filming a show?
It was fun! The only other time I've done something like that is when I did an episode of It's Always Sunny in Philadelphia. It was the same kind of thing—I was a fan of those guys, and we invited them out to see [a concert] at the Staples Center, and we hit it off and drank many beers. By the end of the night, they were like, we're going to write a part for you in the show. So it's always been a natural thing.
RELATED: iZombie: Could Blaine's "Cure" Be Worse Than Death?
I remember years ago, I sat in a casting office, and I wasted this woman's half an hour, because my manager set it up, and I basically spent the [time] saying why I didn't want to be an actor. And I don't. I really don't. I think the idea of doing little things here and there when they come up organically are a lot of fun. It's a different muscle to kind of flex, and different thoughts. All of a sudden you're up there, and you have it all down, and the camera comes on, and it's like, "What do I do with my hands?" You realize how hard it is. Acting is easy if you're screaming, if you're emoting, if you have something going on. But if they say, "On action, I want you to stand up, walk over, pick up the glass, drink from the glass," the mechanics of your body start to become aware.
When you watch them block out a scene, and you see the scene and how natural it comes across, you see how well it's thought out. You have to get the most of each shot, so you have to be right here while you get the line—but you have to do all of that while you're in character.
When you see them do it–and they do it really, really well—it's just really great to see people who are good at their jobs, no matter what it is.
What can you say about the Rob Thomas we'll see in the iZombie world?
Well, I can't give away a lot because it's the season finale. But I got picked by Vaughn to be the Max Rager spokesperson, and I sing the Super Max jingle, which is very exciting for me. In the season finale, they hire me to play the corporate part for Max Rager. So I come and play "This Is How A Heart Breaks."
How much input did you have in which song you played?
It's funny, because the whole thing was me talking to Rob in email, and when he told me what the scene was, I said, "I was thinking 'This Is How A Heart Breaks' has kind of got that energy that could be really, really cool and create a tension." He liked the idea. And what was cool was we took live versions of me and my band playing instead of me just singing to a track to give it a bit of a more realistic feel, so it felt more live. They were really great with working on that, and getting the files back and forth. I sent every version they could possibly want, and they went with the live version.
Sometimes it's weird when you see bands playing on TV and they're just playing to their record, and it sounds kind of flat. So when I did it, there was a whole crowd there, all these extras who were the partygoers, and so it took them an hour to realize I wasn't actually singing—they were worried about my voice, and going, "Aren't you getting tired?" And I was like, "Dude, I'm not really singing! I'm just mouthing the words right here."
That was the part that was just like a [music] video: shoot and then pretend to sing. I can do that all day.
Rob Thomas the writer teased there would be a zombie outbreak at the party—and the danger is amplified because it's a prison-themed shindig. Can you say if you were in that sequence, and how that might have been to film that?
I will not confirm or deny anything. But I will say, there was a point that it got so real that we thought there was something happening that was not supposed to happen. That's when you knew there were some good takes happening: we were on stage and we got scared.
What's even weird on those kinds of sets is to be at craft services with a whole bunch of zombies, sitting there having coffee and eating knick knacks.
RELATED: iZombie's Rob Thomas Shares His Thoughts on the Season 3 Renewal
The actors on the show very clearly adore you. What was it like to meet all of them, especially since you were a fan of the show before this?
I was a legitimate fan, and coming in, it was just me, Malcolm, Rose, and Rob Buckley just sitting there, and we started joking with each other. And it felt like we had known each other for a long time. The next night, I missed the wrap party because I was waiting for my wife to come in—she got in late—so instead, on the next night, we took Malcolm and Rose and Rob out to dinner, and just the five of us hung out and got to know each other.
I can't say enough about how great those guys are. And now, me and Rob Buckley are best friends forever now. We realized we had the same dark sense of humor, which can bring people together.
Now that you're officially a part of the Rob Thomas TV world, how confused do you think fans of you both are going to be?
Well, I think our challenge is to confuse people as much as humanly possible. I told Rob that A) if he ever needs anybody to play me again, I'm available. B) If I have my say, next season, I want to come on and play him.
Well, iZombie has been very meta in the past–they had a case earlier this year where Liv investigated a death connected to a zombie-based TV show.
Of course, Zombie High!
In hindsight, what was your favorite part of the iZombie experience?
Besides the nature of the whole thing—you do this job for 20 years, and every now and then, you get to do a gig that is so different from what you're used to doing—honestly, I think the best part is the friendships I made with Rose and Rob and Malcolm. It feels like we made legitimate friendships there, and I think that's always the cool thing when that happens.
iZombie, Season Finale, Tuesday, April 12, 8/7c, The CW.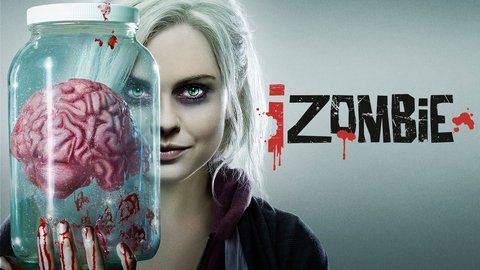 iZombie
where to stream
Powered by