Cheers & Jeers Takes on 'Arrow's Death, 'Banshee's Return and That 'Walking Dead' Cliffhanger!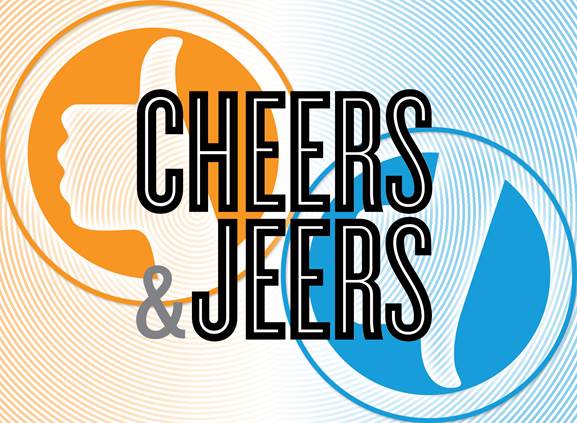 Cheers & Jeers is a safe place to shout about TV's recent hits, misses and ever-lovin' messes! Share your opinions in the comments below.
Cheers to The Flash for grabbing Arrow's ex
Days before her Black Canary was killed off on Arrow, news broke that Katie Cassidy would be turning up on its speedier spin-off as the Earth-2 version of the late Laurel Lance. Given how well Cassidy has grown into the superhero role, we're hoping the powers-that-be figure out a way to keep her around in some form. You know, Legends of Tomorrow's Hawkgirl could use a good wing-woman.
Cheers to Banshee for howling into its final season
The noirishly violent crime thriller starring Antony Starr as TV's sexiest anti-hero began its last batch of episodes by hooking—and horrifying—us with a serial-killer storyline, a shocking twist ending and a vice-as-torture scene we will never get out of our heads.
Jeers to American Idol for ending on a low note
Turns out bringing back past contestants throughout the farewell season and the bloated finale only served to show how uninteresting this final crop was. And if that wasn't enough proof that Idol needs a rest, the staggeringly meh Trent Harmon's win over his powerhouse runner-up La'Porsha Renae should do the job. For now.
Jeers to Twitter for getting into bed with the NFL
The social-media platform plans to livestream 10 of the Thursday Night Football games that are also scheduled to air on CBS, NBC and NFL Network. Twitter has enough trolls. They don't need an entire organization filled with guys who think they can get away with being abusive.
Jeers to The Walking Dead's Less Than Killer Cliffhanger
After months of waiting for and dreading the arrival of Jeffery Dean Morgan's villainous Negan, the sixth-season finale crapped out on showing us who actually met their fate at the end of his barbed wire-encased baseball bat. Talk about a swing and a miss. Next time, let's leave the cliffhangers to Shondaland.
Jeers to Elton John guesting on Nashville
When we think of country music, Sir Elton isn't even among the top 50 people who come to mind (then again, neither is Scarlett). Yet he is now set to appear on the sudser that just so happens to be created by the wife of his upcoming album's producer. Sad songs say so much but this just screams "marketing ploy."