Antony Starr Offers a Peak at 'Banshee''s Final Violent and Redemptive Season
Yes, Fanshees, there's only eight episodes left for the knowingly outrageously sexy, violent and emotional Cinemax show about the most dangerous town in Pennsylvania or perhaps the U.S.A.—and that includes Chicago.
After four years, Banshee, the network's highest rated series, is coming to an end. It's a decision made by creator Jonathan Tropper. "When we started the show, we thought we'd go for five," he says, "but the combination of the move from North Carolina to Pittsburgh and where we were in the story caused us to accelerate certain storylines. Once we did that, we were reaching the end of the story. I've always been wary of shows that keep inventing stories to keep their slot, and I really felt that we were reaching the end of the Lucas Hood story. We'll end up having four seasons that really didn't have any dogs. Going into a season you know will be your last gives you liberty to really go for broke. And we did."
Antony Starr, who stars as the unnamed thief who took the identity of Lucas Hood, a man killed before he become the new sheriff of Banshee, agrees. "We're getting out when the show's actually at full strength. We're not jumping any sharks."
The actor, a New Zealander, has a major new role in CBS's upcoming mystery American Gothic, premiering in June. He shares with TV Insider what mayhem to expect when Banshee returns on Friday, April 1, while avoiding some really big and very emotional, spoilers.
Here's one we can spoil, says Tropper. "You will never learn Lucas's real name—because I don't know it. Anything else would be disappointing."
How much time has passed since last season?
Eighteen months.
Hood had turned in his badge after the murder of his girlfriend, the deputy Siobhan (Trieste Kelly Dunn) and started drinking heavily. What is he up to?
He was certainly in a messed up space. One of the things I've always asked Jonathan is "After all the stuff that's happened, why doesn't Lucas kill himself?" You might see that beat in the first episode.
Let's assume he survives the first episode, what then?
If earlier seasons were about Lucas looking at the world and trying to figure out what's in it for him, this season is more about trying to figure out how he gets out of the world that he's created for himself.
He's had a lot of trauma, hasn't he?
There must be internal ramifications from watching your girlfriend having her neck snapped. He will have to deal with all of his traumatizing events and find a way forward. It's not about wrapping everything up with a bow but finding some closure and a sense of hope.
Is his closest friend, the transvestite hacker Job (Hoon Lee), still missing after being kidnapped last season?
Yes. And that will test his relationships with [his ex-lover] Carrie (Ivana Milicevic) and [barkeep buddy] Sugar (Frankie Faison) who thinks Job's disappearance isn't his first priority. It weighs heavily on Lucas, but how does he get him back when all avenues have been exhausted?
What will happen with Lucas and Carrie's very sexy and very tumultuous relationship. Each is now single and a mess!
No matter where they are in the world or what's going on, those two are always going to be intrinsically linked. Not only do they have a child together, but they share a deep bond. They will find resolution, let's say.
There's a serial killer of women in town. Lucas may not be a lawman anymore, but how will he deal with that?
So far there are three victims, and someone viewers knows is one of them. That's this season's driving force. That killer gives Lucas some purpose.
Eliza Dushku (Buffy the Vampire Slayer) comes on board as Veronica, an FBI profiler. She told me that Veronica's job is to get into people's heads. Is one of those people Lucas?
That's one of the relationships that tests Lucas and forces him to examine himself. These two are like a masculine and feminine mirror of each other.
How was working with Dushku?
It's not always good for things to be too comfortable and it's good to have another strong personality coming in to bounce off of, as long as it's constructive. She brings a lot to the table, so I had a great time working with her.
What else is happening in Banshee, considering it's filled with drug dealers, Nazis and other assorted bad guys and gals?
[Laughs] There's been a surprise reshuffle in town. The backer of the police department has the financial wherewithal to make sure they've got a nice new office, new cars and a lot more people.
Does that indicate a new mayor in town with some money and power? [The last mayor, Carrie's estranged husband Gordon (Rus Blackwell) died heroically in the Season 3 finale.] Who is it?
All I can say is that it is one of those reveals that everyone will be pretty excited to see.
Whatever else happens in this final season, isn't it a sure thing that Lucas and the town's criminal mastermind Proctor (Ulrich Thomsen) have one extravagant mano a mano showdown?
Those guys are like two sharks circling each other. They're two of a kind in many ways. They've had a volatile relationship since the beginning and it would be rude not to do something with that in season four. That definitely comes to a head.
As long as Proctor's psychopathic bodyguard Burton (Matthew Rauch) gets his comeuppance!
He's a fan favorite that everyone loves to hate. He features heavily in the season because he's always attached to Proctor.
He's probably in love with his boss, since he clearly loathes everyone else.
I think they're probably lovers. [Laughs]
Finally, can you tease us just a bit about the series finale?
It will be bittersweet because there's so much that happens. Some of it fans will like and some, they won't. Some characters will be redeemed and others won't. I think as a wrap up for the entire show, it will be a very good way to go out.
Banshee, Season Premiere, Friday, April 1, 10/9c, Cinemax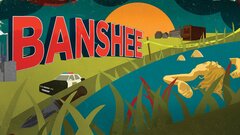 Banshee
where to stream
Powered by