'The Walking Dead' Showrunner Defends Finale Cliffhanger: 'I Want to Do Right By This Audience'
Was The Walking Dead's Season 6 finale a swing and a miss?
The AMC drama concluded on Sunday night with the much-anticipated introduction of villain Negan (Jeffrey Dean Morgan) and his barbed-wire-wrapped baseball bat named "Lucille." After capturing Rick Grimes (Andrew Lincoln) and the rest of his group, the charismatic leader of the Saviors played a deadly game of "eeny, meeny, miny, moe" and killed an unknown member of the Alexandria-based survivors. However, many fans took to social media to voice their outrage over the fact that the identity of the victim will remain a mystery until Season 7 premieres in October.
"It is all a part of a plan and a part of a story," showrunner Scott M. Gimple told reporters on a conference call. "We care about our audience a great deal and I'd love a little more trust, but that makes the challenge for us to win those angry people back with a great story that much more important and that much harder. I do want to do right by this audience, and I hope to win back or sway some of them."
RELATED: Who Met Lucille in the Walking Dead Finale? Take Our Poll!
Gimple promised next season will pick up immediately following the events of Sunday's finale and explore even more aspects of the expanding world. "Things are going to start off very, very, very dark, but that won't be the whole season," Gimple teased. "We are going to have a wide variety of locales, tone and character. This is going to be the biggest variety of stories we've had yet."
A new part of that expanding world includes the body armor-clad characters that Morgan (Lennie James) and Carol (Melissa McBride) met at the end of the finale. Fans of the comic books might recognize them as members of another community known as The Kingdom. "Those guys may or may not have been The Kingdom and we may or may not see The Kingdom," Gimple says. "But if we do see The Kingdom, it will be a big reveal and it will be another new world to inhabit and explore."
Although new groups are entering the picture, Gimple says that communities such as Alexandria and The Hilltop will not be vanishing during Season 7, and some characters that are missing from action will also return, including Alexandria scout Heath (Corey Hawkins). "We will absolutely see Heath again," promises Gimple, noting that Hawkins has already been cast as the lead in the 24 reboot on Fox. "We have a lot of contingency plans, but I've been thinking about this possibility for a while and we're hoping to have him back in a certain episode."
The Walking Dead's seventh season will premiere on AMC this fall.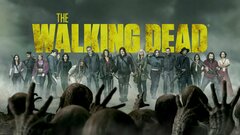 Powered by