Jasmine Guy Guest Stars As 'K.C. Undercover' Prepares For 'A Different World' (VIDEO)
There's a world of family drama coming up on K.C. Undercover – and it's a very different one.
Sunday's episode sees K.C. (Zendaya) convince her mother Kira (Tammy Townsend) to help her track down her estranged sister Erica – played by A Different World's Jasmine Guy – who also happens to be Abby's (Pretty Little Liars' Kara Royster) mom.
RELATED: Which of these TV colleges are worth the application?
Erica, who'd become a spy for The Other Side, has been in hiding for the past several years. But as the Coopers quickly discover, she may not have quit her old spy games.
Until then, an unsuspecting K.C. will be working to reunite the two sisters (and Abby and her mother), and as the exclusive clip below shows, she deserves an A+ for effort.
RELATED: K.C. Undercover First Look: A Different World Reunion (PHOTO)
The episode will kick off Guy's three episode guest arc, and will see her reunite onscreen with fellow Hillman College alum, Kadeem Hardison, who'd played her on-again-off-again love interest in the long-running NBC show.
K.C. Undercover, Sundays, 8/7c, Disney Channel.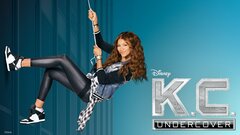 Powered by