'K.C. Undercover' Gets a Second Chance in the Spy Game (PHOTOS)
Looks like K.C. might be going undercover sooner than expected!
The one-hour Season 2 premiere of K.C. Undercover sees the Cooper family receive a second chance to become spies for The Organization—and get their humanoid robot Judy (Trinitee Stokes) back—when The Jackal, a feared career criminal, escapes prison and threatens Craig (Kadeem Hardison).
RELATED: 16 Family-Friendly Shows You Shouldn't Miss
And their second chance couldn't come any sooner as K.C. (Zendaya) and her family are having a tough time as civilians. Ernie (Kamil McFadden) is trying his hand at inventing things while K.C. asks her best friend Marisa (Veronica Dunne) to help her fit in at school. And based one of the exclusive images below, it looks like there might be another guy in K.C.'s life now that Brett is in Canada: star football player Darien (Chris Tavarez). Though whether he makes a play for her heart remains to be seen.
Elsewhere, Judy is now part of a new, more "stiff in the pants" family headed by Graham and Penelope. But as you can see below, she won't be taking to her reassignment too well. Season 2 will also feature a ton of guest stars, including actress Jasmine Guy (who will be reuniting with her former A Different World co-star Kadeem Hardison), The Brady Bunch's Florence Henderson, NBA great Rick Fox and Freaks and Geeks' Samm Levine.
Take a look at these exclusive pictures below and then tune in to the Season 2 premiere of K.C. Undercover on Sunday, March 6 at 8/7c on Disney Channel.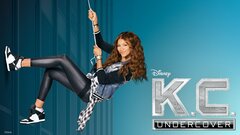 Powered by