'K.C. Undercover' First Look: 'A Different World' Reunion (PHOTO)
Jasmine Guy and Kadeem Hardison never traded punches as Whitley Gilbert and Dwayne Wayne on the 1990s sitcom A Different World.
But when Guy guest stars on Disney Channel's K.C. Undercover (her three-episode arc begins April 10), things are, well, different. She plays Erica, an enemy agent with a secret familial connection to titular spy kid K.C. Cooper (Zendaya) and her secret agent dad, Craig (Hardison).
PHOTOS: K.C. Undercover Gets a Second Chance in the Spy Game
Erica has been happily in hiding for years and is kicking mad when the Coopers appear on her turf asking for help. "Our characters are related, but we're adversaries," Hardison says. "Learning our fight scene was a blast. Once we got together again, it was as if we were never apart."
K.C. Undercover, Sundays, 8/7c, Disney Channel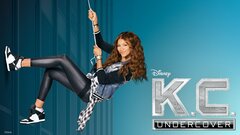 Powered by