'K.C. Undercover': Zendaya Looks Back on K.C.'s Best Disguises For Holiday Episode
K. C. Undercover is taking a walk down memory lane for its holiday episode, "Holly Holly Not So Jolly," when it airs this Sunday. K.C. (Zendaya) finds herself in need of a holiday spirit boost, and what better way to get out of her funk than to reflect on senior citizen prosthesis and eccentric ensembles? For any other teen this may not be the answer but for a spy like K.C. reflection might be the best medicine.
Will this reflection be enough for K.C. to fully recover from her holiday blues, or will it take the help of her friends to see that its one of the best times of the year? Featured disguises will include Bernie Shotz, the wise remarking senior citizen, the Benimama chef, the artist Lola Fingers, the janitor Paco, and many more, check out the images below: They feature K.C. as well as Irma played by the late Florence Henderson.
RELATED: Zendaya Takes on 5 Identities on K.C. Undercover
K.C. Undercover, "Holly Holly Not So Jolly" airs Sunday, December 4, 8/7c, Disney Channel.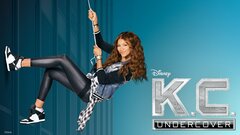 Powered by