Steve Harvey and the Secrets Behind 'Little Big Shots' Huge Success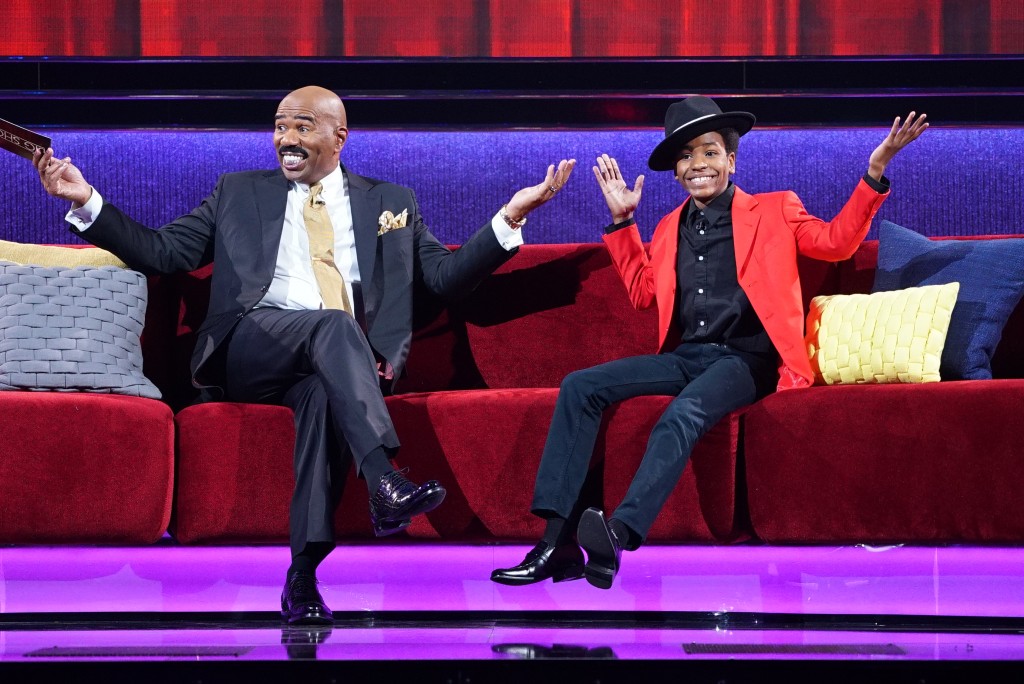 Steve Harvey remembers the instant he knew Little Big Shots would be a hit. While the NBC show, which features the comedian interacting with talented kids, received some of the highest marks ever for an unscripted series when the network tested it with focus groups, it had already passed Harvey's gut test.
"When I do shows, I have a feeling," Harvey told us in January, prior to the program's launch. The moment came while taping one of the initial eight episodes last summer, as he sat on stage with a 5-year-old boy from Japan who didn't speak much English. Despite the language barrier, Harvey and the boy—a viral video star who flawlessly re-creates Bruce Lee nunchaku moves—hit it off.
"Me and this little dude were having a conversation for 42 minutes," Harvey said. "We can't air the whole [interview], but it was the most entertaining 42 minutes. I'm telling you, Little Big Shots is a hit because it combines two things: It's American Idol and Kids Say the Darndest Things."
Harvey's instinct was right. Little Big Shots is the first out-of-the-box reality success in years. The March 13 timeslot premiere, at 8/7c, averaged 14.9 million viewers (which increased to 16.3 million after three days of VOD and DVR usage), winning the night among all broadcast shows. It was NBC's best Sunday of entertainment shows (not including post–Super Bowl telecasts) in 11 years. No surprise, the network quickly ordered a 13-episode second season.
"When we were shooting it, we knew we had something special," says executive producer Robin Ashbrook. "There would be times I would forget I was working on the show and would just watch Steve on stage with the kids. But I didn't expect it to be so huge out of the gate."
The idea for Little Big Shots first came to reality-show guru Mike Darnell after he joined Warner Bros. TV in 2013 as president of unscripted and alternative television. As part of the job, he oversees Ellen DeGeneres's daytime talk show, which has showcased precocious children like young singing sensation Sophia Grace & Rosie.
"I noticed whenever she would interview these talented kids, it would go viral," Darnell says. "The talent was great, but what really went viral was the comedic back and forth between her and the kids. I immediately thought that would make a great primetime series."
DeGeneres was too busy to host, so Darnell set his sights on Harvey. "We didn't even make a list [of other options]," he says. "Steve is insanely charming. We knew he was the guy."
One problem: Harvey, who is busy juggling multiple hosting gigs (his daytime talk show plus Family Feud, a daily radio show and ABC's Celebrity Family Feud), wasn't interested at first.
"We tried and couldn't really get his attention through the people he had [working for him at the time]," Darnell says. "We got rejected at least once. We tried again. We didn't want to do the show with the wrong person."
Finally, Harvey came onboard, NBC ordered the show and the search for child prodigies, smart kids, funny kids and those who have gone viral began. (DeGeneres and Harvey both receive executive producer credit on Little Big Shots.)
"If we were making this 25 years ago, it would be much harder," Ashbrook says. "Our office is full of people searching the Internet, trying to dig up these wonderful kids."
Once they find a prospect, producers then chat online with the children and their parents to see if they might be right for the show.
"We look for anything and everything," Ashbrook continues. "We have people looking internationally; we have people who know how to find great music kids; and we all know from our social-media world, every single day there's another viral video."
While there isn't an age cutoff, Ashbrook says Little Big Shots will continue to mostly focus on under-13 talent. His team is looking for children who can articulate their skills, and the tykes are given plenty of time to get over any stage fright.
"We make sure they spend time on the sofa before Steve appears, just so they get comfortable in that environment with so many people staring at them," he says. "And then Steve is so magnificent that he puts these kids at ease. If a kid isn't instantly comfortable, Steve takes his time until they are."
Darnell and Ashbrook attribute much of Little Big Shots' success to the fact that it's a positive series in an age of negative headlines. They also tout that families can watch together, and it airs against mostly older-skewing fare on the other networks. But perhaps most important, it's an idea that is easy to explain and promote. (A sneak peek behind mega-hit The Voice didn't hurt either.)
"Usually the simplest concepts sell the best," says Darnell, who now plans to sell the idea to broadcasters in other countries.
Ashbrook puts the credit back on Harvey. "I didn't know a whole lot about Steve before I came here," says the British producer. "I can say I have never worked with anyone so fantastically talented and wonderfully engaging. There's a real old-school performer to Steve. I would make every show with Steve if I could."
Little Big Shots airs Sundays at 8/7c, NBC