'The Fosters' Finale: Maia Mitchell Teases a 'Shocking' Cliffhanger
There won't be anything to sing about when The Fosters return for tonight's season finale.
Last week's musical-themed episode of the Freeform family drama ended on a sad note when Jack (Tanner Buchanan), the foster kid Jude (Hayden Byerly) had befriended and Callie was attempting to help, was found dead after being shot in his new foster home.
We spoke with Maia Mitchell, who plays the recently-adopted Callie, about how her character expresses grief, her relationship with Brandon and what it was like singing on The Fosters.
How will Jack's death affect Callie?
Jude and Callie are very rocked by it, particularly Callie. She's quite enraged by it and that actually fuels her into this questioning state where she's really rethinking everything that she's done and what she's endorsing. She's gained her own voice separate from Justina's which has been chatty and fun.
And how about Jude? How is he taking this?
Jude becomes quite reflective, and that's kind of a spiritual journey, especially with himself and Callie. They butt heads a little bit in that sense. [But] of course they still support each other in their different forms of grief.
RELATED: Maia Mitchell Joins The Lion Guard as a Helpful Hyena
How are Stef and Lena dealing with it?
They're just being quite protective, of Callie especially and what she is publicly endorsing. [They want to] give her all of the information, so they do disclose some information and go on a bit of a hunt for closure for what actually happened to Jack. We hear about what actually happened to Jack and who was responsible, so that Callie is aware of what she might be connected to. It's a big catalyst for a lot of necessary change to happen, and a lot of eye opening to certain things.
Callie's relationship with Justina is crucial to "Fost & Found" How might it be affected by what happens between them?
It is quite crucial, and you're going to see that unfold in our finale in a really drastic way when Callie discovers some new things about Justina that she wasn't aware of… She definitely has to reassess what she's doing and how to move forward from there. She's in a bit of state of panic and anger. Justina and her relationship is so precarious and just completely based upon the surface manipulation and conversations in which Callie has turned a 180 in the middle of. You definitely see that build up and Callie kind of expects that. It was pretty fun [to play].
What are Callie's thoughts about Justina right now? A few episodes ago she'd just learned that Justina is willing to use someone else's story for her own gain. Is she questioning that as she goes into this episode?
Yeah, Callie has a really strong sense of social justice and a really strong moral compass. She's had to live her whole life relying on her gut and having to think, and she definitely in her gut feels that [what Justina did] is gross, but she's also wanting to look at the bigger picture. [Callie] is young and she does look up to Justina and she has been given certain opportunities from her that she's just choosing to turn a bit of a blind eye to honestly, and go, "It's a means to an end, and whatever the means, let's just get it done." That's where she's at, but [Stef and Lena] are much more able to look at it objectively and aid Callie in coming up to a reasonable, calculated solution.
RELATED The Fosters Season 3 arrives on Netflix—and what else is streaming in April
In last week's episode, she and Brandon kind of discussed telling their parents about their relationship. Is Callie still thinking about that in the finale?
I don't know if she ever really was. That whole conversation to me was such an interesting thing to shoot, because there were so many possible ways that we could have played it, and it was interesting going into it. I was like, "You know, Callie is actually asking, and is Brandon actually serious? If Callie hadn't have pulled him back, would he had stormed up to the parent's bedroom and [told them]?" And Bradley was like, "Well, I don't know. Potentially." There's also an aggression and a frustration in [that scene], and the way David played it, it was a little bit [like] Brandon was just frustrated. It's like a step forward and two steps back, and when one person's making progress and doing well, the other person tries to pull them back in. They're just tired of being young and letting go of someone. It's a constant push and pull and with just the exhaustion of it, the heat of the moment, the anger of it almost and the resentment of the fact that they're in that position in the first place, it's just something that they're going to be going back and forth on for about a while. They both know what has to happen, and what they need to do. They're on the right path. It's just confronting them there. You know, it's the middle of the night and they're in a garage that's dimly lit, singing songs that are inspired by their relationship. There are some things that are going to push them into a vulnerable spot, but I can't see them losing sight of what's important.
How are Brandon and Courtney doing?
Their relationship is definitely tested. She gets kicked out of her apartment by her ex-husband [and] Brandon's eyes are really open to the reality of being 17 and dating a woman with a kid, and all the baggage that comes with that, and if he can actually handle it. It's all very real. His parents find out so that comes to a head. The bubble has definitely popped.
How was it to sing on The Fosters as opposed to just the Teen Beach movies?
[Laughs] I'm not trying to have this career or anything. Everyone else is so talented, and they're professionals. When I found out that they were doing a musical at the beginning of the season, I was like, "Bradley, don't put Callie in that musical. I don't want to be singing." He was like, "No, Callie won't be in the musical." I was like, "Don't put her in. I know you." They ask us what our skills are, and try to utilize [them]. I was like, "Guys, don't do it," And then, of course, I got the script and I was like, "You would put in a duet with Callie and Brandon!" It was really nerve wracking. [But] it made sense, and I didn't want Callie to have an amazing voice. I really wanted it to just be her being insecure and timid.
How would you describe tonight's season finale?
There's a very dramatic cliffhanger that is the most shocking thing we've ever had. I don't know what's going to happen post cliffhanger, but I can only imagine huge drama is going to ensue at Anchor Beach.
The Fosters season finale airs at 9/8c on Freeform.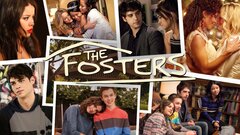 Powered by