'The Fosters' Season Finale: Callie's Adoption, Jesus' Return and the Future of "Jonnor"
A successful adoption, a cancer scare and a surprise family reunion. Monday night's mid-season finale of The Fosters was one jam-packed episode of television. With so much happening within the hour, TV Insider spoke to Fosters executive producers Peter Paige, Joanna Johnson and Bradley Bredeweg about the night's big developments and what fans can look forward to in the next half of the season.
Was it always the plan that Callie would get adopted this season?
Johnson: No. We actually went back and forth a lot.
Paige: We've almost done it twice before.
Johnson: We thought about how long we could pull the rug out from under everybody again. And we've got to find more stories on Callie. That can't be her only journey.
Does this mean there will be more focus on her 'Fost and Found' app?
Paige: We're very excited about the young budding activist in Callie and the young woman she's becoming. When we meet with foster kids, which we do quite a bit because of the show, they all have a real connection to social work and social justice. They want to become social workers or lawyers or advocates in some way, shape or form for kids like themselves. So it feels really organic to who she is and really true to the kids we're representing that this is sort of the extension of her journey.
It was nice to see that she was able to stand up for herself and not have it impede her adoption.
Paige: Seeing Callie, someone who's an introvert by nature, stand up and own her power and be willing to face the consequences of the decisions that she makes is certainly a very inspiring thing.
Now that Callie and Brandon have decided to put aside their feelings for each other, is it the end of 'Brallie'?
Johnson: There's always going to be a 'Brallie.' Is the dynamic of their relationship romantic or does it become something deeper and more spiritual and more brother-sister? Time after time, could they find their way back to each other in a way that's wouldn't feel wrong?
Paige: Nothing is ever off the table. At every turn we talk about every possibility and eventuality and obviously we believe those two characters have a deep and profound connection.
RELATED: Stitchers Finale: What's in Kirsten's Past and Cameron's Future?
Now that Connor might be moving to L.A. it seems like Jude is losing his best friend and his boyfriend. What does that mean for "Jonnor"?
Paige: It's intense. They're young boys and it's first love and there's the possibility they're going to be separated. So it's a powerful thing. Not everything always happens the way you think it's going to happen… I wouldn't buy any plane tickets to L.A. yet.
So there is a chance that Connor could change his mind?
Johnson: Anything is possible. The story we love there is the father and son who are having a very hard time living together with the revelation that the son is gay. [Adam is] trying to accept it, but it's very hard and that's how it is for kids. There's still a lot of children and kids out there whose parents don't understand their choice and support it. Even if they try to support it, they have a hard time. We really like that dynamic.
Connor and his dad have come pretty far since we first met them.
Paige: Adam is such an interesting character. I love watching his struggle in trying to understand, trying to relate and wanting to be a good dad and yet continuing to fail.
Bredeweg: Also, Adam is always asking questions. He wants to get excited.
Paige: Oh, absolutely. It's also beautiful that the boys finally told each other that they love each other. That's the real effect of that story.
One of my favourite parts of this episode was when Lena was giving Jude the sex talk.
Paige: That scene makes me proud and deeply happy. I love the humor in it. There was some physical activity between the boys and Lena thought, "This is my cue. This is time. I'm an educator and a parent, and this is a good time for me to go in and engage. I want to make sure my kid has all the information he needs when he finds himself in that situation. Not after the fact." Hayden's face when [Lena's] like, "We're going to have the Talk," and he's looking around the room, looking for any other things he can look at besides her and listening and trying to get her redirected. I think it's so real.
RELATED: Baby Daddy Season Finale: Ending a Love Triangle and Creating a Reba Reunion
Have Lena and Stef moved past the Monte issue or is there more work to be done relationship-wise?
Paige: They had a big breakthrough in the finale. They both kind of realized and recognized the things they'd been holding on to, the grudges that they've been carrying, and put them on the table. They were then able to take each other in and love each other again. They're in a good place going into next season.
And of course, Jesus is back.
Paige: We're really excited to have Jesus back in the family and to write for him. We love telling his stories. They have a different color and tone to the stories we tell about the other characters. There's humor to his stories that not every other character carries.
Johnson: I know there's a lot of controversy with the fans, "Why did you guys recast." When Jake T. Austin chose not to come back to the show it was difficult. That character is so important and we're not the kind of show to send a kid off and never see them again. And the relationship between Jesus and Mariana is so special. We love that character, that kind of fun, sexy, teenage boy who gets into trouble and doesn't think before he acts. Brandon is more pensive and careful and Jude is an old soul; it would be fun to have this dynamic in the family.
What can we expect from the next half of the season?
Paige: We have to reinvent the show. Callie's adopted so some of our big drivers are shifting. But, Callie the activist is going to take herself and the family on quite a journey.
Johnson: There's also the fact that Mike knows or suspects that Ty was the one driving the hit-and-run car. So there's the conundrum of "What effect could it have on AJ?" Also, Annie Potts [who play's Stef's mother on the show] is going to come and do a three- or four-episode arc. There's a reason she come, and she's going to stay for a while. Something big happens in the family.
Paige: A bit of a bomb gets dropped on the family in the premiere. Everybody's scrambling a little bit.
Johnson: And Rosie will be back and we'll begin to know more about the character Rita and the family. Not just her as this social worker at Girls United, but as a person and as a friend to Callie.
Now that we know Mariana can sing, is there a chance to get a Fosters family band going?
Paige: We're trying very hard to avoid the Partridge Family. The problem is all our kids are talented musicians and actors. You get into these places with story where you want to exploit that for one reason or another… I don't know. Maybe for an anniversary party or for the moms. You never know. But we don't want to take them on the road.
The second half of this season of The Fosters will premiere in 2016.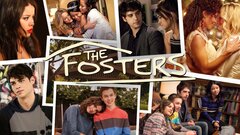 Powered by