'Lethal Weapon' Sneak Peek: Oops! Cole Makes a Bad First Impression (VIDEO)
Fender benders happen to everyone, right? But on this week's episode of Fox's hit crime drama Lethal Weapon, the car accident that Detective Wesley Cole (Seann William Scott) was involved in earlier in the day comes back to haunt him.
And it's all because the other driver is none other than the new Deputy District Attorney, Erica Malick (Nishi Munshi)! Since Captain Avery (Kevin Rahm) is trying to salvage his once-promising political career, having Malick feeling anything but warm thoughts for the police could have ripple effects, so Cole staying out of sight might be a good thing.
See Also
This week's episode was helmed by cast member Keesha Sharp (Trish Murtaugh).
In this exclusive clip, watch how Cole tries to hide himself from being found out during a video conference call between Malick, Avery and Cole's partner, Roger Murtaugh (Damon Wayans), and what brings him out from, yes, under a table.
Lethal Weapon, Tuesdays, 9/8c, Fox.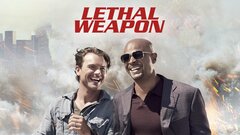 Powered by