'Lethal Weapon': Cole Shuts Down His Former CIA Recruiter! (VIDEO)
Wesley Cole (Seann William Scott) is just trying to do his best since joining the world of Fox's hit crime drama, Lethal Weapon.
First, he's taken a job as a detective with the LAPD to be closer to daughter Maya (Shay Rudolph) and ex (Maggie Lawson), for whom he still has feelings. And he's had to pick up the pieces with his partner, Roger Murtaugh (Damon Wayans), when Murtaugh's former partner, Riggs (Clayne Crawford), was killed in the line of duty. But does Cole really deserve to be talked down to?
See Also
And she may remind you of someone else...
We'll find out when he's reunited with Tom Barnes (Chicago PD's Mykelti Williamson), his former CIA recruiter! That's what happens in this week's episode, "Panama," which was directed by none other than Keesha Sharp, who plays Trish Murtaugh — her first time directing on the series.
In an exclusive clip from the episode, Cole meets up with Barnes as they're discussing another ex-CIA agent, Joshua (Lindsay Farris), who has gone rogue and could be a serious threat to national security. Barnes questions Cole's more legit ways of handling things now that he's LAPD, but we'll see that Cole is more than happy to set Barnes straight on who he takes orders from now.
Lethal Weapon, Tuesdays, 9/8c, Fox.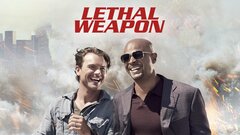 Powered by