Damon Wayans Reveals He's Leaving 'Lethal Weapon' (VIDEO)
In a shocking turn of events, Damon Wayans has revealed he's leaving Fox's Lethal Weapon before the end of the year.
The actor, who broke the news of his exit via a video interview with Electronic Urban Report, says the schedule for the police procedural is too busy for his current home life and 58 years of age. Wayans' departure would be the second big hit for the show, which dismissed former fellow lead Clayne Crawford for alleged bad behavior on set.
See Also
We analyzed the Neilsen data.
"Well, this is more of an announcement.But I am going to be quitting the show in December after we finish the initial 13 [episodes]," Wayans begins in the clip."So I really don't know what they're planning, but that's what I'm planning," the actor adds of the show's third season.
When asked why he suddenly decided to leave the show, he claims that as someone pushing 60 and dealing with diabetes, the 16-hour days are too long. Wayans also opened up about being there for his family, explaining that his mother and daughter both underwent surgery recently buthe was unable to be by their sides due to his work schedule.
See Also
And she may remind you of someone else...
So what's next for Wayans? He says he's itching to return to the stage. As for the show? More news is sure to come, but for now, we have 13 episodes with the actor and his new co-lead with Seann William Scott.
To see Wayans' shocking reveal, check out the video below.
Lethal Weapon, Tuesdays, 9/8c, Fox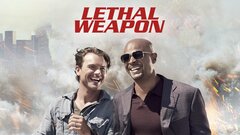 Powered by