'Top Chef Junior': Vanessa Lachey & Curtis Stone Reflect on Season 2 and Tease the Finale
Things are heating up in the Top Chef Junior kitchen as the young finalists compete for the Season 2 title and $50,000 cash prize.
Host Vanessa Lachey and Head Judge Curtis Stone have watched the field of 12 budding culinary masters put their skills to the test, narrowing down the field through unique challenges (Harry Potter!) and exciting Quickfires and Restaurant Wars.
With the table set and the finale nearing, we sat down with the two to see what's cooking.
What do you think was learned from the first season that you took into this year as the competition progressed?
Vanessa Lachey: Top Chef as a whole is such a well-oiled machine… and Top Chef Junior is tried-and-true to the original one. For us, it changed because the kids knew what to expect going into season two. They seemed a little more comfortable. They saw we do Restaurant Wars and a cool food truck challenge, and there are some saves. There was a little more ease, so they were a little more creative. Every single day with these young chefs was something new whether it's their personality or what they're putting on their plate.
Curtis Stone: I think because they saw the quality and standard of season one, they came with their 'A' game…Season two we really noticed everyone brought it and were well prepared.
These kids put a lot of pressure on themselves knowing what's at stake. As parents, what's it like walking the fine line of being a judge/host but also wanting to be there for them?
Lachey: There are some things that Curtis and I couldn't be taught because it's innately within us. That's because we do have children. We are strict with our children and parent our children, but we also have fun with our children and play and explore with our children. We both take that into the work place with these young chefs. They are going to be hard on themselves regardless. What I love is we're giving them a safe environment with some amazing mentors, unbelievable top-of-the-line tools to hone their craft.
Also, what we learned is they are way more resilient than adults. They are here to have a good time and get better and follow their dream, but they really do appreciate this experience. While it's hard in that moment of elimination, and it's hard on all of us. I don't know how many times we had to hold back tears because you are a parent and are human. At the end of the day, they come back and are like, 'This is awesome. I can't believe I got to do this.' They are excited to learn more and push themselves. This isn't the end of the road for them. This is literally part of their journey, and it's great to be a part of it.
Stone: It's like if you have a kid that plays a sport. There is nobody happy losing in the final of a competition. I think the kids that sign themselves up are into it. Every Top Chef elimination is like a grand final; a moment of make it or break it. That adds so much excitement for the kids and the viewers. But they look back at it with super fun memories. We keep in touch with them. Even the ones that go out in the first round still really enjoyed the experience.
This season it's easy to get invested in each participant's story, such as Londyn, who cooks for her brother with Down Syndrome and her sister with a rare blood disorder.
Lachey: What these young chefs are showing without even realizing it is that they are not only inspiring through their skill and creativity, but they are inspiring kids all over the country who see they also have adversity. Whether it's at home or certain things financially or certain things with their school or with their actual ability. Even with their health where we've had participants who have battled these health issues and find solace in cooking and want to spread that joy through food. It's really a beautiful thing to watch. It's not just inspiring for the kids, but for me as well. I get inspired for myself and even for my kids, getting them excited about cooking because the kitchen is the heart of the home.
When looking at the finalists, who do you think has really surprised you or maybe stepped up unexpectedly?
Stone: It's so tricky. In each episode they're up and down. You see them go through these rollercoaster of emotions. We saw Nikki go from strength to strength. She was sort of a front-runner, but there were times in the competition where she struggled. She wore her criticism really heavily.
Then there were other kids like Noah, who was a big puppy dog. He had these big bright eyes and wore a smile every day, rolling right into it. I don't know if I could pick one.
Lachey: One of the days I was there with Busy Philipps, who was guest judge. It was a pizza challenge, and Rogers did not cook his pizza. In fact, he was more into doing Skee-Ball and getting tickets and kitchen gadgets. When it came down to it, he brought this mess of a dish…Then he came up for elimination and was saved. That moment we could see it on his face. He was like, 'Thank you so much for this opportunity. I'm so sorry for not taking this seriously. This is my dream.' He really buckled down. It was a massive transition. So, when he made it to the final four, I was like, 'Okay, someone showed up today.'
Heading into the final part of the competition, what can viewers expect?
Lachey: I can tell you the Food Fight episode was super intense for me. Curtis and I get to cook against two amazing chefs. He is the chef and I'm like the plus one. We had about 20 minutes to cook this dish and just to be his sous-chef was an unbelievable experience for me. It was very nerve-racking. We are literally in a ring fighting it out with food. It was so fun. You had the kids flip the script and to be able to criticize us. That was one of my favorite moments this season because it shows you how cooking can span all generations.
Stone: And they did not hold back when they judged us. When you say mindful criticism, there wasn't a whole lot of mindful in there. They did it with big smiles on their face…There is so much that happens off the screen that they get to see and learn. The thing I love is when the cameras stop rolling is there are a thousand questions. For them to learn these life lessons is really cool.
What do you think it will take for the winner to be decided?
Stone: I think to be a great chef you need to be able to tell stories through food. I think that is something we are certainly asking them to do at this point in the competition. To be able to take the diner on a bit of a journey from a culinary perspective where it's almost transformative rather than it just tastes good. You want to be able to eat something and go, 'Wow, this made me stop and feel something different.' That's what we are hoping for from the winner. Whoever does this the best I think will come out wearing the crown.
Top Chef Junior, Special Episodes, November 24 and 25, 6/5c, Universal Kids
Top Chef Junior, Season Finale, December 1, 6/5c, Universal Kids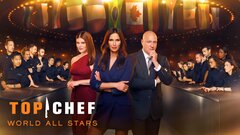 Powered by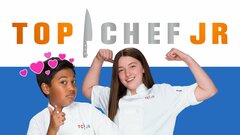 Powered by