Oscar vs. Tony Winner on 'Mom', J.Lo on 'Will & Grace', 'Jessica Jones' Returns, 'Top Chef' Finale
A selective critical checklist of notable Thursday TV:
Mom (9/8c, CBS): All hail Allison Janney, who added an Oscar this week (for I, Tonya) to her shelf of seven Emmys, including two for this underrated comedy, which this week pits the statuesque star against the diminutive Tony- and Emmy-winning powerhouse Kristin Chenoweth. In a classic guest-star turn, Chenoweth plays Miranda, a chirpy "inner strength coach" who claims success in her rehabbed and slimmed-down client, Jill (Jaime Pressly). Bonnie (Janney), typically, isn't impressed: "This Muppet thinks I'm teachable," she scoffs. But Christy (Anna Faris), still reeling from law-school rejections, may actually benefit from one of Miranda's pricey "energy cleanses." Or not.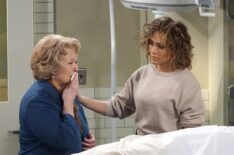 See Also
Jack is more than excited to be working with Lopez—but is the feeling mutual?
Will & Grace (9/8c, NBC): In a much clumsier guest-star stunt, Jennifer Lopez returns to the sitcom she appeared on during its earlier run, once again playing herself—though this time in a baldly promotional tie-in to her NBC crime drama Shades of Blue (the third season of which the network hasn't even scheduled yet). Though Jack (Sean Hayes) is thrilled to reunite with J Lo on the Blue set, it's not a surprise when he refuses to play dead when cast as a corpse. The better subplot finds Will (Eric McCormack) and Grace (Debra Messing) at a baby shower where neither exactly fit in.
Marvel's Jessica Jones (streaming on Netflix): Timed to launch on International Women's Day, the second season may lack a villain as memorable as mind-controlling Kilgore (David Tennant), but it still showcases one of Marvel's and Netflix's most fascinating, edgy superheroes. Krysten Ritter is a marvel indeed as the hard-drinking, hard-hitting Jessica, damaged by her past and more than capable of damaging those who get on her bad side.
See Also
See first look photos from the highly-anticipated Season 2.
Champions (9:30/8:30c, NBC): Like a messy hybrid of Will & Grace camp and tiresome A.P. Bio-style snark, NBC's slick, silly new sitcom from Mindy Kaling and her fellow Mindy Project writer-producer Charlie Grandy introduces manchild Brooklyn gym owner Vince (Anders Holm) to Michael (J.J. Totah), the 15-year-old gay theater-prodigy son he never knew. Kaling makes a cameo early on as Michael's mom Priya, who somewhat incredibly leaves the kid in the care of commitment-phobic Vince and his sweet dim-bulb brother Matthew (Andy Favreau, the show's most appealing element). Totah has great timing, as he dishes his precociously bitchy lines with "Just Jack" flair, but this hardly feels like championship comedy.
See Also
And how he and the 'Office' alum came up with the NBC series.
Top Chef (9/8c, Bravo): The delectable culinary competition serves up its final course in Aspen, as the final two chefs go gourmet to impress the judges and celebrity chefs Nancy Silverton, Jonathan Waxman and Curtis Duffy. Whoever wins, good luck getting into their eatery for the next few months.
Inside Thursday TV: Sony's Crackle streaming service launches the 10-part action drama The Oath, starring Game of Thrones' Sean Bean and True Blood's Ryan Kwanten as crooked-cop father and son in a complicated Shield-like scenario about warring gangs of corrupt police. … NBC's Superstore (8/7c) takes on a timely subject when Mateo (Nico Santos) is injured, and Jonah (Ben Feldman) worries his co-worker's immigration status will be exposed. … There's an airborne crisis on ABC's Scandal (9/8c) in an episode cheekily titled "Air Force Two," which is where VP Cyrus (Jeff Perry) and AG David (Joshua Malina) are in midflight peril when their plane is hacked en route to a digital piracy summit. … Roy Harper (Colton Haynes) returns to The CW's Arrow (9/8c), but the circumstances as usual make it less than a happy homecoming.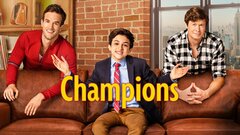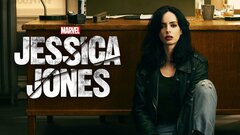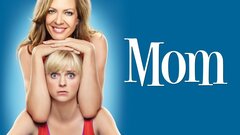 Mom
where to stream