Why 'The Great British Baking Show' Is the Ultimate Cooking Competition
On most culinary competition shows, contestants will do whatever it takes to win. But things are quite a bit different on The Great British Baking Show (or Bake Off).
These bakers willingly help each other each week to make sure the best contestants don't get sent home, all the while bringing incredible recipes to the tent. It's rare to see competitors getting along on TV competition series, but it may be because there is no million-dollar grand prize — the winner is presented with a cake stand and a bouquet of flowers at the famous finale picnic.
Below, we're breaking down three reasons why this lovable series — now available for streaming on Netflix! — is better than the rest.
See Also
Catch the culinary delight on PBS.
The Judges
From Paul Hollywood to former judge Mary Berry to newest addition Prue Leith, the competition has been judged by some of the toughest cookies. There's no better feeling than watching your favorite baker get a handshake from superstar judge, Paul Hollywood. That intense moment of silence before Hollywood extends his hand can be more nerve-wracking than the time he had everyone make fortune cookies for the technical challenge. He can definitely be intimidating, but his opinion matters the most to some of the contestants.
Mary and Prue have one thing in common: They both expect nothing but perfection from each baker — whether that baker can decorate a cake with their eyes closed or he or she knows exactly when to take bread out of the proofer before it rises.
The Hosts
Former hosts Mel Giedroyc and Sue Perkins have left Noel Fielding and Sandi Toksvig to fill in their quirky shoes. All four hosts have successfully brought the jokes to the baking table, with unforgettable baking puns that will make anyone laugh. Sure, it was tough at first to get used to new hosts, but their unique personalities are what really bring the show together. From the beginning of every episode, we can always expect a cheesy joke to go along with the week's challenge.
The Contestants
The most impressive factor in this competition is that most, if not all, of these bakers are self-taught. They come into the tent with their own recipes that their families and friends enjoy outside of the show. Unlike other competitions, these bakers have the advantage of trying out recipes before competing — but that doesn't mean it'll be an error-free baking day in the tent. Baking in rainy England leaves plenty of opportunity for downfalls, but that doesn't stop the bakers from finding ways to help one another.
See Also
No matter how long your commute, make it more enjoyable with these fun TV shows.
What sets this cooking show apart from others is that the competitors are genuinely happy for each other when someone does well. It's such a relief to see encouraging faces around the famous tent every season. Everybody loves a team player, especially when cake is involved!
The Great British Baking Show, Streaming, Netflix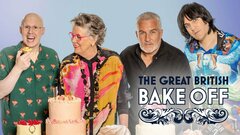 Powered by