Chef Jamie Oliver Spills Behind-the-Scenes Details About 'Jamie & Jimmy's Food Fight Club'
Chef Jamie Oliver's long-running British hit is now being served Stateside!
Jamie & Jimmy's Food Fight Club features Oliver and childhood buddy Jimmy Doherty, a farming expert, cooking meals with A-listers like Sienna Miller, Downton Abbey alum Hugh Bonneville, and Gwyneth Paltrow for lucky regular folks at a pop-up café on a public pier in Southend, England.
Also on the menu are some educational moments and DIY segments where Doherty gives tips on everything from using a tandoor oven to building a hog roaster. Oliver shares some tasty behind-the-scenes morsels.
See Also
Your favorite characters live on, so to speak.
Food Fight Club is pretty lively!
Jamie Oliver: It's uplifting, it's inspiring, it's interesting. The whole point is to be happy, and we do our best to keep that energy going throughout the whole hour.
You certainly didn't have trouble getting big names to cook with you.
We have such a variety — different ages, different backgrounds. And food is a good leveler. We had Goldie Hawn on, and Goldie told her daughter, Kate [Hudson], to do the show because she'd have a really good time. All of our guests say they have a great time.
See Also
Rachel Brosnahan, Jason Bateman, and more.
Have any of the cooking segments gone sour?
Not that I can think of. But the thing that always upsets me is we'll serve all this beautiful food and, just when the guests pick up their knives and forks, the director will go, "Can you wait while we film these other people?" The food gets cold.
Any foods you're not fond of?
I'm pretty into anything cooked right. I'm just not that into reproductive organs. And I've had a few.
Your "Food Fight" segment aims to alert people to waste. What's one example?
Fish belly. You total up the weight of all the bellies trimmed off — just because we want our fish to look a certain way — and you start to realize all that could actually go to feeding people. Hopefully [the show] helps the public be better informed.
Jamie & Jimmy's Food Fight Club, Series Premiere, Thursday, August 2, 4/3c, Ovation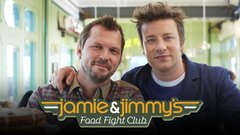 Powered by