Curtis Stone on Making a 'Moveable Feast' and His Recipe For Smoked Lamb Ribs
Pop-up dining—in the woods, on a farm, at the beach—is all the rage these days, and nobody stages an alfresco chow-down quite like Curtis Stone. The Australian superchef guests on the Season 4 premiere of the food and travel series Moveable Feast With Fine Cooking, in which he showcases Los Angeles, the place he now calls home. Just don't tell his mother.
Moveable feasts can be a thrilling thing for diners, but what's in it for the cook? Isn't it a pain to be away from your kitchen?
True, you give up ease and convenience when you do a pop-up meal, but that means you amp up the imagination, the passion and the nerve. I once did a barbecue for Oprah and 100 guests on Whitehaven Beach, one of Australia's great natural treasures, where there is no electricity or running water. It was a lot of fun, but I'm not gonna lie. It was stressful! [Laughs] And it may have given me an ulcer.
RELATED: Recipe for Deception Dishes Out Chefs Skilled at Competing and Being Sociopaths—in the Kitchen
You started your career at age 18 at the posh Savoy Hotel in Melbourne. Did you really know what you were doing back then?
I like to think so, but in those days, a career in food wasn't cool and neither was I. On my first day of work, I wore clogs, gingham pants, an apron that almost touched the ground and one of those ridiculously tall chef hats. I was so into my image but, the truth is, I looked like a clown in the circus.
Speaking of hats, why are you hanging yours in L.A.? It's never been a city known for grand cuisine.
People used to go to the top L.A. restaurants to see and be seen, but now the town is very food-driven and, when it comes to fresh ingredients, it's the absolute center of the world. Of course, it helps that I met and fell in love with the beautiful Lindsay Price [Beverly Hills, 90210] and we have two children. So I now consider myself a Los Angeleno…well, except when I phone my mom back in Australia. She can't handle the truth, so I pretend I'm just visiting.
Moveable Feast With Fine Cooking, Season Premiere Saturday, Sept. 3, PBS (check local listings at pbs.org)
---
Smoked Lamb Ribs
Stone runs two L.A. restaurants—British-themed Maude and Aussie-style Gwen—named after his grandmothers. "It's a way to keep them close to me," he says. "My grannies were so influential in my life and so dear to my heart." This rib recipe, inspired by Gwen, is served with yogurt sauce and a smoked eggplant caponata.
Serves 8
Ingredients
Brine:
2 tablespoons each, peppercorns
and coriander seeds
2 teaspoons fennel seeds
1 teaspoon cumin seeds
1» cups each, sea salt and sugar
1 orange, zested and juiced
6 garlic cloves
12 thyme sprigs
3 bay leaves
1 rosemary sprig
4 lamb rib racks
Rub:
2 tablespoons coriander seeds
2½ teaspoons fennel seeds
1 teaspoon each, cumin seeds and cayenne
2 tablespoons smoked paprika
Instructions
For brine: Toast peppercorns, coriander, fennel and cumin for 3 minutes in pot over medium-high heat. Stir in 1 quart water, salt, sugar, zest, juice, garlic and herbs. Boil and whisk. Add 3 quarts water; chill. Combine ribs and brine. Chill for one day.
For rub: Toast coriander, fennel and cumin. Grind to powder. Add cayenne and paprika.
Wash ribs and pat dry. Brush with oil, sprinkle with 1 ½ teaspoons rub and wrap in foil. Bake on rack set on baking sheet at 325°F for 2 ½ hours, turning ribs at the halfway point. After cooling, barbecue the ribs over apple wood for 2 minutes per side.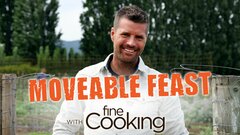 Powered by