'The World Is Yours' & More Cool Foreign Crime Dramas to Check Out on Netflix
The World Is Yours
Available Friday, November 30
It's tough out there for a gangster who dreams of going straight. François (Karim Leklou) is finding that out the hard way. He was born into a life of crime in France — his conniving mother, Dany (Isabelle Adjani), is a thief and safecracker — but now that he's an adult, he wants out so he can take a legit job…as the distributor of a tasty line of ice pops in North Africa. Which he'll do just as soon as he collects the money for completing one last criminal gig involving a drug deal in Spain.
Favorably compared to both Scarface (the title is a reference to the classic film) and Pulp Fiction when it premiered at Cannes earlier this year, The World Is Yours is like an overly stylized music video run amok — and we mean that in a good way. The high-octane action comedy is filled with pop culture references too, and, beyond the over-the-top escapades, it's a blast as it powers through caper after caper (all of which go inevitably wrong, usually with explosive results).
See Also
If thrills are your thing, try streaming these shows.
François also has his eye on the pretty Lamya (Oulaya Amamra), who joins him on what he hopes will be his last illegal adventure, but she may not have his best interests at heart. Along for the ride as well is conspiracy theorist and ex-con Henri (Vincent Cassel), who adds his own hilariously surreal touch to the madness. After the job in Spain turns into a disaster and his situation goes from bad to worse, François's dreams of that ice-pop business may be melting away for good. But when the thug life is this much fun, maybe that's not such a bad thing? —John Hogan
More Cool Foreign Crime Dramas
Babylon Berlin
History lessons are rarely as mesmerizing as Babylon Berlin. The gritty noir is set in 1929, during Germany's Weimar Republic, which set the stage for Hitler's rise to power. World War I vet Gereon Rath (Volker Bruch) now works as a police inspector and faces danger at every turn. With the splashy style you'd expect from cocreator Tom Tykwer (Run Lola Run) and a 100 percent fresh rating from Rotten Tomatoes, this is the next binge you've been waiting for.
Season 1 available
Money Heist
What's easier than stealing billions of dollars? Just printing up a stack of cash! A mystery man called the Professor (Álvaro Morte) recruits eight criminals to hold dozens of hostages inside the Royal Mint of Spain while the thieves roll the money presses and make it rain. Meanwhile, the Professor masterminds the operation from the outside, even seducing the unsuspecting detective assigned to the case so he can stay one step ahead in this smart thriller.
Seasons 1–2 available
See Also
See where these films rank on Rotten Tomatoes.
Fugitiva
A former model, Magda (Paz Vega, above) lives a life of luxury in Mexico City, but it's actually built on a web of lies, violence and deceit. Her wealthy husband is a corrupt businessman with a lot of enemies, something Magda uses to her advantage when she organizes her own kidnapping to get herself and the children away from her shady hubby. But you can bet he's going to come looking for her, which sets off a very tense game of cat-and-mouse.
Season 1 available
Suburra: Blood On Rome
If you love Narcos and other hard-hitting crime dramas, Suburra: Blood on Rome — detailing the pursuit of power in the Italian capital — is for you. When the neighboring small town of Ostia is about to be turned into a Vegas-type tourist attraction, politicians like Amedeo Cinaglia (Filippo Nigro), crime bosses like the Samurai (Francesco Acquaroli), Vatican officials and more all want in. Season 1 available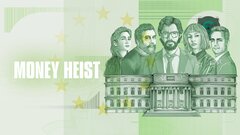 Powered by