Roush Review: A Star Is Born in 'Drummer Girl'
The right juicy role can catapult an actor to instant fame — just ask Jennifer Garner, whose superspy breakthrough as Sydney Bristow in Alias owes a literary debt to Charlie, the firebrand actress turned double agent in John le Carré's morally complex 1983 thriller The Little Drummer Girl.
See Also
From Greece to the Czech Republic.
Now a deluxe six-hour miniseries (from the producers of AMC's Emmy-winning The Night Manager), directed with slow-burning intensity by Park Chan-wook (Oldboy), Drummer Girl deserves to be a star-making showcase for British ingenue Florence Pugh (recently seen in Amazon's King Lear and Netflix's Outlaw King). She brilliantly captures Charlie's headstrong bravado and vulnerability as she is recruited by Israeli agents — a glowering Michael Shannon and a haunted, seductive Alexander Skarsgård — to infiltrate a Palestinian terror cell in the late 1970s.
For Charlie, who's both pawn and player, it's the acting challenge of a lifetime, as she must convince a suspicious enemy that she's one of them by feeling and living their truth. She goes so deep into character that she eventually acknowledges, "I don't know what side I want to fight for anymore."
Ambiguities and romantic complications abound as Pugh keeps us guessing where Charlie's loyalties will ultimately lie.
The Little Drummer Girl, Series Premieres, Monday, Nov. 19 to Wednesday, Nov. 21, 9/8c, AMC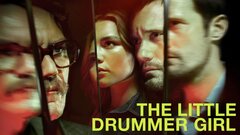 Powered by