'The Little Drummer Girl' Star Alexander Skarsgård Reveals His John Le Carré Connection
John le Carré's 1983 spy novel The Little Drummer Girl comes to AMC this week as a six-part miniseries event certain to satiate the action genre's hungriest fans.
The story unfolds over three consecutive nights and follows Charlie — a young and fiery British actress (played with mesmerizing perfection by Florence Pugh) — as she is wooed while on holiday in Greece by Becker (Alexander Skarsgård), a mysterious and beguiling man who turns out to be a cunning Israeli spy.
See Also
'We knew we wanted to take on another le Carré novel similar in scope and scale,' said Stephen Cornwell.
Becker then recruits Charlie to act as bait in an international espionage plot to ensnare a foreign terrorist, and the deeper Charlie falls into the dangerous charade, the harder it becomes for her to discern between reality and fantasy, forcing her to wonder: Is this the role of her life, or a role for her life?
TV Insider caught up with Skarsgård, who reveals that his education into the world of John le Carré started young. His father, the noted actor Stellan Skarsgård, read The Spy Who Came in From the Cold as a teen and has been a lifelong fan of the writer.
"Even to this day, when dad talks about le Carré, his face lights up and he gets super excited," the younger Skarsgård shares.
He says that when Stellan starred in the 2016 adaptation of le Carré's Our Kind of Traitor, "He got a chance to meet with David — which is John le Carré's real name [David John Moore Cornwell]. It's very sweet to see dad talk about that experience. He's like, 'it was SO incredible!'"
Cameo Alert!
Because of his father's le Carré fanaticism, Skarsgård rattles off a list of the author's books that he himself has read and shares that when he read the scripts for The Little Drummer Girl, he found them so utterly irresistible he lost track of time.
"Suddenly, it was 3 in the morning!" he laughs. "So, I was very tired that day, but I just found it was such an incredible script and a very interesting story. I was fascinated by the characters, so I couldn't put it down."
The actor loves the delicious complexity of the story and says "there are definitely some action sequences, big set pieces, but a lot of it — like most of John le Carré's novels — is on a more cerebral level."
See Also
From Greece to the Czech Republic.
And the lure of playing a role-within-a-role-within-a-role — a Mossad agent who transforms himself into a suave playboy to ensnare Charlie, and then who morphs himself again into the role of the brother of a terrorist — was a fantastic challenge.
"It was such a dream," he says. "There are moments where you can see these cracks in his veneer, where he's opening up and he's emotionally vulnerable. But it was also quite interesting to play on where these moments are genuine or not, because Becker's manipulative.
"So there could potentially be moments where he pretends to open up to lose control to get her even closer and get her deeper in, but he's actually faking it within the fiction. So it gets very layered, and very meta."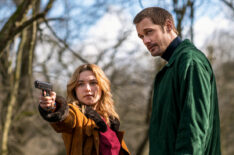 See Also
Plus, star Florence Pugh reveals 'amazing connection' with costar Skarsgård.
The Little Drummer Girl, Nov. 19-21, 9/8c, AMC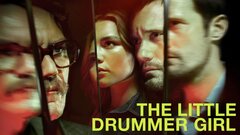 Powered by