'The Little Drummer Girl' Cast Reflects on Their Thrilling Filming Locations (VIDEO)
Espionage, romance, mystery are a perfect combination for promoting globetrotting — and that's exactly what we get in AMC's The Little Drummer Girl.
Set in various destinations across the world, the miniseries uses the writing to its full advantage by filming on-location in Greece and the Czech Republic. The story follows actress Charlie (Florence Pugh) as she becomes entangled with Becker (Alexander Skarsgård) while on holiday, only to find out his intentions aren't pure.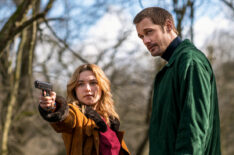 See Also
Plus, star Florence Pugh reveals 'amazing connection' with costar Skarsgård.
Swept up in Becker's lies, Charlie soon finds herself playing a double agent in this spy thriller, and the '70s set story works well with its thrilling locales. In an exclusive featurette, the show's stars and crew discuss the advantages of these shooting locations and how it elevates the action.
"In terms of the scale of production design, [it's] quite a remarkable achievement for the team," executive producer Simon Cornwell says of filming in the Czech Republic for one of the show's more critical scenes. And while they filmed all around these countries, one location far exceeds the rest: the Acropolis in Athens.
See Also
The new AMC series surprises and shocks with every new twist.
Cornwell calls it a "spiritual experience" being able to shoot on the Acropolis. Pugh, meanwhile, reveals that she and co-star Skarsgård were filmed as they saw the monument for the first time, meaning that their reactions are genuine.
"They closed it down at sunset, and we were up there as the sun was setting — it was just remarkable," Skarsgård shares. And it was even more remarkable based on what the EPs and cast further reveal! Watch the clip below for more behind-the-scenes scoop on filming:
The Little Drummer Girl, Monday-Wednesday, November 19-21, 9/8c, AMC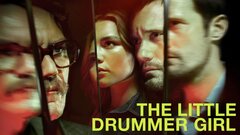 Powered by