Olympic Champion Laurie Hernandez on Finding Inspiration Co-Hosting 'American Ninja Warrior Junior'
The American Ninja Warrior franchise has inspired people from all walks of life, sending the message that the impossible is possible through hard work and determination.
Now, thanks to the Universal Kids' spinoff American Ninja Warrior Junior, younger fans are able to truly relate. And to further add a shot of youthful exuberance, longtime hosts Matt Iseman and Akbar Gbaja-Biamila are joined by Laurie Hernandez.
The 18-year-old gymnast is an Olympic gold and silver medalist, not to mention a history-making Dancing with the Stars champion. Meaning Hernandez is no stranger to competition and why she is the perfect choice to serve as sideline reporter and co-host.
See Also
Matt Iseman and Akbar Gbajabiamila reveal even the best athletes fear the balancing challenges.
"I think that any opportunity you have to give kids a chance to do what they're passionate about is great. It's such an honor to be part of the whole project," she said. "…It's really neat that it is coming from kids. They are so young, yet they had to overcome these obstacles in life.
"A lot of them have trained for months or years. Some of them were inspired by a family member. Then some of them who were inspired by their family members who ran the adult course."
Nearly 200 junior ninjas go head-to-head with participants broken off into three age groups: 9-10, 11-12 and 13-14. Girls and boys test their abilities on courses containing popular staples Sonic Swing, Tic Toc, Spin Cycle and the Warped Wall.
Helping them on their pursuit of qualifying and advancing to the finals are All Star mentors. When the dust settles, there will be an inaugural champion for each of the three age brackets with a $15,000 prize at the end of the tunnel. Hernandez got a sense of what the competitors are enduring every episode by experiencing a course for herself.
"Watching the kids run this course, they make it look really easy," Hernandez said. "Then as soon as I got up there and moved through the obstacles in the course, it was really scary. It really goes to show how fearless these kids are. They are something else. They are so strong.
"Something that surprised me was the I-Beam just because the hand holds are just for your fingertips. So, you're hanging from this big beam and as you're scaling down it, you have to leap to a bar. That was pretty difficult. My forearms were cramping after that. The course is really difficult, and these kids just fly by it."
The accomplished athlete often beams with excitement as the budding ninjas finish the course. She even gives them a tip from her own career.
"A lot of them have gotten little callouses on their hands," Hernandez explains. "They've asked me about that, which I know through gymnastics the answer is ChapStick! That helps my hands when I'm on the uneven bars."
See Also
Catanzaro says it's a great time for women in WWE: 'I'm grateful to be here for it.'
Hernandez recalls the countless interviews she did during the Olympics and pulls from those experiences on the opposite side of the microphone. The show allows her to see how it feels to ask questions rather than answer them. She enjoys the gig, feeling the best part is watching true sportsmanship on display among the children. Yes, it's a competition, but deep-down Ninja Junior is about having some fun, too.
"I've noticed when they're a lot younger they will kind of look at each other and giggle while trying to run the course the best they can. The older they get, the more they will fist bump or shake hands before they go," Hernandez said.
"Once they get to the end it's shaking each other's hand and saying, 'Hey, that was a really good job you did up there.' I think the older they get you see a sense of teamwork."
As if gymnast and co-host weren't enough titles for the still teenager, Hernandez is also a best-selling author. The children's book called She's Got This is loosely based on her own childhood memories. At the center of the story is Zoe (Hernandez's middle name) and her dreams of becoming a gymnast.
"She starts gymnastics, falls and hurts her knee," Hernandez said. "She wants to quit immediately, but her parents are like, 'We're not going to go for the that option right away. Why don't we try again?' You just see her whole family lift her up and keep moving her forward, which is a big chunk of my life's story."
Even in these challenging times, Hernandez aims to be someone others can draw strength from and look up to in a positive way. That can be hard when you're a public figure on social media.
"It definitely is a big struggle, especially being 18 and knowing it is such a big platform right now," she said. "It's a beautiful thing because we are able to get the word out, whether it has something to do with the community or a promotional event.
"That can of course leave room for negative comments. I do notice myself every so often having to take little breaks here and there just because it can be a lot. You also have to make sure you are communicating with the outside world and hanging out with my friends and family and spending time there. I'm so blessed at the same time I have a big platform on there."
See Also
Catanzaro says it's a great time for women in WWE: 'I'm grateful to be here for it.'
Working on Ninja Junior has rededicated herself when it comes to a return to the gymnastics world. She has set a goal to compete once again in the next year.
"I'm so excited for that. I think for now that is the main focus. It has definitely felt like a big transition just because the past two years have been so different with really big opportunities," Hernandez said.
"To have to slow those down and come into the gymnastics world, it has been a big dive. But I do miss it and very passionate about the sport. I can't wait to see where it takes me."
American Ninja Warrior Junior, Saturdays, 7/6c, Universal Kids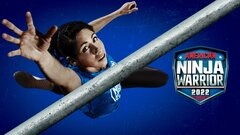 Powered by