Ask Matt: A Death in the 'Modern Family,' 'Walking Dead,' 'Magnum' & Reboots, 'Homecoming'
Welcome back to the Q&A with TV critic (also known to some TV fans as their "TV therapist") Matt Roush, who'll try to address whatever you love, loathe, are confused or frustrated or thrilled by in today's vast TV landscape. One caution: This is a spoiler-free zone, so we won't be addressing upcoming storylines here unless it's already common knowledge. Please send your questions and comments to [email protected] (or use the form at the end of the column) and follow me on Twitter. Look for Ask Matt columns on most Tuesdays and Fridays.
Mourning Has Broken on Modern Family
Question: So what did you think of the "big death" on Modern Family? [SPOILER ALERT] It felt very anticlimactic to me, not only because many of us had correctly guessed it when the spoiler needlessly circulated last month, but also because Shelley Long's character of DeDe is on the show so infrequently. Because we didn't see her final conversations with either Claire or Mitchell, and indeed she has been out of sight for so long, it didn't work for me as well as I suspect the writers wanted it to. The cast did a good job playing it, as usual, but I shrugged this off. Particularly airing a week after the premiere of The Conners dealing with the death of Roseanne, it was striking how much more effective The Conners was in playing basically the same story beat. I never watched a single episode of Roseanne, but tuned in last week to see how they would write her off, and I could feel the impact of the story on the characters. With Modern Family, for which I have seen every episode since the pilot, I was basically unmoved by DeDe's passing. And I'm also compelled to note that The Middle did a better job at hitting the right emotional notes when they killed off Aunt Edie and Aunt Ginny following those actresses' passing. I miss that show. Your thoughts? — J
Matt Roush: I wish the news of DeDe's death had been as big a surprise for viewers as it was for the family. That might have had more impact, but that's not the world we live in. And it's rather a false comparison to contrast the enormous loss of a central character like Roseanne to someone as peripheral, though vividly played, as DeDe. Even if the episode had been more effective and poignant, it wouldn't resonate the same way. But it's also a fact that Roseanne's death felt like a true tragedy, whereas DeDe's passing came off like a Halloween stunt.
The comparison to The Middle (I miss it too) is more on point, and the reason the death of the aunts felt more real is because the Hecks were always more relatable and warmer than the snappish, farcical characters on Modern Family. I did enjoy the running gags of Claire trying to hug with her multiple spider-costume arms and Gloria being spooked by the lifelike Dede dolls appearing out of nowhere, but otherwise was left mostly cold.
Is Walking Dead DOA?
Question: Ratings are down for The Walking Dead. Used to be there was shock when the dead took out a cast member, but now the show—which has become A Clash Of Clans—is so previewed and there are so many interviews, that people don't bother to watch. Carl dying: heard about it, catch you in reruns. Memo to show: It's called The Walking Dead because those HERDS of Zombies are dangerous. Rant Over, now rebooting. — Steve
Matt Roush: Almost all shows decline in viewership over time, and The Walking Dead is no exception. I'm sure it wasn't helped by the endless and tiresome war with Negan and the Saviors, which felt more like a combat than horror show. I agree that Dead suffers when the existential zombie threat is underplayed, which is part of why I felt the spinoff Fear the Walking Dead actually improved on the mothership this year. This fall's season, with Rick's (Andrew Lincoln) departure imminent and Negan's (Jeffrey Dean Morgan) presence so far diminished, has been an improved version of The Walking Dead, but because of the oversaturation you allude to among other factors, it will unlikely ever reach the peak of its early seasons again.
Will Any of Today's Shows Be Rebooted?
Question: You've been around a long time, so you were around when classics like Magnum, P.I., Columbo, Hawaii Five-0 were first around. Do you think that the current reboot trend is due to networks knowing that there just aren't classic or iconic TV shows being made today, so they're trying to just cash in on them with these cheap imitations? I mean shows like I Love Lucy, All in the Family, Everybody Loves Raymond, The Cosby Show, Frasier, Cheers, The Honeymooners, etc. Shows with genuine comedy and actual heart don't seem to exist in the age of in-your-face political TV today. — K
Matt Roush: Thanks for reminding me how long I've been doing this (I kid)—for the record, I didn't cover a number of these series (anything before the mid-1980s) in their original run, but I did watch them (The Honeymooners and Lucy pre-date me, though I grew up on reruns). I'm glad to say I championed Frasier, Cheers and Raymond at their peak. But you make a fair point that very few of today's shows feel like the stuff of TV legend, though the real reason we're seeing so many reboots is for expedience, to recycle recognizable titles that might break through the clutter and attract those who may have seen the original in first-run or syndication. There is a downside to this trend, though, as the following exchange points out.
The New Magnum's High Hurdle
Question: In regards to the "Reboot vs. Original: Which Magnum is Better?" story, it's personally easy for me (and probably the majority of viewers, actual and potential) to pick a side: that of the original. But Jim Halterman, who took the side of the "new" Magnum, makes an important point when he writes, "the relationship that has to work for the (new) show to succeed is the one between Magnum and Higgins." Oddly enough, that was the one thing in the new version that I enjoyed. Yet, while I view the show as fine and OK for what it is, I find it overwhelmingly unnecessary and not something I itch to return to after skipping the last episode or two.
I can't help but wonder if the feeling would be the same if the show had a different title. Sure, it represents the easy "branding" that CBS seems to prefer, but the history is more an albatross for the series than a help. Not only does it beg for unhealthy comparisons to the beloved original, but it may also hamper the creative direction the show could/should maybe go. Halterman calls the new version's "delicious will-they-or-won't-they layer that didn't exist before" a "fun twist." One of the early episodes of this season evolved into something of an enjoyable Thomas/Higgins story which made we wish that THAT was the series: a Mr. & Mrs. Smith/Remington Steele type show based in Hawaii. That might be a show that I, at least, would stick with. I suppose it's possible the new Magnum P.I. could eventually lean more in that direction, but do you think the powers that be would ever really allow that transformation to occur? It's likely not the show CBS bought, nor the one that the producers/show runners probably desire to make. — Todd S
Matt Roush: You make some good points here, especially concerning the risks of remaking a show and recasting a character so identified with a singular star as Tom Selleck. (I feel the same about the efforts to reboot The Rockford Files.) Yes, the title is a draw, but it's also a drawback when so many negative comparisons can be made, maybe not always fairly, though it's human nature to prefer our first TV love. While it's possible the producers will develop the love-hate relationship between the new Magnum and female Higgins toward actual sexual tension, the fact that they have surrounded Magnum with representations of the original show's crew of buddies suggests that it will stay as close to classic Magnum as possible, for better or worse. Like you and apparently many others, I can take or leave it. My plate is just too full for this sort of retread.
A Homecoming Worth Binge-Watching
Question: I have been Googling my little heart out trying to find the answer to this question, but have not been able to, so figured I should just go to the expert. I'm very excited about the new Julia Roberts show, Homecoming, on Amazon Prime Video. I know the premiere date is Nov. 2, but can you tell me if all 10 episodes will drop on that date or if the show will roll out on a weekly basis? — Beverly
Matt Roush: Binge away, Beverly! I highly recommend it. (My very positive review from the magazine will post online closer to air.) With Amazon originals, much like Netflix, full-season drops are the norm. (The current Romanoffs anthology is the exception, and not a particularly happy one.) With Homecoming, an elegantly suspenseful exercise in Hitchcockian intrigue from director Sam Esmail (Mr. Robot), the binge isn't as wearying as most, with episodes averaging around 30 minutes. You'll likely want to absorb multiple episodes of this one, and could conceivably polish it off in a sitting or two.
FBI's Least Wanted
Question: I have been watching FBI on CBS. I do like it and probably will continue to watch. But there are just some things about it that make me cringe, things that seem to fall flat. I'm not really connecting to Missy Peregrym's character. What is it about her? And what the heck is up with Jeremy Sisto? He is too talented an actor to reduce him to just screaming. Every time he has a scene, it is the exact same thing. He is in the control room barking orders. I just find it strange and frankly a little off-putting. — MAC
Matt Roush: All of these observations are a matter of personal taste, but formula procedurals are especially problematic in this regard. I wish they'd given some of the spirit of her Rookie Blue character to Missy Peregrym in this show, where she just seems so downbeat (having lost her husband) from the start. And Jeremy Sisto is basically just being poorly, or under, used. I tried to watch this week's episode—made it halfway through before bailing for something I might actually find interesting—and concur with your description of his bellowing. And while Sela Ward is an improvement over the pilot episode's Connie Nielsen as the boss, I grieve that she doesn't get more to do. Talk about your wasted assets.
And Finally …
Question: I've been meaning to write you about this "summer series" Take Two. I really liked it, along with my friends, and watched every episode and thought it should be brought back. Rachel Bilson was very good, and I've been a fan of Eddie Cibrian's since CSI: Miami. And we really liked the secondary characters as well, Xavier and Alice, great chemistry between the four of them. Any chance they'll revive it?? — Chris, TV Guide member since forever
Matt Roush: You had me at forever. This topic is becoming an FAQ in my mailbag, and unconsciously, I'd just assumed ABC had already picked it up for another summer run. Seems a no-brainer, much like the fluffy show itself. I'll be surprised if it doesn't come back, but there are international companies involved, so maybe making the deals is taking more time than usual. Stay tuned.
That's all for now. Thanks as always for reading, and remember that I can't do this without your participation, so please keep sending questions and comments about TV to [email protected] or shoot me a line on Twitter (@TVGMMattRoush), and you can also submit questions via the handy form below. Please include a first name in your question.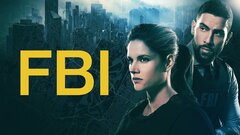 FBI
where to stream