Roush Review: A Mixed Bag of 'Romanoffs'
Any review of an ambitious project like The Romanoffs is bound to be incomplete—in part because I've only seen three of the eight chapters in this deluxe and loosely linked anthology, which tells its offbeat stories in wildly varying styles, genres and locales. The very thin thematic thread: Each episode, premiering weekly (after the first two) in a departure from typical Amazon procedure, features at least one character who may or may not be a descendant of the doomed Russian royals. (The family's bloody massacre in 1918 is depicted in the title credits.)
But even if I'd seen more, to better assess how or if it works as a whole, I couldn't say much more, given the baroquely secretive dictates of the creator-director, Mad Men wunderkind Matthew Weiner. A full page of spoiler alerts accompanies the screeners—some obvious, others arcane to the point of opaqueness.
See Also
'Mad Men' alums John Slattery and Christina Hendricks star in the new Amazon series along with Diane Lane, Aaron Eckhart, & Amanda Peet.
I can at least guarantee that if stargazing is your thing, you're in luck, as Weiner has assembled a global galaxy of remarkable talent, including international luminaries (Isabelle Huppert and Marthe Keller, both in fine form) and such Mad Men veterans as Christina Hendricks, John Slattery and Jay R. Ferguson.
The result, from what I've seen, is extremely well acted and luxuriantly produced, though something of a grand but ineffectual folly, an opulent enterprise often eliciting little more than a head-scratching "Is that all there is?" after these overlong, indulgent vignettes. (The first three clock in at around 90 swollen minutes each.)
The tone shifts gears from a trite tale of marital stagnation and temptation from the John Cheever playbook ("The Royal We," with Corey Stoll, Kerry Bishé and Noah Wyle) to a more successful attempt to evoke The Twilight Zone's Rod Serling in the surreal and disorienting "House of Special Purpose" (streaming Oct. 19). That episode, the best of the three, features Hendricks as a glamorous replacement actress awkwardly thrust into a fictional—and by the looks of it, awful—Romanov miniseries, helmed by a perversely manipulative director (Huppert) who blurs the line between reality and fantasy.
See Also
The series comes from the producer behind 'Mad Men.'
The cosmopolitan feel of The Romanoffs, shot in seven countries with multiple languages (many subtitled), is most apparent in the opening installment, "The Violet Hour." Set in contemporary Paris, it may induce severe apartment envy as the camera glides through the rooms occupied by an aging, imperious and bigoted dowager (Keller), whose American nephew (Aaron Eckhart) tends to her whims while awaiting his inheritance. The arrival of a Muslim caregiver (Ines Melab) upsets the uneasy balance in this fractious family dynamic, though describing what happens as dramatic may be an overstatement.
Keller's ruminations on the tragic Romanov heritage reveal a poignant longing for connection to a legendary past. I only wish Weiner's modern-day fables had as much power.
The Romanoffs, Fridays, Amazon Prime Video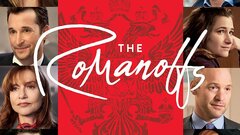 Powered by