'Modern Family' Finally Reveals Who Died — EP Explains Why It Happened & Fans Respond
[This post contains spoilers about the Oct. 24 episode of Modern Family.]
ABC's Modern Family put on a spooky Halloween episode, but it was more than just the usual holiday antics that kept viewers on edge as the show finally revealed its Season 10 casualty.
Before the season premiere this fall, it was revealed by the cast and showrunners that someone from the Dunphy-Pritchett clan would die, but who? After a lot of fan speculation and some doubtful Stella (the family dog) predictions, the show finally unveiled its victim.
See Also
Things get spooky with the casts of 'Young Sheldon,' 'Modern Family,' & 'black-ish.'
Shelley Long's DeDe Pritchett fit the death bill as the family gathered for Halloween festivities and received a call from her husband Jerry. In the usually lighthearted show, fans were offered a glimpse into Claire (Julie Bowen) and Mitchell's (Jesse Tyler Ferguson) varying versions of grief.
So how did the writers decide it was time to drop the proverbial guillotine? Modern Family co-creator Steve Levitan told The Hollywood Reporter, "It occurred to us that death is a giant part of the family experience and while Phil (Ty Burrell) had lost his mother in a previous episode, we've never seen the entire family have to deal with such a loss. It seemed like an interesting thing to have happen."
Levitan continued to explain the reasons behind choosing DeDe for such an arc. "She's directly involved with three of our characters and she touched everybody's life in some interesting way," he said. "It seemed like the right character to put everybody through something. She seemed like right character because she so directly affects so many of our characters."
Fans will remember Long's character as the somewhat wacky mother of Claire and Mitchell and ex-wife of Jay (Ed O'Neill). She made numerous appearances throughout the series since Season 1. Of course, it would be silly to say the family grieved the loss completely during the Halloween episode, so be sure to expect some more emotional moments.
"We do a follow-up episode where DeDe's widower brings a bunch of things to various members of the family that she wanted each of them to have and [viewers will see] the effect that has on each of them," Levitan revealed. So keep an eye out for more as Mitchell, Claire, Jay, and the rest of the family process the loss.
As for the fans, there was plenty to say over the big reveal, below find some of their hilarious and meaningful reactions.
Phew. I am glad it wasn't Stella!!!!!!!! #ModernFamily pic.twitter.com/YjX6ZH6SOX

— Jeff Simmons (@JackHites) October 25, 2018
Rest In Peace Dede, you were a wonderful (a bit crazy) character we all loved ❤️ #ModernFamily #ModernFamilydeath

— Adde | #defenddaca (@Adde415) October 25, 2018
People are upset that an extremely mainstream major network sitcom didn't kill off one of their main stars and instead bumped off a recurring guest star like they've never seen a TV show before. Y'all. It's #ModernFamily not #GameOfThrones 😂🤷‍♂️🤦‍♂️

— Eric Martin (@EternalStatic) October 25, 2018
So sad to about Claire's mom😭 But I'm also a little happy that it's not a main person. #ModernFamily @ModernFam

— Abby_Lundquist5 (@ALundquist5) October 25, 2018
WAIT!!! DEE DEE?! THEY KILLED DEE DEE!??!! WHY THEY HAVE ME THINKING IT WAS SOMEBODY IMPORTANT!!!!! #ModernFamily had my blood pressure up and shit! pic.twitter.com/igAHeR2W6v

— Chardonnay Andromedon🌛 (@FrizzyNixxy) October 25, 2018
Modern Family, Wednesdays, 9/8c, ABC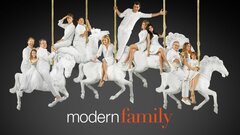 Powered by