'Homecoming' EP Sam Esmail Says Series Has 'Old-School Hitchcock Vibe'
The suspense is thrilling us. Homecoming, Amazon Prime Video's highly anticipated psychological drama, hits viewers with "an old-school Hitchcock vibe," promises executive producer Sam Esmail (Mr. Robot).
It also delivers A-list talent: In her first leading role for series TV, Oscar winner Julia Roberts plays Heidi Bergman, a dedicated caseworker at the Homecoming Transitional Support Center, which helps soldiers readjust to a civilian existence.
The story jumps between the present, with Heidi being questioned by a Department of Defense official about her time at Homecoming, and four years prior, when she counseled hopeful veteran Walter Cruz (Stephan James).
During her tenure at the facility, she suffered under a short-tempered boss, Colin Belfast (Bobby Cannavale), a guy who lives and breathes company policy, dreams in Excel spreadsheets… and takes advantage of unsuspecting vets.
The twisty story — adapted from a scripted podcast by Micah Bloomberg and Eli Horowitz, who also cowrote the series — "is a great, old-fashioned yarn," says Roberts. And yet it's more relevant than ever, adds Esmail. "We're more aware of corporate greed right now," he says. "Art is a sign of the times."
Homecoming, Series Premiere, Friday, Nov. 2, Amazon Prime Video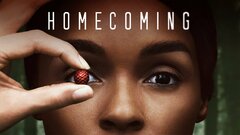 Powered by