'Midnight, Texas' First Look: Former 'Supernatural' Producers Bring a Darker & Sexier Season 2 (VIDEO)
Our favorite mostly supernatural denizens of Midnight, Texas are back for a second season. Though last season of the NBC horror show ended with the vanquishing of arch demon Colconnar, not all is well in the out-of-the-way hamlet.
First, there's a new hotel in town, with ghost sightings even before it opened. Second, something very weird and probably very dangerous is happening with the town's hero, medium Manfred (Francois Arnaud). When last seen, he took one for the team and swallowed six demons to stop the apocalypse, and for his pains, had black goo dripping from his ear.
See Also
Anything can happen in this small southern town.
Check out the exclusive video below to see more of the "new" Manfred:
We quizzed new showrunners Nicole Snyder and Eric Charmelo, who had written and produced 71 episodes of the beloved horror show Supernatural, about what's up this season and how the Midnight is changing in Season 2.
So what's up with Manfred in this clip as the season opens?
Nicole Snyder: The black goo is what we call demon cancer or demon residue and it's starting to affect how he think and how it feels. He suddenly has murderous intentions and a need to wear underwear and boots in public.
He may be murderous, but he definitely looks hot.
Eric Charmelo: Every one is hotter this season, because no one's in clothes!
You also have, early on in the season premiere, almost a montage of all the show's lovers at their most romantic. Do those couples last a while?
Snyder: The season starts strong in the honeymoon phase, but there's quickly trouble in paradise for everyone.
Charmelo: Not only will some of their relationships not survive, but some of the characters won't survive either.
See Also
The upcoming second season of the NBC horror hit is bringing on three new faces.
Main characters?
Charmelo: It's a blood bath this season. No one is safe, truly.
Snyder: We come into shows and we kill people. It's what we're known for.
Charmelo: It keeps the actors on their toes. But the good news is that on a supernatural show just because somebody dies, it doesn't mean that they're gone forever.
How different is the show's tone this season with you as the new showrunners?
Snyder: It's definitely our mandate coming on board to make it sexier, soapier, more salacious. We really tried to do more scary as well.
Charmelo: It's really funny too. We learned on Supernatural that you have to buffer the scares with humor. I will tell that by episodes 7,8,9, it gets incredibly dark, but there are just as many laughs to counterbalance the darkness.
What is the major arc this season?
Charmelo: We'll keep playing with the idea of Midnight as a sanctuary city where oppressed and marginalized people can seek solace. A healer comes to town and we'll pose the provocative question: "If you could change the one thing that makes you different and persecute to assimilate, would you? Or would you choose to be who you are and what makes you special. It creates a deep rift between our Midnighters. Half of the townsfolk feel as if their differences are a curse, and the other people feel like they are a blessing.
See Also
Jensen Ackles, Jared Padalecki, and Misha Collins answer fan queries, talk character relationships, and more.
Who are the new characters including the healer?
Snyder: Healer Kai Lucero (Nestor Carbonell) and his wife Patience (Jamie Ray Newman) are the owners of the new hotel. They say the special energy in Midnight is the perfect place to open a healing center. Midnighters are accepting of people, but they keep one eye open when they sleep. The charge is led by Olivia (Arielle Kebbel)who is suspicious of everyone, and she just thinks it's strange that newcomers would come to the sleepy little town of Midnight to open a business. Our other newcomer is Walker Chisum (Josh Kelly), a gay cowboy who hunts demons. He awakens this desire for Joe (Jason Lewis) to be true to who he is, an angel who kills demons.
Charmelo: Joe has to lead a double life. He's married to a Chuy, a half-demon (Bernardo Sacracino) during the day and he's hunting demons at night. Neither Walker or Chuy know about Joe's other life.
Does Joe fall for Walker?
Snyder: There's definitely a spark between Joe and Walker; we call it "Brokeback Midnight."
See Also
Plus, all of those buzzed-about themed episodes.
When does Trace Lysette (the trans actress from Transparent who accused Jeffrey Tambor of sexual harassment) arrive, playing a dark magic witch?
Charmelo: Her character's name is Celeste, who is fabulous. She'll reveal that witches come from one of two lineages—Deliah, the original good witch or Theosophilis , the original dark witch, a male.
Snyder: Fiji (Paris Fitz-Heley) will learn a lot about her lineage as a witch. And things get crazy
Any hints about the season's villains?
Snyder: Our villains are deeply rooted in the hotel. And I think by the end of the season premiere you get a hint of what's going on.
Charmelo: The hotel is haunted, but the Midnighters pray for the day that ghosts were their only trouble in the hotel, because it's a cake walk compared to what's really going on behind closed doors. and this season the evil lurk and insinuates itself in plain sight. People aren't exactly who they report to be, and that's including our main cast of characters too. Everybody to a certain extent is leading a double life and harboring secrets this season.
Thanks, so lots of scares and laughs. Sounds good.
Charmelo: Just tune in. It's a wild ride this season; one of the craziest, sexiest, most fun outrageous season of genre TV ever.
Midnight, Texas, Season 2 Premiere, Friday, October 26, 9/9c, NBC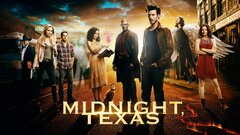 Powered by