'Charlie Brown,' a 'Wicked' Special & More Must-See Halloween Programming
SPINE-CHILLING SPECIALS
• Enjoy your candy corn during the classic It's the Great Pumpkin, Charlie Brown (Thursday, Oct. 18, and Friday, October 26, both 8/7c, ABC) while trick-or-treater Chuck laments, "I got a rock."
• Kristin Chenoweth and Idina Menzel defy gravity again in A Very Wicked Halloween: Celebrating 15 Years on Broadway (Monday, October 29, 10/9c, NBC).
• For four hours of Ghost Adventures Live (Wednesday, October 31, 8/7c, Travel Channel), Zak Bagans & Co. inspect haunted items in his Las Vegas museum.
EEK! EPISODES
• Speechless (Friday, October 19, 8:30/7:30c, ABC) Maya (Minnie Driver) experiences night terrors when son JJ (Micah Fowler) attends a rave in the woods.
• Good Witch: Tale of Two Hearts(Sunday, October 21, 8/7c, Hallmark Channel) In the Catherine Bell drama's one-night return, a 100-carat ruby is stolen amid Halloween Harvest Festival prep.
• Bob's Burgers(Sunday, October 21, 8:30/7:30c, Fox) When candy bags start vanishing, the Belcher kids are on the case.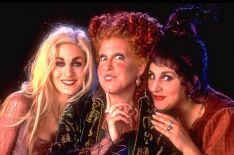 See Also
'Sweeney Todd' and more join 'Hocus Pocus' in the schedule for the first time.
• Rel (Sunday, October 21, 9:30/8:30c, Fox) Four words: Rel is Frederick Douglass!
• The Goldbergs (Wednesday, October 24, 8/7c, ABC) Robert Englund reprises his razor-sharp role as Freddy Krueger.
• Hawaii Five-0 (Friday, October 26, 9/8c, CBS) Shades of Stand by Me: Jerry (Jorge Garcia) and his old camp pals seek a body!
• 9-1-1 (Monday, October 29, 9/8c, Fox) Who ya gonna call? The heroes respond to graveyard and haunted hayride threats.
See Also
Get ready to spend a spooky day with the Winchesters on TNT this October 31.
• The Conners (Tuesday, October 30, 8/7c, ABC) A costume ban incenses the family.
• Criminal Minds (Wednesday, October 31, 10/9c, CBS) Matthew Gray Gubler directs the tale of small-town nightmare "The Tall Man." He'll cut you!
MALEVOLENT MARATHONS
• Can you handle nearly a day of Stephen King movies (Saturday, October 20, 6:30am/5:30c, AMC), like 1984's Firestarter (above), with Drew Barrymore?
• Twenty-three hours of Bewitched (Wednesday, October 31, 5am/4c, Antenna TV) will leave you spellbound!
• For more d'oh!-ranged fare, The Simpsons (Wednesday, October 31, 8am/7c, FXX) rounds up all 28 previous "Treehouse of Horror" episodes.
See Also
Are you the 'Ultimate Human/Genius'? Take this quiz to find out!
• Back-to-back airings of 1993's Hocus Pocus (Wednesday, October 31, 12:30/11:30c, Freeform) celebrate the witchy Sanderson sisters' 25th anniversary.
SPOOKY SERIES PREMIERES
• The Woman in White (Sunday, October 21, 10/9c, PBS, check local listings at pbs.org) The 1860 Wilkie Collins mystery is adapted again.
• Midnight, Texas (Friday, October 26, 9/8c, NBC) Among the Season 2 arrivals in the town of outcasts: Nestor Carbonell (Bates Motel) as hotel owner and healer Kai.
• Channel Zero: The Dream Door (Friday, October 26, 11/10c, Syfy) Over six straight nights, newlyweds fear what lies behind an unfamiliar door in their home.
• Dark Shadows (Monday, October 29, midnight/11c, Decades) Sink your teeth into the 1960s gothic soap about 175-year-old vamp Barnabas Collins (Jonathan Frid).
• Stan Against Evil (Wednesday, October 31, 10/9c, IFC) Ye olde demons invade the comedy's third season, thanks to Stan (John C. McGinley) opening that portal.
HORROR AT HOME
• In All-Star Halloween Spectacular (Friday, October 26, 9/8c, HGTV), it's Drew Scott and Tia Mowry vs. Duff Goldman and Jonathan Scott for best haunted house.
• For more competitions, Food Network–style, try Halloween Baking Championship (Mondays, 9/8c) and Haunted Gingerbread Showdown (Sundays, 10/9c).