Catherine Bell Previews 'Good Witch: Tale of Two Hearts' Halloween Special (VIDEO)
Hallmark's Good Witch series is one of Hallmark's most popular franchises and it's back with a Halloween TV movie special, Good Witch: Tale of Two Hearts.
Catherine Bell returns as Cassie Nightingale as Middleton prepares for the Halloween Harvest Festival and competes against neighboring town Blairsville. But when a "100-carat ruby – 'The Heart of Middleton' – is stolen from the museum where the gala is to be held, Cassie suspects a Grey House guest is the culprit," according to the network.
The ruby has a powerful history and seems to hold some romantic powers because after it's gone everyone's love lives veer a little off course, including Cassie and her fiancé Sam's (James Denton) wedding plans.
"Things start to go wrong in the town… with love and with people because what they believe in, the symbol, is gone," Bell said in an interview with TV Insider. She also spoke about why this character is one of her favorites and what lies ahead for the couple of the year, Cassie and Sam.
What's your favorite part about working on Good Witch?
Catherine Bell: One thing I love about Good Witch is the history. Cassie came to the town because her ancestors had lived in Grey House and there's more and more history we keep on discovering.
How has Cassie changed from the first movie?
She's evolved a lot from the the movies into the show. She has a teenage daughter now and a new love and that presents challenging situations she has to deal with. I like that Cassie, while she does know a lot of things and is able to fix and help people often, sometimes it takes her a minute to figure out how to do that and I love those challenges.
Fans always tell me they want a friend like Cassie because she just makes you feel better about yourself and your life.
Do you think people in Middleton are starting to realize Cassie has magical abilities?
I think people we're starting to play on the fact that some people [in the town] are on to Cassie. Sam has his moments where he'll look at Cassie curiously and she'll be like, 'I don't know what you're talking about.'
Will Sam and Cassie get their own happily ever after?
There might be some delays with the Halloween wedding we have planned but the wedding is coming! I can't say when, but it is coming. I think this special is very romantic. It's all about love. There's a romantic part of Sam that's going to revealed that's really, really sweet.
What cans fan expect from the new episodes of Good Witch?
Right now we're working on some episodes about Nick (Rhys Matthew Bond) and Grace (Bailee Madison) getting into colleges. There will be more about our new, blended family and how we deal with each other — step-parents and step-children.
Watch the exclusive clip below:
Good Witch: Tale of Two Hearts, Movie Premiere, Sunday, October 21, 8/7c, Hallmark Channel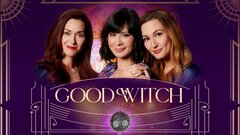 Powered by