'The Conners' Cast Opens Up About Moving on From 'Roseanne' at PaleyFest NY
The Conners finally premiered Tuesday, answering the question on everyone's mind: What happened to Roseanne Conner? But what's next?
TV Insider was at the spinoff's PaleyFest event in New York City on premiere night, where the cast discussed what it was like in the days following Roseanne's cancellation and much more.
In attendance at the event were stars Sara Gilbert, John Goodman, Lecy Goranson, Michael Fishman, and new cast member Maya Lynne Robinson, as well as executive producer Tom Werner. And prior to the screening and panel discussion, TV Insider spoke with stars Fishman and Robinson about what it means to them to continue this family's story and what sets The Conners apart from Roseanne.
"If you love our history, it's a great time to reconnect with us and see how these characters deal and process and move forward," Fishman, who plays D.J. Conner, told us about checking out the new show. "But if you're a first timer, it's a great time to kind of check in and find out what the Conners are really all about as a family."
In the original series, Fishman was the baby brother, but now he's married to Geena (Robinson) — the same character he refused to kiss as a child in the first run of Roseanne. Newest addition Robinson is taking on the role with excitement. "It feels amazing," she gushed to us about joining this iconic family. "I watched [Roseanne] as a child, I watched the reboot, and now I get a chance to have a seat at the table and make some change."
Her military background will juxtapose the Conners' typically hands-off approach. "Watching how her military-style discipline flows with the Conners' laid back attitude is gonna be an interesting dynamic for the public to watch," she explained of her character. But what she finds unique about The Conners is that fans are "going to get an opportunity to really become invested in the rest of the Conners… you're gonna see a lot more familial conflicts."
Of course, just because Roseanne is gone, doesn't mean too much will change for the brood as Robinson promised a Halloween episode is on the way. "There is going to be a Halloween episode, that is all I can tease," she spilled.
When it came time for the panel, attendees were able to hear from the rest of the cast. Goodman, aka patriarch Dan Conner, weighed in on how he knows the spinoff will work out, stating, "There's so much there to trust and lean on." The actor also revealed what he learned from Roseanne's cancellation: "You can't count your chickens before they're hatched."
As we already knew, the cast was devastated by the controversy that sparked the end of Roseanne. "It's hard to have strength during that time," Goranson said about the axing, noting that it was "so painful."
Fans can see some of that pain in the premiere, as the actors grappled with Barr's exit. "We wanted to make a really honest episode," Gilbert explained. "It aligned with some of the emotions we were feeling inside."
And align it did. During one of the premiere's more intense moments, Darlene (Gilbert) and Aunt Jackie (Laurie Metcalf) get real about their grief. "We only did that scene once," Gilbert said of the intense exchange, adding that "you knew those were [Metcalf's] real emotions."
But their bond is stronger than their grief, Gilbert reiterated, saying, "We love making the show and we love each other." Goodman backed his TV daughter up as he said, "We didn't want to leave [fans] hanging like that."
Despite bumps in the road, this family is continuing on. Gilbert shared that there are still five more episodes to shoot in the season and she "can't wait" to work on them. And Werner added that they wanted to "live up to the promise we made our fans."
Fishman then spoke for all of the cast and crew when he said, "We respect [the fans'] commitment to this." And they're keeping just enough from the original show to keep it inviting for old fans while bringing in enough new material to interest new potential viewers.
If anything, this cast couldn't have been more gracious during the event about their second lease on TV life — now will fans give them that second chance? We'll have to wait and see.
The Conners, Tuesdays, 8/7c, ABC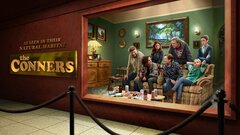 Powered by