AMC's 'History of Horror': Host Eli Roth Shares His Scary Film Faves With Us
Eli Roth has directed some of the scariest cult-horror feature films of the past 15 years, including Cabin Fever and the Hostel franchise.
Up next, the actor/director/producer is on TV, acting as curator in AMC Visionaries: Eli Roth's History of Horror, which premieres late-night Oct. 14. This is the third time that AMC has chosen notables to spearhead a deep dive into a topic under its AMC Visionaries banner. The most recent previous installment, earlier this year, found filmmaker James Cameron exploring science fiction.
In Roth's History of Horror, he and his fellow horror luminaries gather and conduct salon-like discussions about horror films that have impacted pop culture and left lasting historical legacies. The filmmaker will be joined by stars and storytellers including Stephen King, Quentin Tarantino, Jordan Peele, Robert Englund, Linda Blair, Tippi Hedren, Rob Zombie, Jack Black, John Landis and Jamie Lee Curtis.
"I wanted a really good balance, a lot of different voices," Roth shares with TV Insider.
"But people that I knew would be super enthusiastic and great — a mix of historians, mix of actors, mix of directors — so you get lots of really fun perspectives. And I want to hear their perspectives on other movies. I love Robert [Englund] telling stories about Freddy [Krueger], but I'd love to hear what he thinks about King Kong and Frankenstein."
Here's what Eli Roth had to tell us about his own history with horror.
In your opinion, who are the modern masters of horror?
Eli Roth: I look at George Romero, [John] Carpenter, you know, they have that long history, but the directors that I've seen recently that I go "wow" are definitely John Krasinski's A Quiet Place, Jordan Peele's Get Out, André Øvredal, who did Trollhunter, and also his second film, The Autopsy of Jane Doe, is fantastic.
So there are really, really exciting new directors — David Robert Mitchell did It Follows. So, I'm very curious to see any of these people's next movies.
See Also
Click through for our picks for some killer swag to nab before the Season of the Witch officially sets in.
If you had the opportunity to remake a horror classic, which one would you want to redo and why?
Caddyshack II. I was so hugely disappointed that it was an unintentional horror movie. That or The Fly II. I remember being profoundly let down by that movie. It deserved a better sequel. I have some other films I want to remake, but I can't list them or someone else will think of it and maybe get the rights before I do.
When have you snuck an homage to a horror classic into one of your films?
When have I not? Cabin Fever is a series of homages. But I am very proud that I snuck in a Texas Chainsaw Massacre reference into The House With a Clock in Its Walls that adult fans will notice but that kids will see as a PG-rated joke.
What do you remember about the first time that a horror movie made you lose sleep?
The Exorcist. Age 6. I don't know if a movie has ever affected me quite like that. I've probably been chasing that high ever since.
In your opinion, which is Lon Chaney's finest horror role?
The Phantom of the Opera. That image terrified me as a kid. What Chaney did was so revolutionary and iconic. I love so many of his films, but Phantom for me will always be the top.
See Also
'TVD' creator Kevin Williamson reunites with Paul Wesley for the scary new show, premiering on Halloween.
Tell us about The House With a Clock in Its Walls, which is produced by Steven Spielberg's Amblin Entertainment. Is this a new era of your filmmaking?
For me, it was really that exercise in creativity, trying to be scary in a child-friendly kind of way but still with that bit of Amblin mischief like Gremlins.
I really wanted to make a movie that felt like Gremlins or E.T. or Raiders of the Lost Ark or Poltergeist, because as much as I love Maniac and A Nightmare on Elm Street, the movies I saw in the theater were Poltergeist, Raiders, E.T., Gremlins.
So my theatrical experience was those scary PG Amblin movies. So really, it's a dream to get to carry the torch.
You mentioned a few '80s movies that influenced you. Can you go back even further and share early horror movies that inspire you?
Yeah. I mean, you look at Carl Dreyer's Vampyr, Nosferatu and Frankenstein — those are still terrifying.
Also, Quentin [Tarantino] and I go very deep in the show talking about Abbott and Costello — Abbott and Costello Meet the Mummy, Abbott and Costello Meet Frankenstein — wow! As a kid, the stuff that was on TV, the horror movies, when they got into Abbott and Costello, you're like, "Oh my gosh, I'm seeing what Abbott and Costello would do!"
Those two worlds merging completely blew my mind as a kid because they were mixing horror and comedy, and the monsters would still kill people in those movies. They weren't funny monsters. The monsters were always monsters.
See Also
Why is a black-and-white film an inspiration to the acclaimed writer/director/producer? Check out the exclusive clip!
AMC Visionaries: Eli Roth's History of Horror, Sundays at midnight/11pm beginning Oct. 14, AMC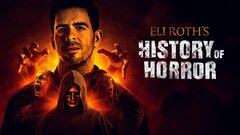 Powered by