'The Romanoffs' Cast is Stacked with TV Biggest Stars
That Coca-Cola jingle hadn't even faded out in the 2015 Mad Men finale before viewers started wondering what creator Matthew Weiner's next TV act would be.
After all, how do you follow a groundbreaking — and heartbreaking — creative triumph that won 16 Emmys and made household names of Jon Hamm and Elisabeth Moss? Look to Tsarist Russia, of course!
See Also
The series comes from the producer behind 'Mad Men.'
Weiner's big-budget The Romanoffs, a contemporary anthology shot on three continents with a different cast in each of its eight self-contained episodes, certainly sounds like a departure. But Amazon's much lighter series does share Mad Men's preoccupation with identity.
The through-line for these disparate stories: characters claiming to be descendants of the Russian royal dynasty. (Tsar Nicholas II and his family were executed in 1918, although rumors persisted that one or more had managed to survive bullets, bayonets and knives.)
"We're at a place in our history where people are looking for a close connection to their roots. There's great debate about who is a Romanoff and what happened to the Romanoffs," Weiner told Variety last year. "The story for me is that we're all questioning who we are and who we say we are."
The formidable cast includes Mad Men alums John Slattery, Christina Hendricks and Jay R. Ferguson, along with such names as Diane Lane, Aaron Eckhart, Amanda Peet, Corey Stoll and Griffin Dunne.
Amazon is so jazzed, this will be its first series to stray from the binge-it-now release plan. After the first two episodes drop October 12, the rest will be released individually each Friday. That's worth a Stoli shot!
The Romanoffs, Series Premiere, Friday, Oct. 12, Amazon Prime Video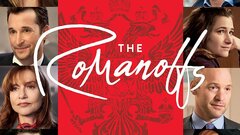 Powered by