Chris Jericho on the Success of Fozzy, Planning a Cruise & Controlling His Own Destiny in Pro Wrestling
There is busy, and then there is Chris Jericho busy.
He wrestles in WWE, New Japan Pro Wrestling and wherever he damn well pleases at this point in his legendary career. He has organized a successful cruise on the verge of its maiden voyage.
And on top of all that the proverbial Renaissance man is on tour with Fozzy in support of their most successful album to date in Judas. The front man and his bandmates were confident it was a matter of when not if Fozzy would truly ascend within the world of rock.
"For whatever reason Judas was the right song and right place for us," Jericho said, during a rare day off. "It has gone through the roof ever since. People will tell you that rock radio is not important, but it's the exact opposite. Once you start getting serious airplay and time on rock radio In the States, things just went through the roof.
"This is our fourth leg of the 'Judas Rising' tour since last May. We've basically played everywhere and done the biggest numbers we've ever done as a headlining band. Not just in the States but around the world.
"We started the tour last May, and we're going into December. Then it's back in the studio to start working on something that is worthy of being the follow-up of Judas. Something that is just as good or even better because once you get the momentum you got to keep it going."
If the consummate performer could point to where he is in his music in comparison with a time in in his wrestling career it would be 1999. The year not only saw the beginnings of Fozzy, but the debut of Y2J in WWE.
"I worked for nine years to get there," he said. "It was the biggest break I've had, but it was still by no means reaching the top of the mountain. It was basically growing from a small fish in a small pond to a big fish in a small pond to a medium fish in a big pond and then finally in the big pond at the lowest of levels where you have to work your way up.
That's where we are with Fozzy. We are in the big leagues now. Our direct competition is Metallica, Slipknot and Shinedown. We continue to build to get there."
For Jericho, the sense Fozzy reached the next level was the day Judas landed at number five on the charts with the video racking up a million views in the first week.
"We sold out the Whiskey [A Go Go] in Hollywood, selling out Vegas, selling out Chicago, Detroit and New York at the Gramercy Theater. Before that the last time we were at the Gramercy Theatre it was at 30 percent full. This time it was sold out, jam-packed to the rafters.
Jericho isn't only selling out venues on land. He is close to filling up an entire cruise ship, presenting Chris Jericho's Rock 'N' Wrestling Rager at Sea October 27-31. The ultimate fan experience brings a robust schedule of star-studded wrestling matches, rock shows, comedy standup and everything in between. This is the culmination of three years of Jericho pouring over to see a unique concept come to fruition.
"To know we are at the point now we are passed the 94 percent sold out mark. Whether it's going to a hundred percent or not, it's pretty much sold out rounding up. That's good to know. I'm really excited," he said.
Jericho is always one to deliver the unexpected, which is evident by the fact Ring of Honor and Impact Wrestling stars are facing off. Will this inter-promotional dream matches become the catalyst for future collaborations?
"I think the business is changing to where we are starting to see more cooperation between companies. In a lot of ways, the Jericho cruise is a forerunner to that," he said.
"I think just to see that there are WWE Hall of Famers, the biggest independent guys, guys from New Japan, Ring of Honor, Impact Wrestling. You have Ring of Honor versus Impact Wrestling. Stuff like Jericho making a rare appearance wrestling with the Young Bucks, Cody, Kenny Omega, Marty Scurll.
The original plan for the entrepreneurial personality was to keep what happened on the cruise exclusive. Now approaching a sellout, Jericho is looking at ways to share the events with others. Stay tuned.
Thanks to advances in technology creating better viewing accessibility and an explosion of social media, even beyond WWE is booming. The current New Japan Pro Wrestling Intercontinental champion feels ROH and NJPW selling out Madison Square Garden next year in quick fashion as an example.
"All In also proved that. New Japan proves that. Even the Jericho cruise proves that. There is no WWE involvement in this cruise at all. I think in a world where WWE is so dominant for such a long time, it's cool to see other options," Jericho said.
"That's what they are. Options. You're not going to beat WWE at their own game, but you can carve out a pretty cool name for yourself and do pretty well as a result because of all the people getting involved and want to get involved in the business now looking for that alternative. It's a good time for the wrestling business, for the fans and performers."
Jericho is taking full advantage of the open marketplace. Fans and peers alike have been impressed by his ability to leave people guessing where he appears next. One night the veteran is on the Greatest Royal Rumble, the next at the Tokyo Dome and then in Chicago for All In. Jericho controls his own destiny and career trajectory.
Those who can't get enough of Jericho can also catch him hosting his second Travel Channel special in October: Chris Jericho: Hunting Monsters.
The one-hour special, part of the network's spooky "Ghostober" programming lineup, sees the host venture to Southern Louisiana to uncover the creature mysteries of the swamp in bayou country. Following up on last year's one-off Travel special The Legend of…With Chris Jericho with this program, he hopes to continue to make these projects annually.
"During the show you will see some really, I don't want to say weird stuff, but stuff happened I can't explain," he teased.
"I talk a lot about paranormal activity and things along those lines on the Talk is Jericho podcast and my life, but I haven't experienced it much. But being there and experiencing it and feeling it for myself. This is not something to just promote the show, but there is something strange that happened.
"You got to check it out to see what I'm talking about. There is a lot of weird stuff out there that is not explainable with a scoffing laugh. There is stuff out there that makes me believe even more when we talk about this paranormal activity, unexplainable occurrences. There is a lot of it out there, and it's fun for me to explore that."
Given all of the above, one can reason Jericho doesn't get much sleep. Rounding out his already full plate is making family a priority.
Despite whatever is going on, Jericho is there for his son's football game or love of fishing. He brings his daughters on stage for a dance during a tour stop in Tampa. He isn't above spending a romantic evening with his wife or putting out a post in appreciation of what she does for the household.
"You have to find the time," Jericho said. "Sometimes I think I work too much and forget about that. It's easy to fall into all the work that has to get done.
"The bottom line is family comes first. Sometimes you just have to go that extra mile to make sure that they understand rather than just saying it. You do it because it is what makes you stay alive. It's not a matter of finding the time. It's a matter of making time and doing everything you possibly can with your family when I'm not working."
Fozzy is currently on its "Judas Rising" tour with Judas available everywhere.
Chris Jericho: Hunting Monsters, Tuesday, October 23, 10/9c, Travel Channel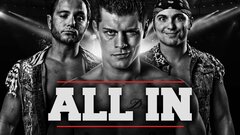 All In
where to stream
Powered by